An evening of praise and tributes for former Premier Scott
Created: Jun 05, 2013 09:00 AM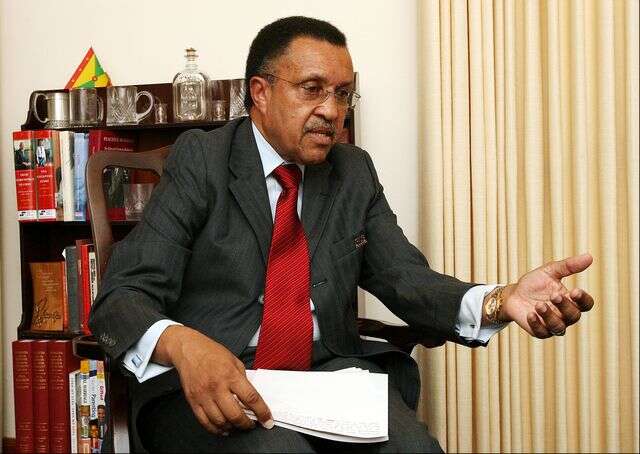 Former Premier Alex Scott should have been knighted, a gala banquet held in his honour was told on Saturday night.
The gathering — at Fairmont Southampton — saw friends, family and associates sing Mr Scott's praises — with many referring to him as "Sir Alex".
That prompted retired hotelier Michael Winfield to quip: "There was an oversight made by no less a person than Her Majesty the Queen, but we have corrected that tonight."
Mr Winfield served in the Senate with Mr Scott — on opposite sides of the political divide — but the pair became close friends.
"To anybody that didn't know us I'm sure everybody thought we were arch enemies and were hurling abuse at each other and doing our best to defeat the other — which of course we were doing," Mr Winfield continued.
"But over the years, I got myself in serious trouble in my camp — and he probably got himself in worse trouble in his camp — by saying with pride I have a friend called Alex Scott."
Mr Winfield joked that the then Senator Scott was fond of using "the most extraordinary" statistics about the police in Senate debates. "They proved something, I wasn't quite sure what they proved, but he was very, very sure that they proved something very serious."
Tina Caines delivered tributes from those who could not be present for the occasion.
"The full effect and success of his work will be felt for generations to come," read a message sent by former Progressive Labour Party MP Trevor Woolridge.
"Bermuda with all of its challenges is a better place because you passed its way and you stopped and served."
Television journalist Bryan Darby, in his tribute, said that Peter Woolcock had reported that Mr Scott was "the greatest character he's ever drawn in his life".
He said: "Alex, he said, had that kind of face where you couldn't go wrong. Whatever he did, people would laugh."
Mr Darby also reminded the audience that Mr Scott played a key role in bringing CableVision to Bermuda, as he read a message from one of the company's founders Gavin Wilson.
"I would go so far as to say without his support, and not least his encouragement, the company may not have happened," he quoted Mr Wilson as saying.
Ed Ball, secretary general of the Bermuda Public Services Union, said it was appropriate that a "humble man is being honoured as a legend."
Mr Ball met Mr Scott in 1982 on the PLP election campaign trail and became deputy campaign chair for Warwick East.
"I instantly felt a sense of kinship with a man who was sacrificing so much of his time to ensure Bermuda's citizens unlock the social shackles of injustice," he said.
He noted that Mr Scott later helped to avert a constitutional crisis in 2003 when he agreed to lead the party after 11 MPs insisted they could not support then leader Jennifer Smith who had led the party to a second general election victory.
"Since our initial meeting and to this date I view Alex William Scott's sacrifices as momentous and one that only a statesman would have accomplished."
Wayne Scott, Community Development Minister, said his cousin always focused on what was best for Bermuda, and put Bermuda first.
"I will do my best to emulate that integrity and put Bermuda first as you did."
Mr Scott was the Progressive Labour Party's sixth leader, but his association with the Island's first political party was at first professional. His advertising and public relations agency Scott Crafts took on the PLP as a client in the 1960s and developed many of the party's election campaign slogans and strategies.
As Premier of Bermuda from 2003 to 2006, Mr Scott's legacy includes a 55 initiative programme which he dubbed the "Social Agenda", the Sustainable Development initiative, Island-wide discussions about the pros and cons of Independence and the appointment of the Bermuda Independence Commission, Public Access to Information legislation, CITV, a revamped London Office and the completion of the new Berkeley Institute.
Mr Scott took to the stage toward the end of evening. Flanked by his immediate family members, he told the gathering: "I didn't get into politics for the recognition and praise, but it's nice — especially because I can hear it."
And with characteristic humour he said that being surrounded by so many friends and supporters he "felt as wealthy as a Lister". He praised former PLP stalwarts, Dame Lois Browne Evans, Frederick Wade, Eugene Cox and David Allen and saluted former legislators in attendance.
But he ended his speech with a message to the next generation of leaders. "Big up the country before you big up yourself."