Overtime approved to clear trash backlog
Created: Jun 25, 2013 09:00 AM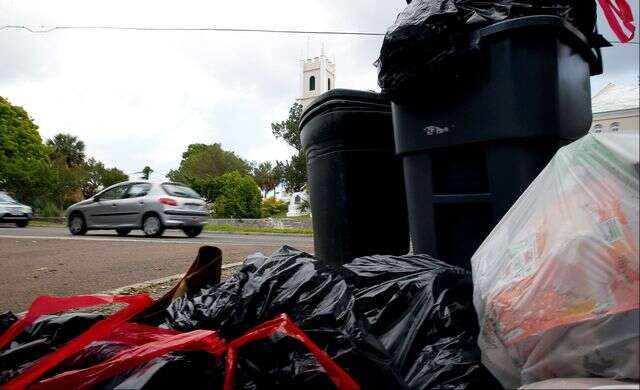 A backlog of garbage uncollected from residential areas across the Island is now being cleared after Public Works Minister Trevor Moniz approved overtime for refuse collectors.
The Public Works Ministry made the announcement in a press statement following complaints from members of the public and a demand for answers from Deputy Opposition Leader Derrick Burgess.
"For almost a month, the people of Hamilton Parish and St George's have experienced a dramatic decrease in scheduled garbage collection," Mr Burgess said in a statement yesterday.
"Since June 7, there has been only one garbage collection within these areas, where four pickups are traditionally scheduled. This raises health and safety issues for our communities, as well as a tremendous inconvenience to our taxpayers.
"This situation is baffling and the Minister has, so far, remained silent on why this has occurred or when and how it will be resolved.
"On behalf of my constituents, as well as all residents of Hamilton Parish and St George's, I have contacted the Minister responsible, Mr Trevor Moniz for answers and a speedy solution to this serious problem."
Several members of the public indicated to this newspaper that the issue was not restricted to the eastern parishes.
A press statement subsequent to Mr Burgess' release said that Public Works Minister Trevor Moniz had authorised overtime so that the garbage collection workers could clear the backlog over the next few days.
"In the interest of public health and safety, as well as in light of the overwhelming concern from residents who have contacted the Ministry requesting the pile up of garbage in their respective neighbourhoods to be removed, the Minister of Public Works has made the decision to approve the overtime," a Public Works spokesperson said.
"Ministry crews will be working in both the west and east ends of the Island to remove garbage as quickly as possible following the conclusion of the recent industrial action at the Government Quarry.
"While collection staff resumed regular garbage collections last week, they were unable to keep up with the volume that was backlogged as a result of the sympathy work stoppage — which was coupled with the public holiday falling around the same time."
One east end resident, however, has informed this newspaper that garbage pick-up delays had occurred there as early as January this year — months before the quarry dispute. He was told that equipment problems were the cause.
Government did not respond when we asked for clarification.
Public speak out on trash collection delays
Here are some of the comments Royal Gazette readers have made regarding the pile up of uncollected trash across the Island.
Tash Pethick said: "I live on Town Hill Road on Smiths. My trash days are Tuesday and Friday. Tues June 11 — normal trash collection. Fri Jun 14 — no collection. Tues June 18 — no collection. Wed June 19 — trash collection. Fri June 21 — no collection.
"As of driving to work this morning the trash was still out on the side of the road. I've had one collection of trash when three should have taken place — in TWO WEEKS. I have no problem taking my trash to the dump myself but I'm not picking it up after it's been sticking outside for a day or longer. If there's not going to be a regular trash collection the public needs to know.
"I don't know if it's a related matter but driving along Front Street this morning on my bike, it absolutely stank of trash."
Someone using the name 'Conniebee' said: "There has been a great decrease in the garbage pickup in Smith's and it is not only frustrating but it is unpleasant and visually disturbing, and not a good impression for the tourist.
"This should be a priority and more planning needs to go in regard to this service, for its impact is far fetching."
Zakia Jabbar, said: "This is now Island wide, Warwick parishes have it the worst….the stench is very bad."
Jessica Laing, said: "Our last pickup was on June 11th. The trash has piled up and feral cats and chickens have pulled trash out of the bags and all over the neighbourhood."
Paula Rodrigues, said: "In response to your question, yes the garbage on Bostock Lane, off Bostock Hill East, in Paget, has not been collected since perhaps June 10th. The Minister needs not be concerned that it's only in the east end."
Tammy Smith, said: "As stated in your article about the lack of trash collected in the east end, I too would like to know why the government is silent in explaining what is going on? And in this heat it's certainly not healthy for the trash to remain along the streets."