Row erupts over fate of former brothel
Created: Jul 12, 2013 09:00 AM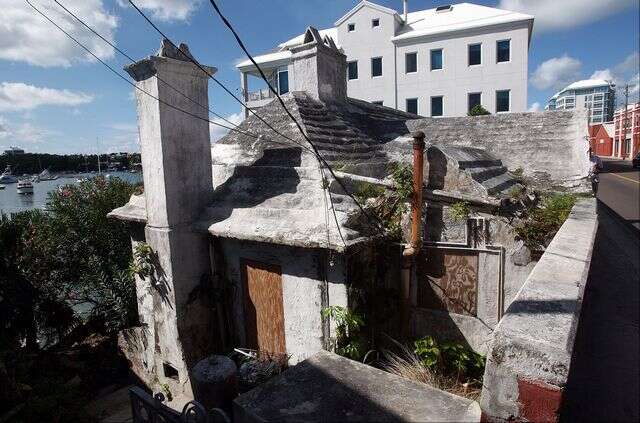 A plan to tear down a historic former brothel and replace it with a residential building has drawn the ire of conservation groups.
The Bermuda National Trust (BNT) and Bermuda Environmental Sustainability Taskforce (BEST) have both filed objections against an application to demolish the 'Queen of the East' on Crow Lane in Pembroke.
Planning permission has been sought by CTX to demolish the building and erect a six-story residential building with ten units, an indoor parking area, a swimming pool and a floating dock.
A letter of objection written by Dorcas Roberts of the BNT stressed the value of the 'Queen of the East', saying it would be a tragedy if it is demolished.
"Until 2007, the 'Queen of the East' was designated a Grade One listed building, recognised as having exceptional historic and architectural interest," she wrote. "The Trust acknowledges that the Planning Act allows for the list to be amended but the act is silent on the process by which this should happen.
"In this instance the public and the National Trust were not provided with the opportunity to contribute to the decision making process.
"As a consequence, we cannot be confident that the 'Queen of the East's' historical significance, architectural interest, age, rarity, aesthetic and state of repair were fully taken into account when it was removed from the list."
A letter of objection from BEST listed similar concerns, stating that the process used to delist the building did not appear to be transparent.
The letter also noted the negative impact on the scenery and the potential impact on traffic, saying that pulling in and out of the busy road could be problematic.
The building was erected in the 1740s, and is considered an outstanding example of a 18th century merchant's house.
In the 19th century, the house served as a bakery, but in the 20th century the building was turned into a laundry and a brothel. It then became a Soldier and Sailors Club before being purchased in 1938 by architect Bayfield Clark and his wife, an interior designer.
The couple renovated the building, which was later featured in several magazines, and described by journalist Margot Hill as "one of the most attractive and habitable homes in Bermuda".
The building was given a Grade One listing in 2002, but was delisted five years later. At that time Environment Minister Neletha Butterfield said that the property owner's agent was unable to attract tenants to the building due to the lack of parking.
The move sparked harsh criticism from the BNT, who noted that the Planning Department had the previous year approved an application for a driveway and parking space for two vehicles.