Memories of star-studded Bermuda trip as Frost dies at 74
Created: Sep 03, 2013 09:00 AM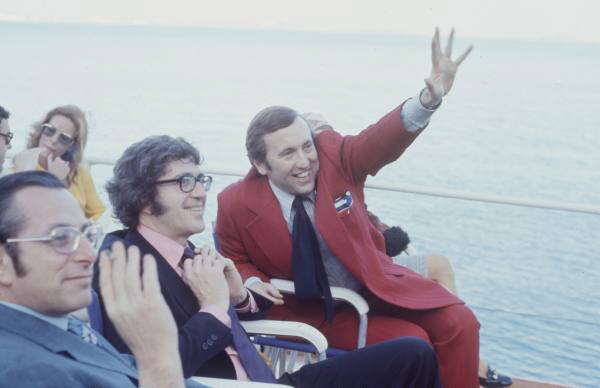 Sir David Frost, a luminary of British broadcast journalism who once chose Bermuda to fete some of the most eminent celebrities of the day, has died at the age of 74.
Today, Sir David's most widely known claim to fame was his 1977 series of interviews with disgraced US president Richard Nixon.
His impromptu January 1972 Bermuda bash garnered widespread coverage for the Island, from The New York Times to 'Life' magazine.
The television star was simultaneously hosting talk shows in the UK and US when he chartered a 747 to bring 60 of his closest friends to Bermuda.
Guests flown in from New York ranged in celebrity from US Senator Jacob Javits to world-famed economist John Kenneth Galbraith — and actor Richard Roundtree, star of the just-released film "Shaft".
Others included US author James Michener, chess grandmaster Bobby Fischer, journalist Barbara Walters, and film producer Joseph Levine.
After treating his guests to a meal at the old Castle Harbour Hotel, followed by a chartered cruise of local waters, Sir David quipped to the British press that he thought "it would be jolly to start the New Year by taking some friends to lunch in Bermuda".
The veteran TV journalist specialised in interviews with leading figures, including eight UK prime ministers and seven US presidents.
He died of a suspected heart attack on Saturday night aboard the cruise ship Queen Elizabeth, where he had been booked as a speaker.