Bookstore sisters' hair goes pink ... and blue
Created: Sep 28, 2013 09:00 AM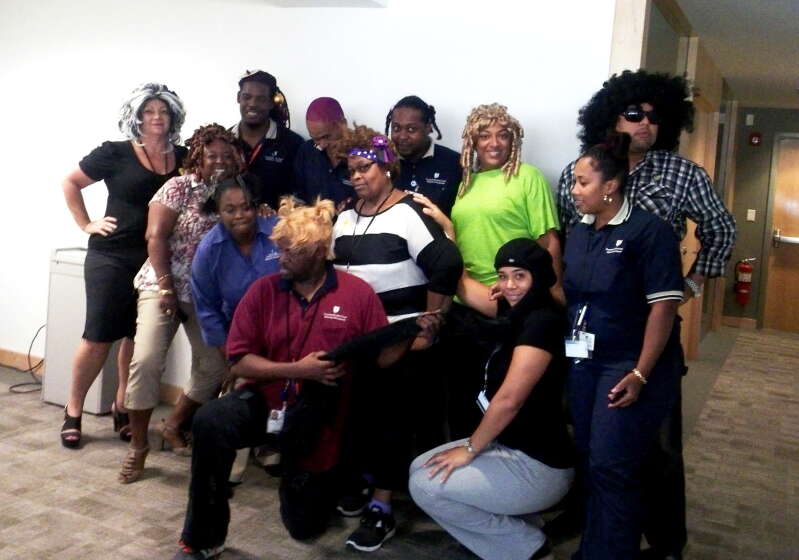 The results are in and Bermuda Bookstore owner Hannah Willmott is now sporting fish bowl blue hair and her sister, Miriam Kaye, has hot hot pink hair. The two raised more than $600 for cancer charity PALS by asking customers to place a $1 a vote for which colour they wanted their hair to be.
Some customers voted as many as 50 times for their wacky hair colour choice.
The Bermuda Bookstore women were sporting their new colourful looks in honour of PALS Mad Hair Day event yesterday. They were one of forty companies in Hamilton participating.
On Thursday afternoon when the contest closed at the Bermuda Bookstore it looked as though the competition might be stymied by the deluge of liquid sunshine falling on the city. Few people wanted to venture out to place their vote.
But people called and made pledges or promised to come in the next day.
"It has been great," said Ms Willmott. "People have been coming in all day to make donations. We are really happy."
Ms Willmott decided to fundraise for PALS after her husband, Steve Moffatt, survived lung cancer last year.
"PALS was really good to us," Ms Willmott said. "We wanted to give back to them."
PALS is a cancer charity that provides assistance to patients with cancer and their families and often sends nurses to make at home health visits. They have helped many families on the Island, but like many charities, find themselves struggling in today's economy.
When The Royal Gazette visited the Bermuda Bookstore on Queen Street many customers were admiring Ms Willmott's new blue hair colour. The job was done on Thursday evening at Bersalon's Inner Sanctum.
Before the competition Miss Kaye said her only concern was that customers might vote for the same strange hair colour for both of them.
"People get us mixed up as it is," said Miss Kaye.
Luckily, they did not. Customers can now more easily tell them apart keeping in mind that Miss Kaye is the one with hot, hot pink hair.
For more information about PALS see www.pals.bm