Territories resist UK on beneficial ownership
Updated: Dec 06, 2014 08:38 AM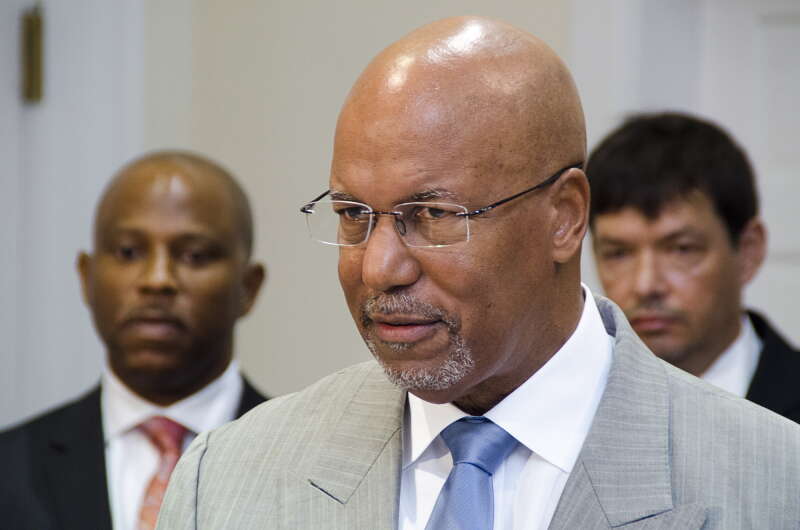 Finance Minister Bob Richards recently met with a host of UK Overseas Territories leaders to discuss areas of mutual concern, including beneficial ownership.
While he told the House of Assembly that the Joint Ministerial Council (JMC) was unable to come to an agreement on the topic, he added that 10 Downing Street is "apparently comfortable" with Bermuda's position.
"We have had a central register for over 70 years and its data is available to proper authorities," Mr Richards said. "However, some of our fellow territories are not in the same position as us. We have stated our case publicly, including our position that our register should not be made public."
The minister said he led the Bermudian delegation at this week's JMC in London, an annual meeting in which Overseas Territories leaders can discuss areas of concern among themselves and with the relevant UK ministers. The meeting was the first JMC for James Duddridge, the new Minister responsible for the Overseas Territories.
Mr Richards said that, despite good advanced work, the parties had several outstanding issues that had not been agreed upon, including self-determination, repatriation of passports, rights of the child, rights of the Overseas Territories in overseas bodies such as the Commonwealth and beneficial ownership.
"By late Wednesday evening, there was grave concern that the JMC would conclude without agreement on the issues, an unprecedented occurrence," Mr Richards said. "The defining issue for most of us, particularly those with economies anchored in financial services, was beneficial ownership.
"I must commend my fellow OT leaders for their resolve to not agree even in the face of concerted UK pressure. This issue is so critical, leaders were prepared to leave without agreement rather than concede to the position of the UK.
"Essentially, the UK Government has told the world that in its effort to ensure that British companies are not engaged in illegal financial transactions that would support corruption, money laundering and terrorism, it would ensure that the UK, and its territories, would create a publicly accessible central register of beneficial owners of companies incorporated in the UK and its territories.
"This was done without prior consultation with the territories and without an appreciation of the steps already taken by them."
The minister said there were two essential points of disagreement: that the UK is insisting that each territory create a central register without considering other means to achieve the same ends, and that the UK is insisting that the register be automatically open to the public.
"Each territory has undertaken public consultation on this matter and recognises that these two points would see the end of our financial services sectors," Mr Richards said. "While we were able to reach agreement on the other matters, save one where a territory has requested a further amendment, we have not reached agreement on beneficial ownership. However, we agreed that our teams would continue discussions and that we would meet again in February, hopefully to conclude the matter."
Mr Richards added that in addition to the JMC negotiations, the Bermuda delegation took part in a series of media interviews and met with business leaders about conducting business in Bermuda.
"It is critical that we continue to extol the benefits and value proposition of Bermuda," he said. "There are many nations that would be happy to see the offshore financial centres simply disappear — and three of the leading centres are UK Overseas Territories. The international media have a wide reach and we must continually fend off attacks against our economic wellbeing and our reputation by repeating our advantages and differentiating ourselves from other jurisdictions."