Group calls for pit bull law change
Created: Apr 11, 2015 09:00 AM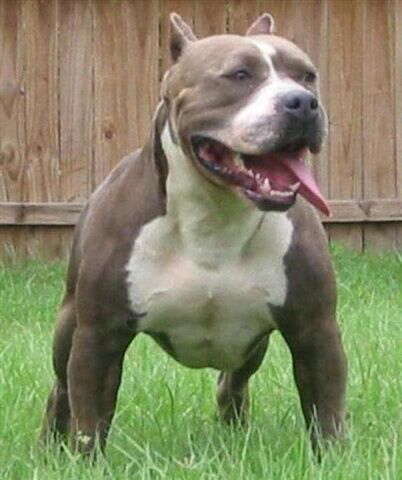 A group of animal lovers who want pit bull dogs to be re-classed as a restricted breed has launched an online petition that has already gained 383 signatures.
"Punish the deed not the breed — Bermuda" is petitioning Minister of Environment Jeanne Atherden to take the breed off the prohibited list and place it on to the restricted one instead.
"We're not saying that everyone should be able to have a pit bull, we just need it off the prohibited list and on to the restricted list so that responsible dog owners can keep them," Grace Markham, a spokeswoman for the group, said.
"Bermuda is behind the times and we need to amend the legislation; this is a call to action, not only for dog owners, but all Bermudians with moral standards."
Ms Markham said the group hopes to "promote responsible ownership of a breed that is deemed prohibited and therefore euthanised regardless of the animal's behaviour" and that they want to educate people "on the double standards of killing a particular breed that has been granted amnesty in the past".
She added they also want licensing regulations to be amended to allow owners to take proper responsibility for their pets.
The group furthermore hopes to draw attention to the fact that "similar types of dogs are being sold locally and legally with no regulation, but any pit bull-type dog is seized and destroyed".
"This is a double standard that nobody is addressing, and these laws are built around a fear of dogs," Ms Markham said. She estimated that the petition would require about 1,000 signatures to be taken seriously and added: "I'm happy to see such a quick response to the petition, and it's promising that Bermudians are willing to stand together to protect the dogs' rights.
"We are not advocating for all to have rights to dog ownership as there should be restrictions, licensing and careful vetting of potential owners of larger dog breeds on the Island," she added.
Ms Markham explained that the group decided to launch the petition after they heard about people coming home from work to find their dogs had been seized and destroyed.
"We do not condone animal abuse, illegal breeding, and teaching dogs antisocial behaviour — we do condone and promote proper training, animal insurance policies, and a wide range of security and environmental restrictions that should be in place to ensure a safe and happy lifestyle for both dogs and their loving owners," the group added in a statement. A Government spokesman confirmed that Minister Atherden has appointed a Canine Advisory Committee "whose remit includes recommendations to the Minister on issues including restricted breeds of dog and any relevant considerations regarding existing bans.
"The Minister met with the Committee at the end of last month and as soon as their recommendations are received, there will be a round of public consultation to consider views in light of those recommendations, prior to any decisions being made."
• For more information, or to sign the petition, visit www.change.org/p/minister-of-enviroment-jeanne-atherden-remove-pit-bulls-from-the-prohibited-breed-list-and-add-it-to-the-restricted-list