Gosling returned as Hamilton Mayor
Updated: May 08, 2015 08:04 AM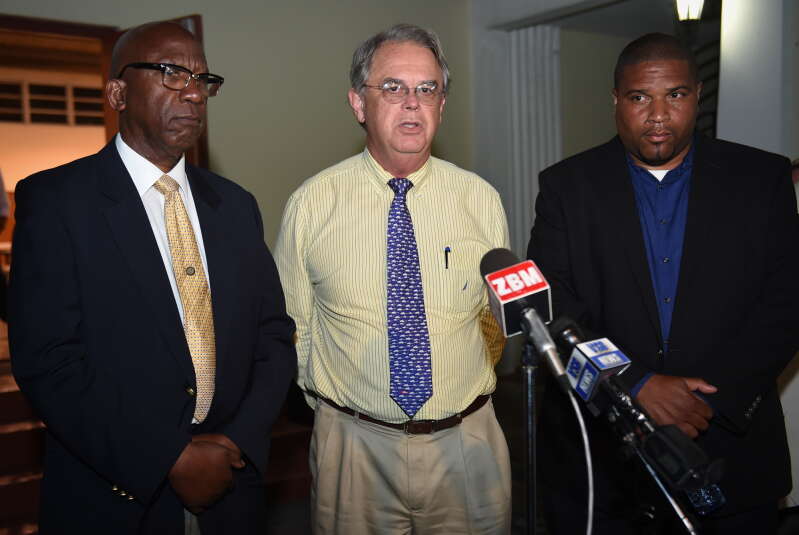 Charles Gosling was last night resoundingly returned as Mayor of Hamilton over rival contender Carlton Simmons.
Mr Gosling — who has previously served a term as Mayor — won 409 votes, over 158 for Mr Simmons, an alderman under the outgoing "Team Hamilton" administration.
Thanking his opponent, Mr Gosling said his first order of business would be to meet with his new team today.
"I was successful not only in being reelected as mayor but also being able to bring two members as residents' councillors," he said.
Home Affairs Minister Michael Fahy congratulated Mr Gosling, saying: "The Ministry remains committed to working with our municipalities and we look forward to fruitful dialogue with the new administration going forward.
"I am looking forward to meeting with the new Council and hearing of their plans once they are settled as we work together for the betterment of all residents."
Prior to the election, Mr Gosling said he hoped to restore credibility to the municipality and bring it "back from the brink", tackling issues of parking and the homeless, which he said needed to be resolved.
Mr Simmons meanwhile said he wanted to implement a "complete review of city expenditure" and promised to bring fresh ideas and modern approach to business.
The election was the first to be held under the new hybrid voting system, which allowed both residents and business ratepayers to have their voices heard.
Mr Simmons called it a good contest but said the new system meant that the business vote would inevitably overwhelm the say of residents.
"The list has to be seriously revised," he said, suggesting the real figure of residential voters was probably closer to 260. Business voters were astute to their candidate," added Mr Simmons.
"In the end, I am grateful for the way it went down. Mr Gosling was a champ."
In addition to the post of mayor, seven candidates put their names forward to represent the city's four residential councillor seats.
The successful councillors last night were RoseAnn Edwards, at 155 votes; Carlton Johnson, 110 votes; Henry Ming, 100 votes, and George Scott, at 120 votes — who will serve as municipal residents' councillors. Mr Johnson and Mr Ming were part of Mr Gosling's electoral team. Unsuccessful were John Holdipp III, who got 79 votes, Aaron Scott at 91, and Derrick Phipps, who received 58 votes. The new councillors will join Nicholas Swan, Lawrence Scott, John Harvey and Dennis Tucker, who won their seats automatically as the only candidates nominated for the business ratepayer's seats.
The election follows a level of dissension within its Corporation that has been so heated that incumbent Mayor Graeme Outerbridge publicly welcomed the Ministry of Home Affairs' decision to take over stewardship of City affairs for a second time.
Mr Outerbridge — who did not run for re-election — took over from Mr Gosling in 2012 after an election in which he garnered 109 votes (55.3 per cent), compared with his opponent's 88 (44.6 per cent).
His "Team Hamilton" included aldermen Gwyneth Rawlins, Donal Smith and Mr Simmons, and along with common councillors RoseAnn Edwards, lawyer Larry Scott, former Progressive Labour Party MP George Scott and Anthony Davis.
Their controversial term has been marked by two periods of stewardship, the refusal of the Government to allow a 262 year lease of the City's Waterfront property to developer Michael MacLean to stand, the on-again, off-again Black Mayors' Conference and a second debacle when a deal with the same developer allowed the Par-la-Ville car park to be used as collateral for an $18 million loan — which subsequently defaulted.