Artist compiling 'Portrait of Bermuda'
Updated: May 20, 2015 08:01 AM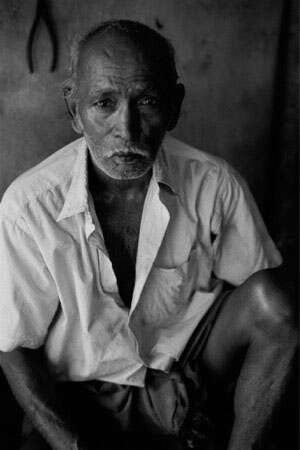 A "portrait of Bermuda" is being compiled by artist Paul Carter, a photographer who eschews staged or posed pictures for the unrehearsed, spur-of-the-moment reportage of the places he visits.
Here from London, Mr Carter is the artist in residence for the Masterworks Museum of Bermuda Art, whose founder Tom Butterfield hails his black-and-white studies as "brilliant".
In an age dominated by digital work, Mr Carter prefers the disciplined craft of photographing with film. Instead of relying on barrages of digital shots, shooting through his Leica camera means that the moment of truth only arrives when the final pictures materialise in his darkroom.
"I own a digital camera, because I'm a professional photographer. But if you're using film, every press of the button costs money," Mr Carter told The Royal Gazette.
"You have to attempt to only take the picture that is going to work. That's also why I don't know what will be in the exhibition at the end. Until I get back to London, process the films and see what I've got, I don't know. That's part of the thrill of working with film — the uncertainty."
No stranger to the Island, Mr Carter returned at the start of May and will follow his impulses and chance encounters to shoot street scenes and portraits until his departure at the end of June. Anyone wanting to propose themselves for a portrait is welcome to contact Masterworks — but his photos are not studio pictures.
"I don't pose people formally," he said. "I get people relaxed and comfortable enough not to notice the camera, in an environment they like — their home or their favourite pub. I always struggle to avoid setting up these kinds of things. It takes a lot of negotiation and time — very often when I meet someone for the first time I won't take the camera out of the bag for 20 minutes. There has to be a high level of trust."
While on the street, he remains conscious of the privacy of others, recognising that "while I don't want people to react to the camera, you can't hide the fact that you're taking pictures".
Subjects must have the right to say no — although the readiness of so many people around the world to have their pictures taken has left him with a wealth of landscapes and portraits.
"I only use one lens — the idea being that every picture, regardless of the subject matter, is always going to be like looking through the same window," Mr Carter said. "It's like I carry this window with me around the world."
The slow-moving quality of portraits and street photography makes for more considered shots, ideal for the use of film, in which the lesser degree of clarity can be used for good effect.
Mr Carter's method also evolved from his newspaper background, while his use of black and white permits a different study of the Island — one in which bright colours, by definition, cannot dominate.
The results of the Bermuda study will go up in Masterworks this October, with an exhibition planned for October 9 to 21.
Its subject matter will reflect the improvised nature of Mr Carter's photographic technique.
"I'm trying to be as diverse as I can, but I find I can't worry about that too much," he said.
"It's not like a checklist; it's more about finding my way and seeing what happens. The pictures are almost secondary. It's more about building the relationship and making contact with people.
"The pictures will come, and they will be much more interesting than if I rushed in with my camera and rushed out. That goes along with the use of film as well."