Sorority marks 25 years of serving community
Updated: May 21, 2015 08:10 AM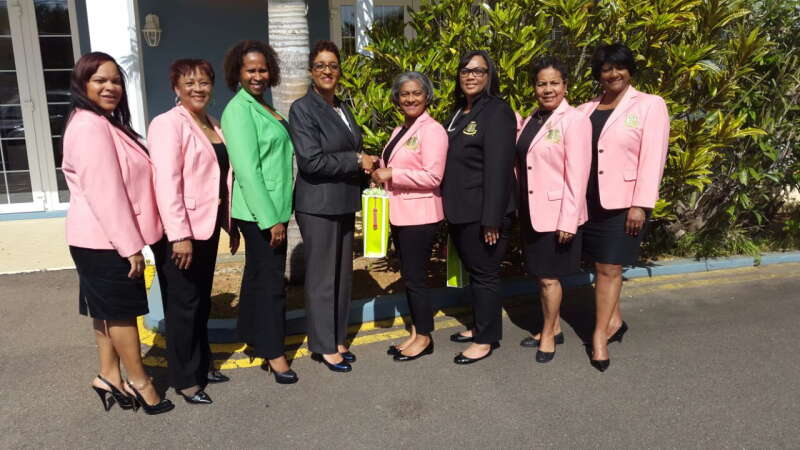 A momentous anniversary for Bermuda's chapter of the Alpha Kappa Alpha Sorority has culminated in a gift for the community.
Members have given two new benches to the playground at Shelly Bay — the latest kind act in the sorority's long history in Bermuda of helping the community and pushing for educational excellence.
Tuesday marked 25 years for Sigma Xi Omega, the local branch of the significant organisation that was created more than a century ago by black American college women.
Hundreds gathered in Dockyard's Victualling Yard to open the commemorations with a gala celebration on Saturday, with guests including Deputy Governor Ginny Ferson, and Progressive Labour Party members Kim Wilson and Diallo Rabain.
Five days of philanthropy followed, in keeping with the tradition of a group dear to many residents who attained their higher education overseas.
"They went to their individual places of learning, most as undergraduates, where they were introduced to sorority life," explained Shawnta Simmons, president of the Bermuda chapter.
"After returning here, they realised that they wanted to continue the work of the organisation, which is when they got together for the local chapter."
Like Gizette Thomas, the sorority's international regional director, who is visiting the Island, Ms Simmons encountered Alpha Kappa Alpha at Hampton University in Virginia.
Tekea Saunders, chairwoman for the 25th anniversary celebration, joined the group in Bermuda.
The latest round of special events commemorate sorority history in different ways: the gift to the Shelly Bay playground ties in with a worldwide mission to spruce up 1,908 playgrounds by 2018.
"We were founded in 1908, with the basic principles of sisterhood, scholarship and service, and our programmes tend to have an impact in those three areas," Ms Thomas said.
"We have a new international president every four years who will bring out a programme focusing on one or all of these areas. Our current service programme is entitled, 'Launching New Dimensions of Service'. Underneath that is where we have the five targets of educational enrichment, health promotion, family strengthening, environmental ownership and global impact.
"Our chapters have been asked to engage in programmes that support those goals." Inspired by the 25-year anniversary, the chapter last week presented 25 Belco vouchers to Family Centre, 25 prescription cards to Age Concern and 25 grocery vouchers to the Women's Resource Centre, Ms Saunders said.
Donations of $2,500 each went to Greenrock and the Hamilton Seventh-day Adventist GED programme — and work will continue in that vein over the next three years.
"At the time we were started at Howard University in Washington, DC, it was new to have women in college, and the sorority came about from a group of women who felt it was important to provide a support system for one another, and pave the way for others," Ms Thomas said.
Alpha Kappa Alpha's ethos is one of high scholastic and ethical standards, and unity and friendship among women and girls. Ms Thomas said: "We want our alumni to continue to have progressive interest in college life and to be of service to all mankind."
Also as part of their anniversary, Sigma Xi Omega marked International Women's Day at Christ Church in Devonshire.
Ms Thomas gave a reading and Olympian athlete Debbie Jones Hunter was honoured for her work in sports.
Ms Thomas, a St Croix native who flew home to Houston, Texas, this week, is the first international regional director to hail from the region itself, one of ten globally which, along with Bermuda, includes the US Virgin Islands, the Bahamas, Canada, South Korea, Germany, Japan and Africa.
The international region now has 14 other chapters and more than 430 members.
Alpha Kappa Alpha was the first sorority created by black American women but has grown into a world movement in the 107 years since its formation.
"By next year we hope to have a chapter in Dubai, where we have 40 excited members," Ms Thomas said. "The legacy continues."