Actress Douglas Webster dies at 92
Updated: Jul 04, 2015 06:49 PM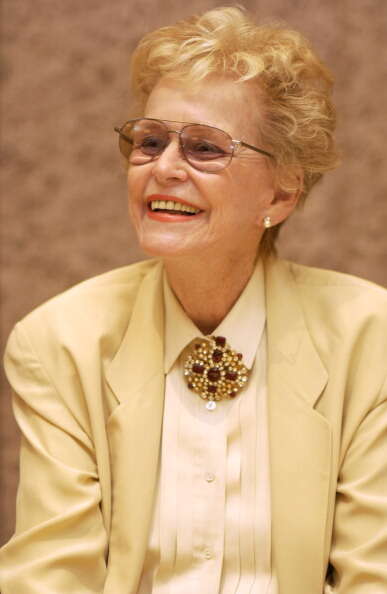 Bermuda-born actress Diana Douglas Webster, mother of Michael Douglas, and former wife of Kirk Douglas, has died.
Ms Douglas Webster passed away at the Motion Picture and Television Home in Woodland Hills, California, yesterday. She was 92.
Her death from cancer was confirmed by her husband of 15 years, Donald A Webster of Washington, DC. She was previously married to actor Bill Darrid from 1956 until his death in 1992, and Kirk Douglas from 1943 to 1951.
Known by her professional name, Diana Douglas, she had a prolific 61-year film, television and stage career, appearing in 22 films, including Planes, Trains and Automobiles, Star Chamber, and It Runs in the Family, and in nearly 60 television shows such as Love is a Many Splendored Thing, ER, and The West Wing.
Ms Douglas Webster loved the theatre and had starring or supporting roles in many plays, including My Fair Lady, Best of Friends, Cactus Flower, Major Barbara, Modern Primitive, A Winter's Tale, Hedda Gabler, Light Up the Sky and The Highest Tree. One of her favorite roles was playing Queen Gertrude opposite David Birney's Hamlet.
Born Diana Love Dill on January 22, 1923, in Devonshire, her family roots reached back to the 1640s. Her father, Thomas M Dill, was the Attorney General of Bermuda and although his daughter longed to become an actress, he believed that acting, especially for women, was a shady, even disreputable, line of work. He finally relented, figuring she might as well study acting in America and get it out of her system.
During her studies at the American Academy of Dramatic Arts in New York, Ms Douglas Webster became a Powers agency model and, at 20 years old, graced the cover of Life magazine on May 3, 1943. She was dressed in "frilly Gibson Girl spring fashions," according to magazine.
One of her acting school classmates, Kirk Douglas, by then serving in the Navy during World War II, saw her on the cover and told his shipmates he would marry her. His prediction proved true: after a whirlwind wartime courtship, they were married on November 2, 1943. The young family soon grew to include actor Michael Douglas (1944) and his producer brother Joel Douglas (1947), thus launching an American acting dynasty that in time came to include Michael's wife, Welsh-born Catherine Zeta Jones.
Prior to her marriage to Mr Douglas, while studying at the academy, she leapt at an offer of a contract with Warner Brothers in California despite the opposition of then classmate Kirk, who argued she become "a real actress" and try Broadway, as he was intending to do.
Her parents grudgingly consented to the move out west, provided her sister Ruth chaperoned her through the hazards of Hollywood. She was put through the usual paces by the Studio, which glamorised her, gave her lessons that included fencing, and paid her $200 a week. She was happy enjoying the social scene, including a long period of dating Errol Flynn, whom her chaperon sister thought "charming," as did Ms Douglas Webster. The problem was that she was not given work and so after two years she returned to New York and took up modeling with her eyes now focused on the theatre.
It was the new medium of television, however, which enabled her to break through in the business. She played featured and starring roles in numerous dramas on shows such as Studio One and Westinghouse Theatre. She starred as Henry Fonda's wife in The Decision at Arrowsmith and some years later was John Houseman's love interest in the acclaimed The Paper Chase.
Diana Douglas' very first film was Keeper of the Flame in 1942 with Spencer Tracy and Katherine Hepburn. She played the uncredited role of "Forward American Girl." Her last film, in 2003, was the aptly named It Runs in the Family, in which she co-starred with son Michael, grandson Cameron, and former husband, Kirk. Her son Joel was an associate producer.
In her 1998 memoir, In the Wings, Ms Douglas Webster revealed her personal philosophy: "Be courageous, be compassionate, and, for God's sake, have fun!" She lived her message to the fullest. Her life, and beautiful smile, inspired others to do the same.
In addition to her husband, Diana Douglas Webster is survived by her sons Michael and Joel, grandchildren Cameron, Dylan and Carys; her daughter-in-law, Catherine Zeta Jones; Kirk and Anne Douglas; and many nieces and nephews in the United Kingdom, Bermuda and the United States.
A memorial service will be held in Los Angeles at a date to be announced.