Community heroes honoured at celebration
Created: Jul 28, 2015 08:00 AM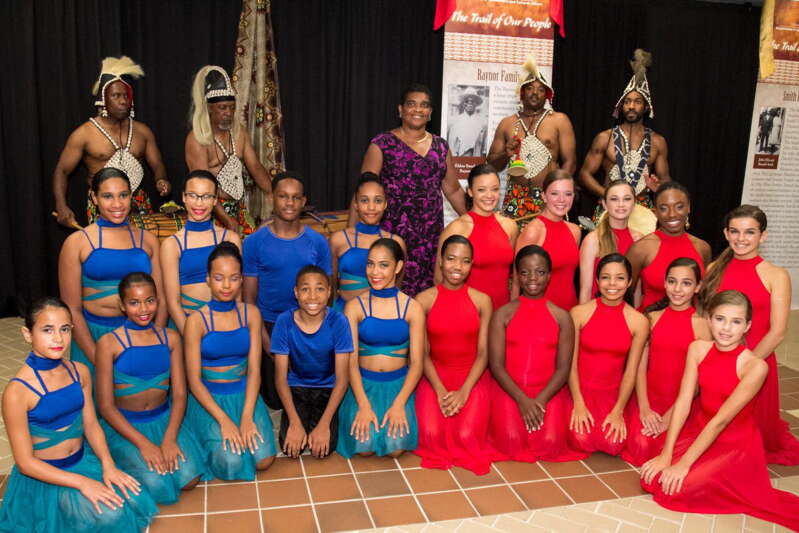 The auditorium at the Ruth Seaton James Centre was packed for The Trail of Our People which offered a timely reminder about the origins of Cup Match.
The event, hosted by Tina Evans-Caines and Gary Phillips, started promptly at 7pm as part of the Emancipation Celebration series organised by the Ministry of Community, Culture and Sport and provided the arena to honour 20 people from Smith's and Warwick parishes for their contributions to the community. Other parishes have been covered in previous years.
The first thing guests heard as they entered the auditorium was the sound of African drummers while just before the ceremony there was a short film snippet showing a snapshot of the African journey punctuated by slave songs. The film was followed by a more lighthearted take on the Cup Match holiday with Ms Evans-Caines and Mr Philips both declaring their devotion to Somerset while "welcoming" the presence of St George's fans — tongues firmly in cheeks.
There was a variety of entertainment throughout the evening including a unique rendition of Bob Marley's Redemption Song by Hannah Eggen, dance performances by United Dance Productions and In Motion, as well as a solo of Amazing Grace by Toni Robinson and performances by RockFire Productions.
But the real focus of the evening were the 20 honorees who were described as "community heroes".
They are John Barritt Sr; Lady Blackman (aka Dr Norma Astwood); Eugene Blakeney; Clarence O Darrell; Mallory Darrell; Dr George Burt and Mrs Gloria McPhee; Nurse Caro Spencer-Wilson; Dr Thomas Stowe; The Talbot Brothers; Major Albert Benjamin; Nurse Iris Davis; Francis Harvey Edmondson; Julia Lightbourne; Herbert Simons; Adele Tucker; Martin T Wilson; Cobb's Hill Methodist Church; Pembroke Hamilton Club; Warwick Workman's Club.
Patricia Gordon-Pamplin, Minister of Community, Culture and Sports, addressed the audience to explain the spirit of the evening's celebrations: "We are here to pay homage to trailblazers of the Smiths and Warwick parishes who have made important and far-reaching contributions to our Island home. Let me put this event into proper context.
"The Department of Community and Cultural Affairs' overarching goal with this particular project is to give due public recognition to persons and institutions who courageously and selflessly worked to make a positive difference to the spirit of progress despite obstacles and seemingly insurmountable challenges.
"Tonight's ceremony continues in that vein throughout the parish of Bermuda during the mid 19 and early 20 century, there were black people who were descendants of slaves and some Caucasians who made significant and meaningful contributions to their communities that have the longest and most far reaching consequences.
"These people were instrumental in bringing about change which must be chronicled, shared and celebrated given the historical context in which they operate in.
"As we pause to celebrate … the information that we share this evening provides an opportunity to further educate and enrich our lives."
Honorees: Excerpts based on biographies written by Meredith Ebbin.
• Major Albert Benjamin, MBE (1914 to 2005): Major Albert Benjamin made his mark as a Salvation Army officer rising up the ranks to become divisional secretary. The electrical engineer served as a minister at three churches and was in charge of the Sarah Kempe Training School for Girls for 15 years along with his wife Ruth. Described as, "a man with boundless energy" he devoted much of his life to helping young people and was twice honoured by the Queen.
• Eugene Blakeney Sr, MBE: Eugene Blakeney dedicated much of his life to the trade union movement serving 14 years at the Bermuda Industrial Union's general secretary. He was also the first general secretary for the Bermuda Public Services Association (now the Bermuda Public Service Union). He was also a Progressive Labour Party MP and senator. Asked what he would like to be remembered for, he said: "A fighter for the workers".
• John Barritt (1855 to 1939): John Barritt was a great supporter of the Berkeley Institute and served under three chairmen of the Bermuda Educational Society. He was the second owner of Barritt's Mineral Water Company founded by his father William John Barritt in 1874.
• Francis Harvey Edmondson, MBE (1866 to 1964): Described as, "one of the most prominent black citizens of his era" Francis Edmondson was a carpenter by trade. He was an influential member of Alexandrina Lodge on Court Street, Hamilton which he helped to rebuild following hurricane Fabian. He was chairman of the board for the Bermuda Nursing Home in Middletown and chairman of the Berkeley Institute Educational Society. In 1938 he was elected into the House of Assembly as a Member of the Colonial Parliament.
• Clarence Orister Darrell (1859 to 1922): Landowner and philanthropist Clarence Darrell owned a dry goods store as well as a livery and grain business. An influential member of the Oddfellows Lodge he purchased the land on which the lodge built the Colonial Opera House. He was such a respected figure that flags were flown at half mast when his body was brought back to Bermuda following his death in New York.
• Herbert Simons (1909 to 1982): Described as a, "larger than life entrepreneur", Herbert Simons began his working life as a mason and tailor. In 1938 he established Deluxe Cleaners and Dyers on Cemetery Road with his brothers with other ventures including Herby's Steak House, Herby's Golf Driving Range and the Warwick Stadium.
• Joseph Mallory Darrell (1873 to 1948): Mallory Darrell was a member of Colonial Parliament and represented the people of Smith's in Parliament for 20 years. A commission agent and livery stable owner he is considered a founder of Harrington Sound School. On opening its doors the Board of Education wanted to name the school after him but, a modest man, he declined.
• Martin T Wilson, OBE (1894 to 1987): Former president of the Bermuda Industrial Union Martin T Wilson went on to serve in the Legislative Council (now the Senate). His variety store on Middle Road was known as 10 Downing Street as it was a gathering place for people of all political persuasions. As president of the Warwick Political Association he launched the political career of future Premier E T Richards.
• Dr Thomas Stowe (1907 to 1992): Dr Thomas Stowe established his dental practice in 1938 and practised for 50 years. In the 50s he served as president of the Pembroke Political Association, was appointed chairman of the Bermuda Dental Board and became one of four blacks appointed chairman of the Government Boards that year. He was president of the Matilda Smith Williams Home for 20 years. He was also a recipient of St Paul AME Church's highest honour for laypeople — the Richard Allen Award.
• Dr George Bert McPhee, MBE and Gloria Darrell McPhee, OBE: Gloria McPhee was Bermuda's first female Cabinet Minister, serving as Health and Social Services Minister and Minister of Planning and the Environment. Dr George McPhee opened his medical practice in Hamilton in 1955 and was medical officer at the Bermuda Regiment. He was later appointed physician in charge of the Extended Care Unit at KEMH and consultant geriatrician to the Ministry of Health and Social Services.
• Caro Spencer-Wilson (1903 to 1989): Nurse Caro Spencer-Wilson helped to pave the way for generations of black Bermudians. On graduating in New York she was unable to get a position in Bermuda due to her race. A group of Smith's and Hamilton Parish residents then formed the Hamilton Parish Nursing Association which hired her to be the community midwife. She was a member of the Hamilton Parish Political Association and during her 40 year career she was the recipient of numerous awards including the Queen's Certificate and Badge of Honour.
• Iris Davis, MBE: Iris Davis became the second black Bermudian nurse to be employed at Government's Victoria Street Health Clinic. On returning to Bermuda after her studies abroad, she took a position at Cottage Hospital before going on to to London where she qualified as a state registered nurse in 1959 and a state certified midwife in 1961.
She came back to Bermuda and joined the Department of Health working up to senior nurse.
• Lady Blackman, OBE: Lady Blackman obtained a PhD in clinical psychology in New York and was a Clinical Fellow in Psychology at Harvard University Medical School. Returning to Bermuda she took up the post of Schools Psychologist rising up the ranks to become director of Social Services. She was an independent senator from 1987 to 1996 and was Senate vice president from 1988 — the first female to serve in that position.
• Adele Tucker, MBE (1868 to 1971): Adele was headteacher at Paget Glebe for more than 30 years and cofounded the Bermuda Union of Teachers in 1919. The first person to receive an old-age pension on her 100th birthday, Ms Tucker died at the age of 102.
• Julia Lightbourn was head of the Kindergarten Department at Ord Road School and for many years was the leader of the First Heron Bay Girl Guide Company. In 1966 the Bermuda Girl Guide Association presented her with the oak Leaf Award for her services.
• The Talbot Brothers: The Talbot Brothers were likely the most famous band in Bermuda during the Island's tourism golden era. Brothers Archie, Austin, Roy, Bryan, Ross 'Blackie', and cousin Cromwell 'Many' Manders toured the US during Bermuda's off-season performing at venues including the 21 Club and Waldorf Astoria in New York. They made an appearance on the Ed Sullivan Show and secured a record deal with ABC Paramount Records.
• Warwick Workman's Club: Established in 1922 the Warwick Workman's Club by a group of 30 workers and was incorporated in 1966 following the purchase of its current property on Cobb's Hill and Middle Road. Members have included Dr EA Cann, E T Richards, Martin Wilson and Arthur Hodgson. The club is making a commitment to the community through its youth, sports and recreational programmes.
• Pembroke Hamilton Club: The Pembroke Hamilton Club was founded more than 100 years ago and in 1940 it moved into its own premises on Reid Street. The club provided scholarships for students and promoted and engaged in sport and recreational activities. Since 2010, the PHC Foundation has provided over $15,000 in scholarships to young members of the club.
• Cobbs Hill Methodist Church: Cobb's Hill Church is Bermuda's oldest surviving Methodist church and was built by slaves and free blacks. The project was led by Barbadian slave Edward Fraser who came to the Island with his Bermudian owner Francis Lightbourn.