New York couple's love affair with Bermuda
Created: Aug 22, 2015 08:00 AM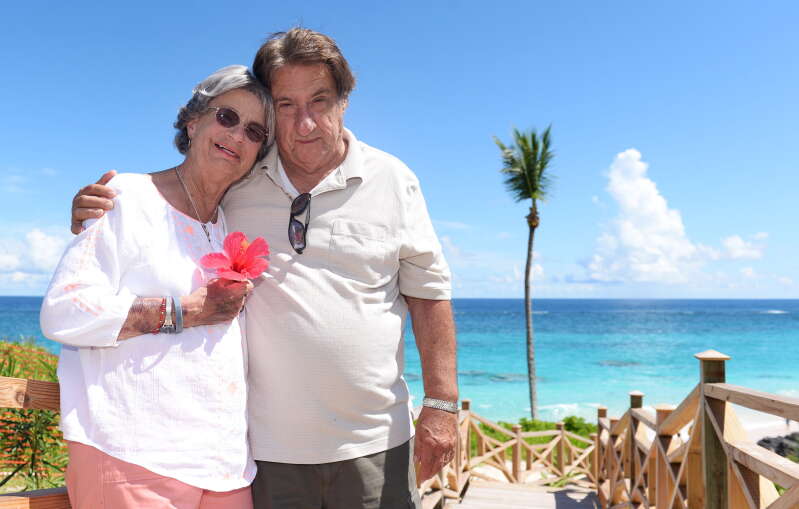 For Sue and Richard Vokes holiday means just one thing: Bermuda.
The New York couple have been coming back to Island for the last 40 years always making sure they stay on their beloved South Shore.
Their love affair with the pink beaches and turquoise sea began back in 1975 when they stayed at the old Mermaid Beach Club with their two-year-old daughter, Christine.
"I had always wanted to come to Bermuda," said Mrs Vokes. "In fact I wanted to come here for our honeymoon."
"But we were told that Bermuda would be too cold in October and so we chose Jamaica instead. I was very disappointed so I made sure we came to Bermuda in 1975.
"When we did we just fell in love with the Island and the South Shore. I told my husband: I am not leaving here until you promise to bring me back."
The couple have returned to Bermuda more than 20 times in the last four decades, often with their two daughters; Christine and Heather.
In 1978 they stayed at Elbow Beach for the first time, and then returned to the same hotel every year for the next 16 years
For the last three years they have stayed at Coco Reefs and are planning to return in 2016.
"It's the people that keep us coming back," said Mrs Vokes. "We have made so many marvellous friends we feel like we know half the Island.
"If you meet someone in Bermuda they are your friend straight away, that is what we love about the country.
"Obviously things have changed over the years as the corporate world has arrived in Bermuda but that same friendliness exists. Unfortunately there does seem to be a lack of family-friendly, reasonably-priced places today, but we have always had a marvellous time."
Last year Mrs Vokes, a 72-year-old retired nurse, fell ill and had to be admitted to hospital.
But she says even her experience at King Edward VII Memorial Hospital was a good one. "I have worked in the world of medicine all my life and I was really impressed with the level of care I received," said Mrs Vokes. "When I returned to the hotel everyone was there waiting to greet me. They could not do enough for me. That is the level of service and hospitality that we have got used to in Bermuda."