Park(ing) Day event has Hamilton buzzing
Created: Sep 21, 2015 08:00 AM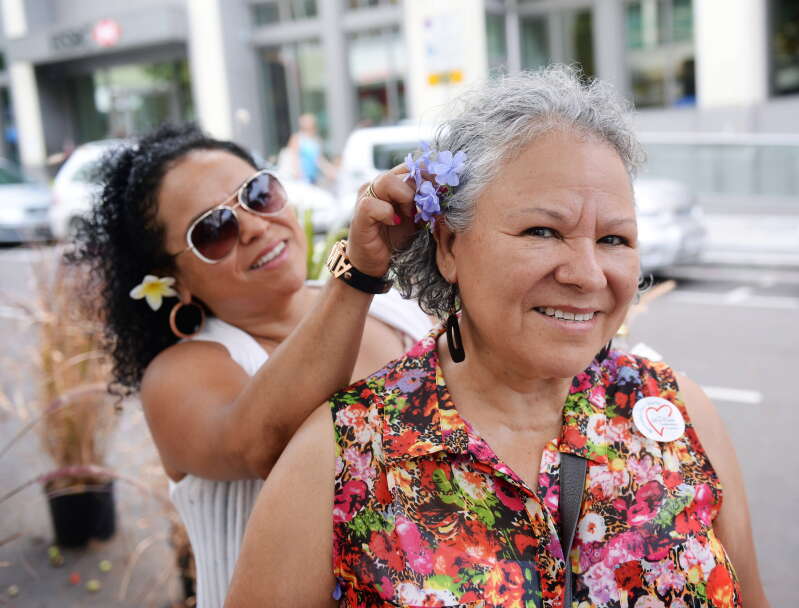 There was an extra buzz around Hamilton thanks to the third annual Park(ing) Day event.
Reid Street and Court Street participated in the annual global event that aims to promote creativity and social interaction as car parking spaces are replaced with vendor stalls, seating areas, musicians and more.
The event was organised jointly by the Department of Planning and the Corporation of Hamilton in what is hoped to become an annual fixture in Bermuda's social calendar.
Some organisations took the opportunity to promote their goods and services — St George's-based bakery Sweet Saak ran out of cinnamon buns in just nine minutes — while others merely took time out to sit al fresco and catch up with friends.
Sousa's Landscaping created a miniature garden on Reid Street complete with a water feature and pathway while some of the entries to the Institute of Bermuda Architecture's Benched competition were displayed along Court Street.
The Department of Planning also had a presence promoting the final week of the consultation period for the draft City of Hamilton Plan asking the public for comments.
Julie Marshall of the planning department said she was happy with the turnout and envisaged the event growing in years to come.
"The atmosphere has been fantastic," she said. "It is sunny and everyone is out enjoying it.
"We have a steel band playing and there are buskers planning to come throughout the day. Although the number of spaces is about the same as last year, the spirit is growing and the public are welcoming it and looking forward to it.
"The concept of Park(ing) Day is to show people what we can do with this space. The plants add so much life and colour and really brighten up the space and bring attention to the trees which I think people take for granted.
"What would be nice next year would be to see the whole length of the north side of lower Reid Street, as well as Court Street, taken up with different displays, vendors and artists.
"We will look to getting the word out earlier next year and branching out."