Regiment and police test their teamwork
Updated: Sep 27, 2015 11:06 PM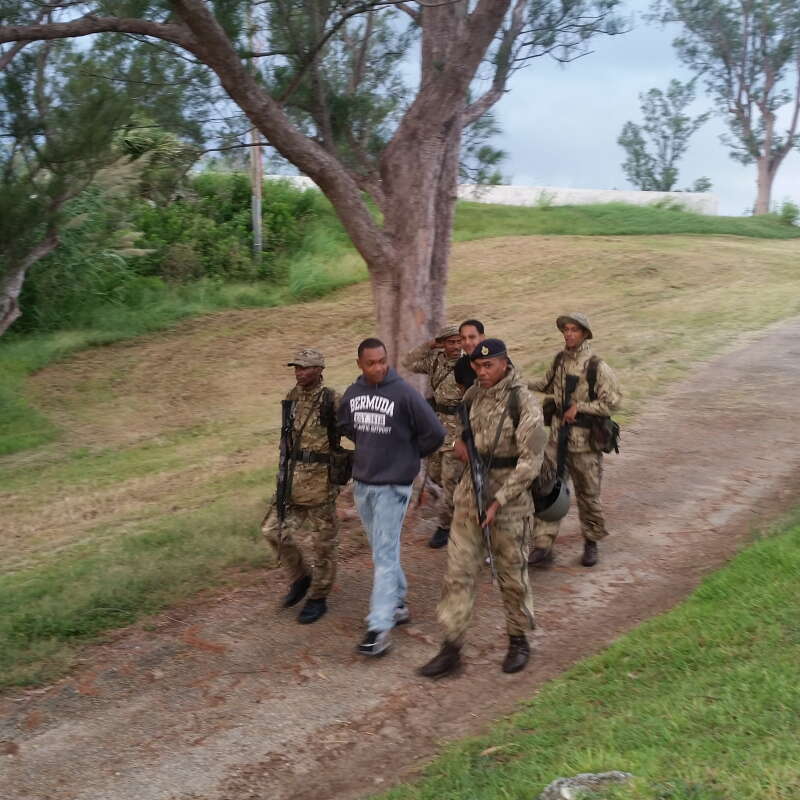 Royal Bermuda Regiment soldiers and Bermuda Police Service officers joined forces over the weekend for a major joint exercise.
Joint Venture 15 involved a hunt by both services for an 'escaped inmate' from Westgate Correctional Facility who was believed to have ties to a terrorist organisation.
The Regiment's commanding officer, Lieutenant Colonel Michael Foster-Brown, said: "The objective of these joint exercise procedures is to test the interoperability between key services.
"We are very pleased with the results – both teams worked together seamlessly. The coordination and communications between both organisations was excellent."
The scenario saw four possible locations for the Westgate escapee, who fled the prison on Saturday afternoon.
Threats to Government House, the Public Works Quarry and the RUBiS fuel terminal meant that these locations were guarded by Regiment troops, while the Ferry Reach area was also combed in the hunt for the suspect and a hostage he had taken.
The escapee was finally detained and the hostage freed by soldiers yesterday, but not before a specialist troop had to dismantle a suspected improvised explosive device.
Col Foster-Brown said that the police, led by Silver Commanders Inspector Robert Cardwell and Inspector Steve Cosham, would now conduct a formal debrief with the Regiment's staff officer, Maj Andrew Clarke, and other senior Regiment officers to analyse the joint responses to the exercise's threat to security.
The acting Deputy Commissioner of Police, Antoine Daniels, said: "We have to recognise that Bermuda, unlike the UK, US and Europe, doesn't have the major back-up they can all call upon, so it's critical that we work closely together with the [Royal] Bermuda Regiment, HM Customs and others to augment our ability to deal with civil unrest, public disorder or criminality.
"All accounts from my officers on the ground suggest the exercise went well and that there were a lot of learning opportunities.
"We will be able to build on that to provide the best service possible to the people of Bermuda in the future."
Maj Clarke, the joint venture's coordinator, said: "The exercise was the culminating phase of a series of exercises aimed at improving interoperability among several essential Bermuda services."
Col Foster-Brown added: "The exercise is an annual activity with the lead alternating between the RBR and the Bermuda Police. Next year, the Bermuda Police will lead the joint venture."