Protesters shut down immigration meeting
Updated: Feb 18, 2016 01:11 PM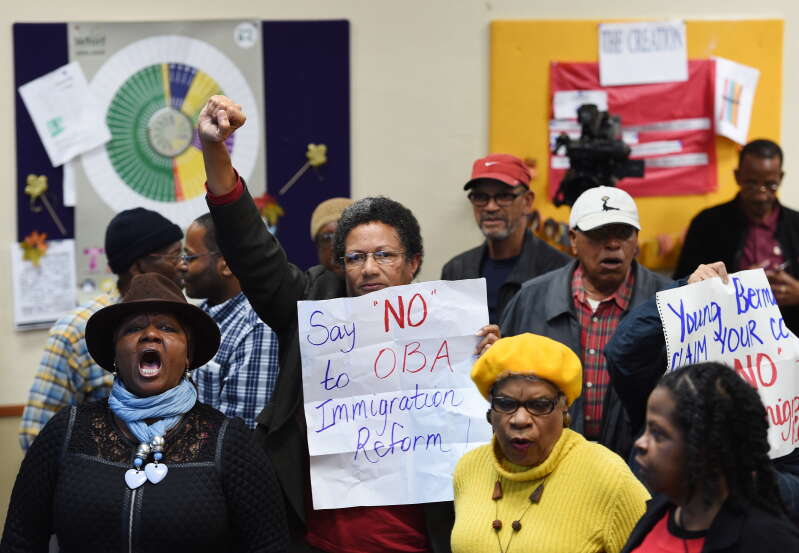 Chanting protesters shut down a meeting yesterday to discuss changes to immigration policy.
Last night, home affairs minister Michael Fahy condemned "bully tactics" and slammed the protest as undemocratic.
Senator Fahy said he called the meeting off on the advice of the Bermuda Police Service — but vowed to find further opportunities to explain the reasons for the changes, which would make it easier for long-term residents to gain Bermuda status or become permanent residents.
Senator Fahy cut the meeting short after a group of protesters shouted him down as he started to speak on present immigration laws. The protest came in the wake of Opposition MP Walton Brown's call for a campaign of "civil disobedience" against the proposals.
Senator Fahy said: "That opportunity for Bermudians to hear what we are saying was sabotaged.
"And it would appear to me and certainly the Attorney-General and other colleagues that a minority of people have taken notice of Walton Brown's call for civil disobedience.
"And that is completely and utterly the wrong way to go about things and in itself is a bully tactic and is completely and utterly undemocratic and one should expect better from our elected and appointed representatives."
The public information session about the controversial Pathways to Status was held at the Cathedral of the Most Holy Trinity's hall. Senator Fahy told The Royal Gazette that Mr Brown had been vocal in highlighting the plight of some overseas residents on the island in the past.
"I find it somewhat hypocritical of him to stand and fly in the face of some of the very people he has advocated on behalf of in the not too distant past and I think that's disappointing," he added. "It appears that a minority group of people want to intimidate and bully and silence those that believe the Government is doing the right thing."
The protest came after Senator Fahy announced this month that the Government wanted to change immigration rules and allow those who have lived in Bermuda for 15 years to apply for permanent residency and those who have the PRC certificate, having lived in Bermuda for 20 years, to seek Bermudian status.
Senator Fahy gave a brief history of the island's immigration policies before he was shouted down by protesters chanting "no", "no to immigration reform", "no to OBA policies", "liars" and "thieves". Some held up signs calling for "bipartisan and comprehensive immigration reform", while others read "Say no to OBA government immigration reform" and "400+ years of racialised immigration policies must not continue".
The small police presence at the meeting was reinforced, and after more than 15 minutes of shouting and chanting, Senator Fahy said they would try to hold the meeting "another night".
Protesters cheered and clapped as he left the room, accompanied by Sylvan Richards, the Junior Minister of Home Affairs, and Trevor Moniz, the Attorney-General.
But Senator Fahy told said: "We will continue to find opportunities and make opportunities to get our message across, get the information to the people about our human rights obligations, about how these kinds of policies will help all Bermudians.
"All of us that were at the front were prepared to stay until the shouting stopped. But on the advice of the Bermuda Police Service, we left.
"We will try another day. But at the end of the day it is incredibly disappointing and simply wrong and we cannot allow a minority mob to sabotage what is eventually a good thing for all Bermudians."
Mr Brown, who was at the meeting, said: "I think this night was a manifestation of popular concern about this issue."
He added that civil disobedience "manifests itself in a variety of ways" and that yesterday's protest was "one way, but there are other ways as well".
In a Facebook post on February 5, Mr Brown branded the new immigration proposals as "b******t", saying: "There is no longer space to discuss and negotiate.
"This is the time for direct action. Civil disobedience. I will consult with other like-minded people and we will act ... as early as next week. Are you in?"
He later told The Royal Gazette: "The time for discussions is over. The Government clearly has no intention on having a collaborative approach on one of the most contentious issues.
"If the minister seeks to throw the gauntlets down to the Bermuda public he will get an appropriate response."
Speaking in the Senate yesterday, Senator Fahy defended the proposed changes, which came under fire as PLP senators argued that the Government should focus on creating pathways to success for Bermudians first.
Senator Fahy, however, responded that immigration reform is required to meet international human rights regulations, noting immigration tribunal judgments.
Last night, Walter Roban, Shadow Minister of Home Affairs, said the meeting saw democracy at work.
"Tonight at the Cathedral Hall a group of citizens exercised their democratic right to express their displeasure at the OBA's proposed immigration policy," he said. "This is a clear signal that the citizens of this country are tired of being lectured to, they are tired of being told what's good for them, and they are tired of being told to ignore their conditions.
For a video link to the protesters, click here.