Bermuda to take part in Earth Hour next month
Updated: Feb 24, 2016 04:04 PM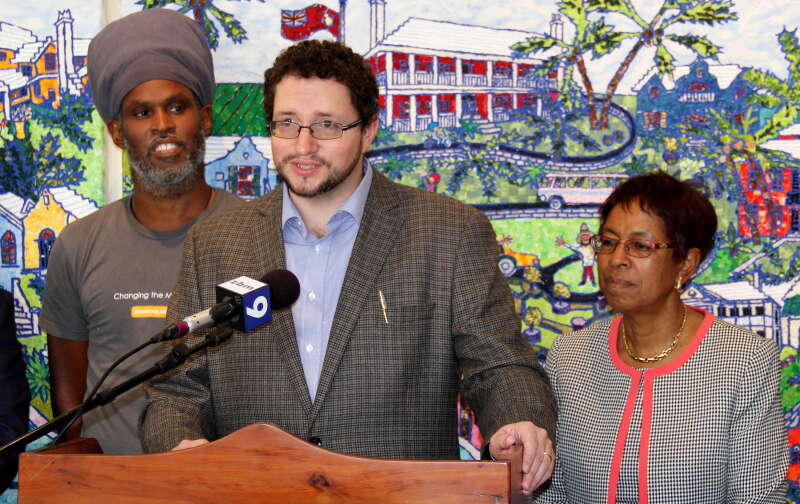 Efforts to raise awareness about energy conservation and sustainability are being marked by an island-wide blackout next month.
Greenrock has again initiated the island's 9th annual Earth Hour, due to take place on March 19 from 8.30pm to 9.30pm.
Health minister Jeanne Atherden and Jonathan Starling both labelled the event as "symbolic" of a greater intention.
"At its heart, Earth Hour is about generating a sense of community, of solidarity, showing that people care about the environment and our future," Mr Starling, director of Greenrock, said.
"This activity provides the entire community with an opportunity to light up the streets of Hamilton and showcase the power we all posses to make a statement in support of positive change."
Live entertainment, vendors, activities and speeches from key stakeholders will take place at the Waterfront Properties courtyard just above Miles Market, the second year at this location where the 5km Glow Fun Walk & Run will start and finish.
Mr Starling said that despite last year's foul weather, registration exceeded his expectations, with more than 500 participants.
He said: "Over the past two years in particular we have focused on broadening the reach of the Earth Hour Campaign by inviting participation from organisations that we consider to be key stakeholders in creating a more sustainable future for our country."
New this year to the committee are Wedco and St George's, who have vowed to switch their lights off.
"With these relationships we have strengthened our capacity to raise awareness in our community, change mindsets, share pertinent information and employ educational programs that teach us to live and operate in a more harmonious and sustainable way," Mr Starling said.
There will be no posting during "lights-out", but participants are encouraged to share their experience with dimmed, candlelit pictures using the relevant hashtags after.
Ms Atherden said: "Observing Earth Hour is not only about an isolated moment to turn off the lights. We have to remember that it's a symbolic reminder to show our commitment to taking actions that can bring a brighter future for our children.
"The small action Earth Hour promotes can motivate many people to take further steps beyond the hour itself, and to look at other ways they can be more energy efficient and recognise that we all have a part to play in preserving our planet."
Mr Starling told this newspaper: "The Earth Hour itself, it's not really going to make a change to the electricity output in Bermuda. It's an opportunity to turn your lights off for an hour and reflect on your energy usage.
"A lot of people criticise Earth Hour saying, 'That's not going to do anything. It's not reducing pollution.' That hour in itself does not. It's symbolic to lead to greater change over time."
Acting Mayor of Hamilton John Harvey said the City recognises the need for environmental change and encouraged all within the municipality, including restaurants to commit to "an hour with no power".
Mr Harvey said: "The City of Hamilton will show its commitment by working with the crews from Belco to turn off the decorative coppertop lights, the lights in City parks and at City Hall, as well as the Hamilton docks."
He added that no traffic lights will be affected.
"On behalf of Mayor Gosling I applaud the efforts of Greenrock and all participating partners and organisations in this initiative and encourage everyone to do their part, especially the younger generation who have the opportunity to make a profound change."
Stephanie Lee of the Bermuda Chamber of Commerce said that, since their offices are closed on a Saturday, they will be showing support for an hour on the Friday.
Ms Lee said: "We encourage our fellow members of the business community to support Earth Hour by darkening their building, turning off lights and computer screens on Saturday."
For more information, visit www.earthhour.bm or racedayworld.com.