Sir John proclaimed a National Hero
Created: Jun 21, 2016 09:00 AM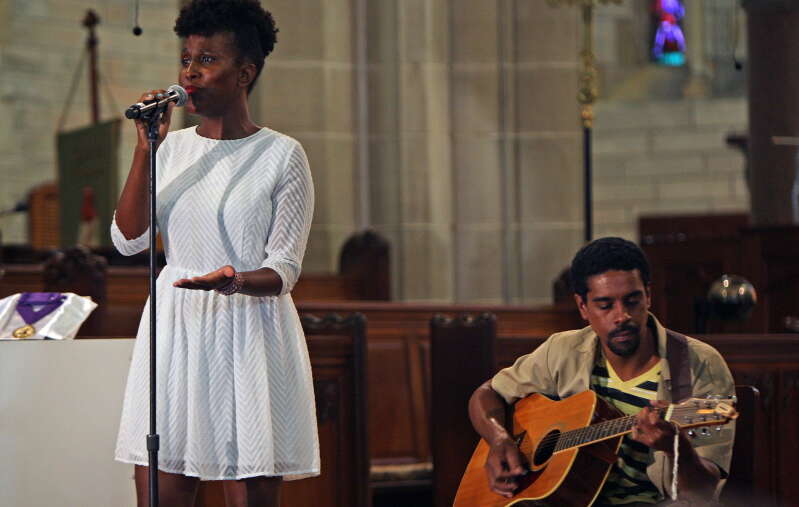 He may have been Bermuda's longest serving Premier with a renowned background in real estate, but Sir John Swan was praised for his gentlemanly demeanour as he was formally proclaimed a National Hero on Sunday.
Sylvan Richards, the Minister of Social Development and Sport, also pointed to Sir John's years of philanthropy and his efforts to put Bermuda on the international map during a ceremony at the Anglican Cathedral of the Holy Trinity.
"Sir John has made significant and profound contributions to our country — as a politician, as a real estate developer, and as a passionate advocate for our island," Mr Richards said.
"He is also known for his warmth, humility, sense of humour and gentlemanly demeanour: something which, on a personal note, I have always admired."
Presenting a biography of the former leader, Robert Horton noted Sir John's long history of overcoming challenges with "sheer determination and the belief that he could achieve anything if he set his mind to it".
Sir John fought through visual challenges and dyslexia to found his own business in 1962, the John W. Swan Agency, through which he sought to ensure that the average Bermudian could fulfil their dream of home ownership. He became involved in politics in 1972 and became premier in 1982, retaining the position for more than 13 years before retiring.
Mr Horton said Sir John's crowning achievement as a politician was likely the establishment of the US Bermuda Tax Convention, which played a crucial role in securing the island's position as an international reinsurance hub.
Sir John was honoured with a standing ovation as he stood to accept the award near the close of the ceremony, which featured performances by "Shine" Hayward and Joy T. Barnum.
The first living person to be inducted as a National Hero, Sir John joins a distinguished list including Dame Lois Browne-Evans, Dr Pauulu Kamarakafego, Dr E.F. Gordon, Sir Henry Tucker, Sir Edward Richards, Gladys Morrell and Mary Prince.