Rusted tank a magnet 'for mosquitoes'
Updated: Aug 09, 2016 05:25 PM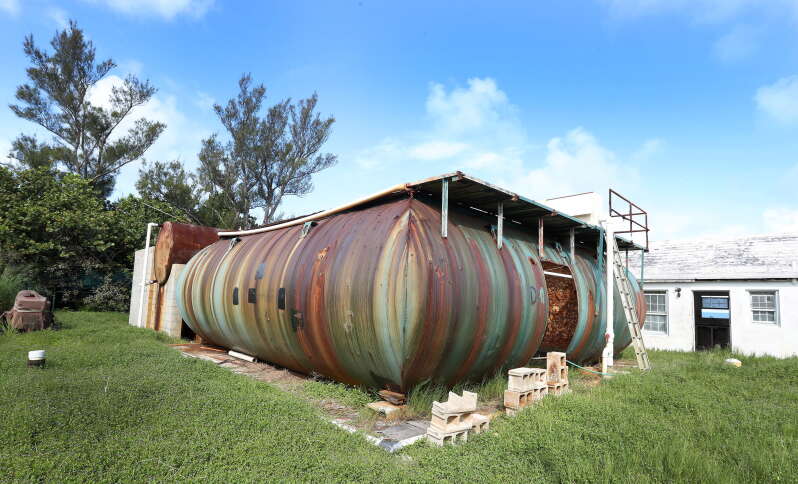 A rusted tank at the West End has become an eyesore and breeding ground for mosquitoes, according to area residents who contacted this newspaper.
However, Simon Groves, chairman of the Boaz Island Condo Corporation, said the property owner was hoping to get rid of the structure, a relic of upgrades to the area's sewerage system.
Residents contacted The Royal Gazette in April over a decaying tank that was open to the elements, and had become infested with mosquitoes.
According to Ray Charlton of the West End Development Corporation, Wedco had been contacted — but does not own the property and is thus not responsible for it.
Mr Charlton added that he believed Vector Control officers had treated the water to stop insects from breeding.
The West End's sewerage and water piping infrastructure has gone through an extensive overhaul in recent years.
Mr Groves said that the structure was a decommissioned sewerage plant, shut down in 2014 after Boaz Island was connected to an alternative system.
"Quotes were immediately sought to dismantle and remove the old infrastructure," Mr Groves said.
"Unfortunately the estimated costs were simply beyond that which the board could afford to pay."
The corporation's board had received no complaints from residents of Boaz Island about the plant, but he said the group was "acutely aware" of issues associated with it.
The housing board kept property owners apprised of its monthly meetings, he added. "In our July 2016 update, owners were informed that the board has entered into negotiations with an organisation who wish to lease the property on which the sewage plant is located.
"The negotiations include the dismantling and removal of the offending infrastructure. We are hopeful that this can be progressed expeditiously to the mutual benefit of all concerned.
"Property owners are continuously asked to communicate with the Board to discuss matters of concern, and rental tenants should be equally encouraged to speak with their landlords to address their concerns.
"The board is committed to providing the best service it can with the limited funds it has available, and to achieve its vision of creating a premier residential location."