Berkeley Institute's partnership with bridge
Created: Nov 03, 2016 09:00 AM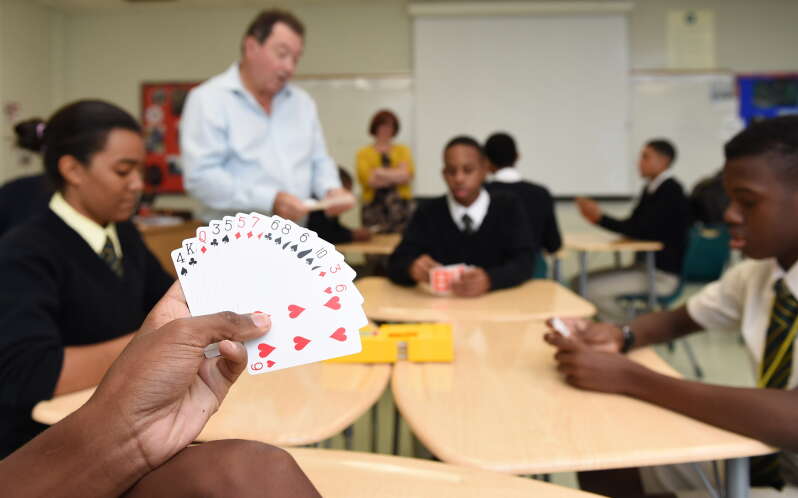 Berkeley Institute is to become the first public school in Bermuda to introduce a programme of bridge — a tactical card game that has been proven to enhance academic performance.
The Bermuda Bridge Club is recruiting interested students to take part in the co-curricular "Bridge in Schools" programme that has already been introduced at Saltus Grammar School and Bermuda High School.
Top players get the opportunity to travel overseas to compete in international competitions as well as locally in national contests.
Bermuda Bridge Club president John Burville said he was excited that the club had now extended into the realm of the public school system and that he hoped to expand the club to as many schools on the island as possible within the constraints of available sponsorship and funding.
He told The Royal Gazette: "Berkeley is special because it is the first public school to introduce the club and we are really excited about it. Our theme is 'Bridge is Coming to Berkeley'. It adds diversity. I would love to be able to take a group of Berkeley children to the world championships. We would be thrilled.
"This is will be the makings of the programme — I had no idea how big this was going to be in terms of publicity and recognition."
Four Saltus students — Tyler Irby, Ruskin Cave, Gianluca Cacace and Liam Peniston — competed in the 16th World Youth Bridge Teams Championships in Salsomaggiore Terme, Italy, this summer and participated in the North American Bridge Championships in Chicago in 2015, thanks to sponsorship through the Bridge Club as well as money raised through carwash sales.
Kitted out in their hot pink, club branded T-shirts, the newcomers created quite a stir — they received the loudest applause of the day as they entered the arena. While they did not pick up any trophies, they did walk away with the sportsmanship award.
Interviewed after the contest in Italy, Saltus student Tyler Irby said: "I think we are known for our manners. Our sportsmanship is definitely something we want to show going forward."
The Bridge Club is offering all students the ability to travel to Toronto to play bridge at a major ACBL Youth event, mainly to gain experience, provided they reach a basic minimum level. Mr Burville described bridge as "an elegant game full of strategy and tactics. It is part science, part maths, part logic and part reason" adding that "a huge component of bridge is also very human."
It is also believed to improve academic performance in students, not least in the subjects of maths and science.
In 2005, a researcher from Carlinville, Illinois, Dr Christopher Shaw completed a study examining six groups of fifth graders of a similar academic ability. One group learnt to play bridge as part of its maths instruction for three years while the other five groups did not.
The 15 students who learnt bridge had a greater average increase in their Iowa test of Basic Skills scores than the others in reading (20.66 per cent), language (13.39), maths (24.22), science (39.31) and social studies (22.74). Michael Viotti, a physics teacher at Saltus Grammar School who has been teaching his students bridge, was interviewed by World Bridge Federation journalist Jade Barrett about his Bermuda team.
Asked about the local students, Mr Viotti said: "Their best experience has been playing in the Bermuda regional. For them that's when it felt like bridge was more than a little club thing — it was more serious and they saw the competitive element a little bit more and that, for them, was a big eye opening moment."
Berkeley alumni Alan Douglas is considered one of the best bridge players Bermuda has ever seen. In more than 30 years he has played all over the world and won the club's events including its most prestigious award — Senior Player of the Year.
Mr Douglas said: "I would recommend any student to spend time to learn the game. It teaches you ways of thinking that you will not learn anywhere else. You become a Sherlock Holmes, and the more you play, the more you can detect about the game.
"Besides basic counting skills, a player uses deductive skills, inferences, and creative thinking."
The Bermuda Bridge Club is also an approved provider of bridge for the skills component of the Duke of Edinburgh Award Scheme. The club at Berkeley will be headed up by alumni Marilyn Simmons with days and times yet to be announced.
Students interested in joining the bridge club at Berkeley Institute are encouraged to contact Berkeley Institute teacher Meredith Callaghan.
•For more information about the Bermuda Bridge Club visit: www.bermudabridgeclub.com