Super yachts set to descend on marina
Created: Nov 24, 2016 07:00 AM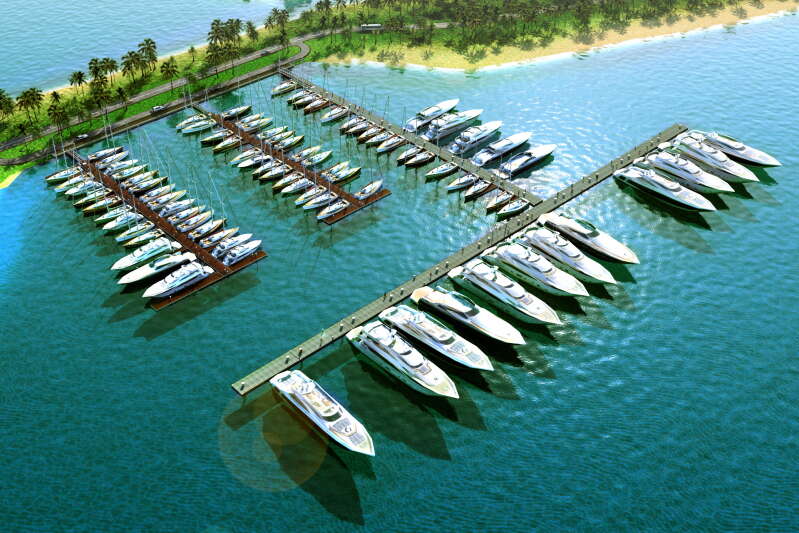 Developers behind the Caroline Bay luxury hotel resort hope to attract more than 30 super yachts to their state-of-the-art marina for next year's America's Cup.
Morgan's Point Ltd has already accelerated the marina phase of the multimillion dollar project so the old Morgan's Point site can accommodate the predicted influx of maritime traffic.
Work on strengthening the foreshore with armour rock imported from Canada is already under way, while the 720ft wave attenuator, which will form the spine of the marina structure, is due to arrive in Bermuda next week on a specially chartered ship.
Dennis Correia, marina project manager told The Royal Gazette that the Caroline Bay marina would be the largest in Bermuda and similar to structures found in Dubai.
"I am very confident that we will have completed the structural work on the marina by the end of January," he said. "After that there will be further infrastructure work that will need to be completed too.
"The bad weather we have had recently has put us back a couple of weeks but we are working hard to make that up.
"When the marina attenuator arrives from Finland next week we will have all the materials on site that we need for the construction. The plan is to anchor the ship in the Little Sound or to the north of the property and use tugs and barges to bring the structure on to site.
"We have one expert coming in from Finland to help with the assembly and around 15 to 18 other workers, all Bermudians, who will be responsible for the marina construction project."
Morgan's Point Ltd obtained the Southampton peninsula in 2008 as part of a land-swap agreement under the condition that the Bermuda Government remediate the site to residential standards.
The Caroline Bay project officially broke ground earlier this year in June. The first phase, expected to be completed by the end of 2018, will include 35 branded condominium residences and a five-star, boutique, 79-room Ritz-Carlton Reserve hotel.
Jodi Lewis, a spokeswoman for Morgan's Point Ltd, said that developers believed that the marina would be completely sold out for the America's Cup next year.
"The Caroline Bay marina team had the pleasure of attending the Fort Lauderdale boat show and were very pleased with the positive feedback we received from the numerous vendors, super yacht owners and business professionals," she said.
"There have already been several inquiries for berths and we estimate that the marina will be completely sold for the 35th America's Cup.
"The Caroline Bay marina is currently taking inquires and although the marina will not be complete until March 2017, we are already making plans to accommodate super yachts of any length."