Environmentalists launch plastic-free weekend
Created: May 04, 2017 08:00 AM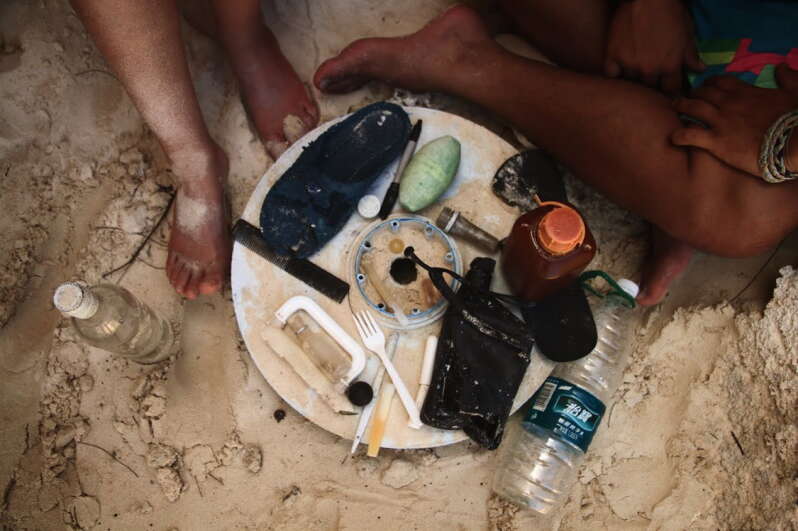 It is not unusual to be handed a bag, set of cutlery, straw and cup all made of plastic during a single lunch trip in Bermuda.
The environmental group Plastic Tides is hoping to put an end to the practice and even has aspirations to see Bermuda go virtually plastic free in the future.
Plastic Tides' Gordon Middleton and Christian Shaw have been reaching out to local businesses to encourage them to opt out of offering their customers plastic items automatically — or go without plastic altogether — during the upcoming Devil's Isle Challenge paddleboard race weekend, also organised by Plastic Tides.
Some businesses are already on board with Gosling's offering its customers reusable steel cups during the America's Cup, the Buzz group giving out reusable bags to its customers instead of its regular yellow plastic bags over the weekend and Devil's Isle Cafe distributing straws made of rye.
The Devil's Isle Challenge takes place this weekend and businesses that participate in reducing plastic during the weekend will be listed on the Plastic Tides website.
Mr Middleton told The Royal Gazette: "We have a couple of businesses spearheading what we are calling a plastic-free weekend, with the goal of a plastic-free island in the future.
"We are challenging businesses, just as a starter phase, to do three simple things. One is to not 'auto straw' — unless someone asks you, don't give them a straw.
"Number two is don't 'auto [plastic] bag' — that is restaurants and hopefully we can get over to grocers as well. Number three is don't 'auto cutlery' for to-go orders. Businesses can do any one of those things or all three. Our hope is that they will let us know if they want to participate and we can put them on our website."
The Devil's Isle Challenge aims to highlight plastic pollution in the ocean. Local and overseas participants will paddleboard 40 miles around the island, launching from Snorkel Park Beach.
The event also aims to raise funds for the educational component, the Sup's Kids Paddling Programme, which is also making a return, giving schoolchildren the chance to learn the sport while gaining an understanding of the importance of ocean conservation.
Host venue Snorkel Park Beach is dedicated to going completely plastic free during the event, serving drinks in steel cups.
Gosling's will be using glass in its America's Cup bar and is purchasing steel cups for customers to use and reuse.
Brand director Andrew Holmes said: "I think the initiative is awesome. We are surrounded by the water and plastic in the ocean keeps building up — we need to be conscious of that.
"We need to do every bit we can to reduce the amount of plastic we use. Being a beverage company, people consume a lot of beverages out of plastic cups and the guys at Plastic Tides turned me on to this stainless steel product which is really cool. We will be using them at the America's Cup now.
"In the America's Cup Event Village they have a Greenware plastic but there will be the opportunity to upsell and buy this souvenir cup that you can reuse.
"Plastic is used wherever glass can not be used. I think we are trying to encourage people to bring their own [safe] drinking vessels to the event to try and minimise the amount of even biodegradable plastic being used."
Mr Middleton added: "We are aiming to get as many businesses as possible involved in our Plastic-free Weekend in order to raise awareness on island. So far we have been really happy with the engagement from local businesses. We decided to start small, just a weekend, to show the community that it is a possibility to make Bermuda a plastic-free island."
• For more information on Plastic Tides visit http://plastictides.org/ and for more information on the Devil's Isles Challenge visit: http://devilsislechallenge.com/