Night of terror in Las Vegas
Updated: Oct 03, 2017 09:06 AM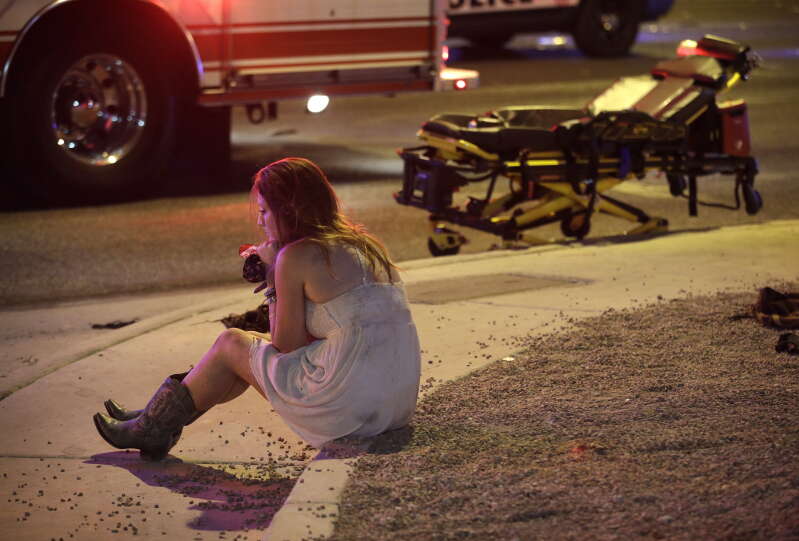 Bermudian long jumper Tyrone Smith relived the terror of a murderous gun attack on a concert in Las Vegas yesterday.
Mr Smith was at a show just across the road from the Mandalay Bay hotel, where gunman Stephen Paddock holed up before he fired hundreds of shots at a packed country and western show in the streets below, killing at least 58 people.
Mr Smith, on a visit to the gambling mecca with US Olympic pole vault silver medal-winning girlfriend Sandi Morris, said the two were at the Blue Man Group show at the Luxor Hotel and Casino on Sunday night when they were ordered to remain in their seats about 11pm because of an emergency.
He said: "At first we thought it was part of the show — like there was something else they were going to do.
"Once I realised that it wasn't part of the show, and then I found out that there was the active shooter, my brain just went to kind of a defence mode, and I just started spotting where all the exits were."
A check online revealed the terror unfolding only a few hundred yards away.
Mr Smith, who lives in Houston, Texas, said: "At this point, the people at the venue had not told us anything."
He added audience members were locked down in the Luxor until almost 5am, when the couple were allowed out and had to walk a mile to their own hotel.
Mr Smith said: "There we no taxis, there were no Ubers, it was a ghost town.
"There were police, some in tactical gear, lining the road. For 80 per cent of the walk, there was just police and police vehicles out."
Mr Smith was just 14 miles away in Monaco when an Islamic fundamentalist drove a truck into crowds packed into the centre of Nice, France, killing 86 and injuring hundreds in July last year.
As well as the dead, more than 500 people were injured when Paddock, 64, from Nevada, opened fire on the 22,000 people at the Route 91 Harvest Festival in the worst mass shooting in modern US history.
Paddock shot himself dead before police stormed his hotel room on the 32nd floor of the Mandalay Bay. The motive for the attack is still unknown.
Stuart Lacey, founder and CEO of Bermuda-based technology company Trunomi, was also caught up in the terror as he arrived in the city for a technology conference.
He was in an Uber taxi around 9.30pm on his way to the Caesar's Palace Hotel when the car stopped in heavy traffic and he could hear gunshots in the distance.
Mr Lacey said: "I could hear the shooting from the Uber. We were maybe a half mile away from it. There were police everywhere, trying to get around the traffic, driving over the embankment.
"The gunfire didn't stop for some time.
"It took quite a while. You think these things would be over quickly, but we were hearing them for 20 minutes.
"The amount of shots we could hear, there was no doubt that this was not a simple rifle and a lot of people were at risk."
Mr Lacey added: "The route the Ubers usually take goes right down the strip.
"If we were travelling five minutes earlier, we would have been passing right between the hotel where the shooter was and the concert."
Mr Lacey said he and his driver discussed what to do and decided to stay in the car.
He added: "There's a fight or flee urge that goes through everyone's mind, but in these kind of incidents the advice is to run.
"You don't stick around, but it's difficult when you're stuck in traffic.
"Eventually other cars started going over the embankment and driving the wrong way down the one way, and we followed them. Police were saying there was an active shooter and we didn't want to be anywhere near it."
Mr Lacey arrived at his hotel at around midnight but terrified people crowded the hotel and everyone was forced to wait outside until around 3.30am.
He said: "The whole hotel went into lock down — from what I understand they locked down the whole strip."
Mr Lacey added that he was grateful he survived unscathed but that friends of people connected to Trunomi were in hospital after the incident.
He said: "I'm one of the lucky people."
Bermudian Jaidah Bailey, a student at the University of Nevada, Las Vegas, said she was at home when the firing broke out.
She added she had noticed a friend mention a shooting before she went to sleep but was not aware of the seriousness of the incident — until she was bombarded by messages to check she was unharmed.
Ms Bailey said: "I was awoken by a phone call by mother. She was very concerned because she had heard what happened and many people were reaching out to her to make sure I was OK. I wasn't aware of much but once I checked my phone I had many messages from friends and family back home to see if I was safe."
She added a friend who worked at the Mandalay Bay said it was "madness" at the hotel and that she had been trampled by terrified people fleeing the shooting.
Ms Bailey said: "Her and her coworkers had to hop over fences and run for their lives. They ran all the way to the University of Nevada where they knew it was safe."
She added classes at the university were yesterday suspended.
Ms Bailey explained: "Many people have not left home because they are frightened or were affected. Some classmates came to class crying and many had to leave because they didn't have the strength to be around others at this moment. This has been a huge tragedy in another place I call 'home'.
Richard Schuetz, executive director of the Bermuda Casino Gaming Commission and in the city to deliver a lecture, said the holiday city was in shock.
He added: "I have lived in and been involved with Las Vegas for many years, and there is a part of me that says that this was almost inevitable, and another that is just in shock that it did happen.
"Walking around Las Vegas one finds a city in a surreal haze, and no one understands it. The city is simply in shock."
Mary Ellen Koenig, United States Consul General in Bermuda, said: "It's a heartbreaking day for those affected by this senseless tragedy.
"Right now, our thoughts are centred on the victims and the devastated families and friends who have been impacted."