Perozzi blasts homebirth inquiry
Created: Feb 09, 2018 08:00 AM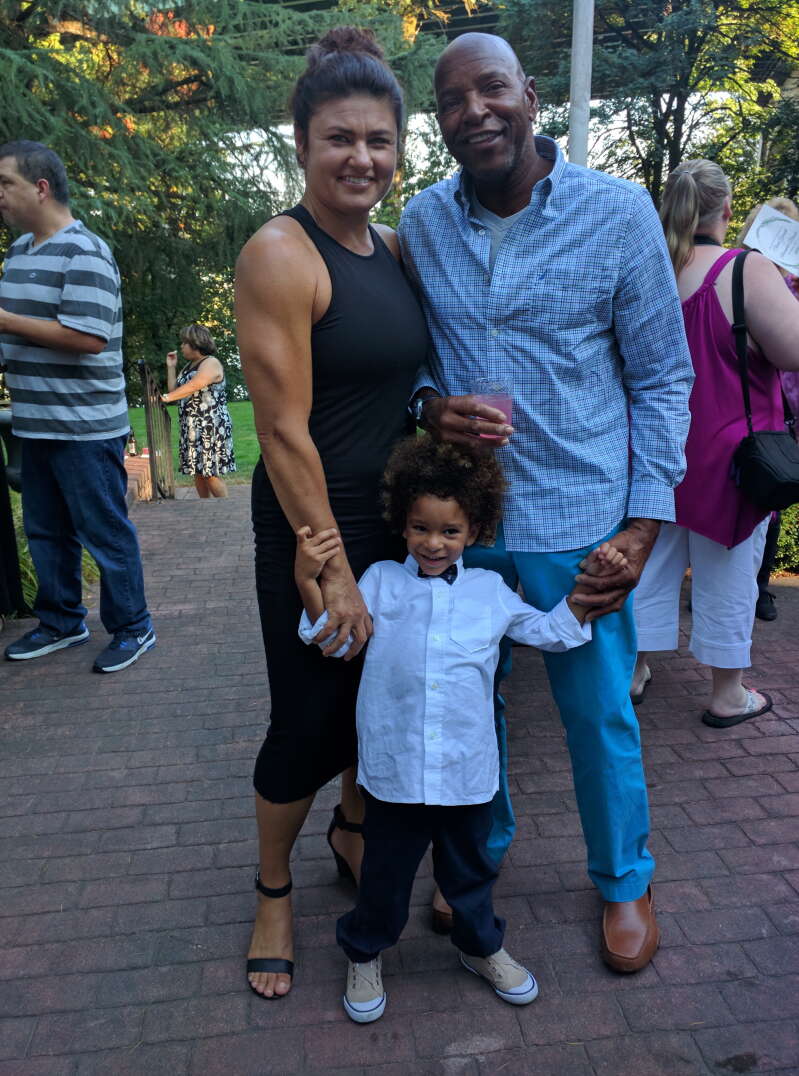 Former world boxing champion Teresa Perozzi called on police yesterday to drop an investigation into a birth companion who helped her to have a baby at home without medics present.
Sophia Cannonier, a non-medical birth supporter known as a doula, was at Ms Perozzi's Warwick home when she gave birth to her son, Gabriel, almost four years ago.
She has since been interviewed by detectives on suspicion that she falsified information on paperwork about the labour.
Ms Cannonier denies the allegation and Ms Perozzi told The Royal Gazette it was not in the public interest for police to pursue the case.
Ms Perozzi, a former women's WBA middleweight title-holder and also a doula, said: "The birth went beautifully.
"I wasn't high-risk, I was healthy and everything progressed beautifully. Sophia just offered to be my doula. There is nothing illegal about having an unassisted homebirth."
There are very few homebirths in Bermuda each year and parents who choose to have them usually bring in a midwife from abroad on a work permit to assist.
There are no island midwives who perform the service and no doctor willing to be associated with homebirths.
Ms Cannonier and another homebirth advocate said yesterday that proposed changes to the law, if approved, may make bringing in overseas help more difficult.
Ms Perozzi's health insurance plan would not cover the cost of bringing in a midwife and she could not afford to pay for it.
Instead, she had a midwife, Makeda Kamara, on a Skype call in the United States during the labour. She said Ms Kamara arrived on the island for another home birth soon after Gabriel was born and signed his labour summary form, which had been filled in by Ms Cannonier.
Ms Perozzi said: "The only reason I had Makeda sign it was because she came the next day for another birth. That was my decision, not Sophia's, and was probably a mistake on my part."
Gaynell Hayward-Caesar, chief nursing officer at the Department of Health, later complained to the Bermuda Medical Council.
She said Gabriel's birth was "tangible evidence" that someone other than a registered midwife performed the delivery, which contravened the Midwives Act 1949.
Ms Hayward-Caesar also highlighted the labour summary form completed by Ms Cannonier but signed by Ms Kamara.
She wrote in her complaint: "This practice is unprofessional and borders on fraudulent documentation as the midwife was not present and the form was completed by Sophia Cannonier.
"It has been suspected for quite some time that homebirths are being conducted by doulas or lay persons."
Ms Hayward-Caesar's complaint about Ms Perozzi's homebirth was contained in a longer list of concerns about homebirths, which she asked the medical council to investigate.
The medical council agreed in June 2016 to ask the Department of Public Prosecutions to consider whether information had been falsified on an official document.
Ms Cannonier and Ms Perozzi have both given a statement to detectives about the March 21, 2014 birth of Gabriel.
Ms Perozzi said Ms Cannonier gave support at the birth, but did not act as a midwife.
She added that Gabriel was taken to a doctor on the day he was born and never suffered any ill effects from the homebirth.
Ms Perozzi said: "What was so wonderful about being at home was that I stayed in the tub for 45 minutes. We let my body naturally expel the placenta and let the baby stay attached to the umbilical cord for as long as possible. My son has never been sick to this day."
She added: "There are people who are very against homebirths. That's fine, go to the hospital and have your baby. People who have a clean bill of health, why not let them have a choice?"
She said there was "absolutely no public interest" in the police continuing its inquiry.
Ms Perozzi was speaking as Ms Cannonier and another homebirth advocate raised concerns about the Ministry of Health's proposals to amend the law on midwives.
The changes would require midwives operating in Bermuda to have indemnity insurance and a minimum number of practice hours.
An internal policy document obtained by The Royal Gazette showed the ministry's plan was to table the legislation by May this year with the aim of ensuring "its mandate to protect the public health of mother and infant(s) through better regulation of the midwifery profession".
Ms Cannonier and Charlene Macielag, with whom she is writing a book about homebirthing, said the new requirements would make it almost impossible for most people to bring in a midwife from overseas to help with a home labour.
Ms Macielag added: "From my research, this type of insurance is not required anywhere else that midwives practise. The demand for home births in Bermuda is not high enough to cover the cost of the insurance, which would be tens of thousands of dollars."
Ms Cannonier said the proposals were a "ploy to make it very difficult to birth at home".
She added: "Women have a choice of who they birth with, where they birth and how they birth. It's a woman's choice. If she wants to birth at home, unassisted, that's her prerogative. If she wants a midwife ... that's what she should be able to have."
A Ministry of Health spokeswoman did not respond to a request for comment on Ms Perozzi's homebirth and why there were safety concerns about it and other homebirths.
The spokeswoman said the aim of the proposed changes to the law, which are not at the legislative stage yet, was to have midwives regulated by the Bermuda Nursing Council rather than the Bermuda Medical Council "as midwives are nurses".
She added: "The move was instigated by joint requests for this shift from both the BMC and BNC.
"The policy has been in consultation with affected health professionals for several months and is being refined with their feedback prior to finalising recommendations.
"The impetus for the shift is to better align the regulation of midwives as a profession with international best practice and to update the dated regulatory requirements in the current Midwives Act 1949, which was last updated in 2011, but is out of line with the standard provisions for other regulated health professionals in Bermuda.
"Because midwives are registered nurses, there is consensus between the affected regulatory bodies that their oversight is most appropriate under the Bermuda Nursing Council."
Police did not respond to a request for comment by press time.