Movie night in honour of Black History Month
Created: Feb 16, 2018 08:55 PM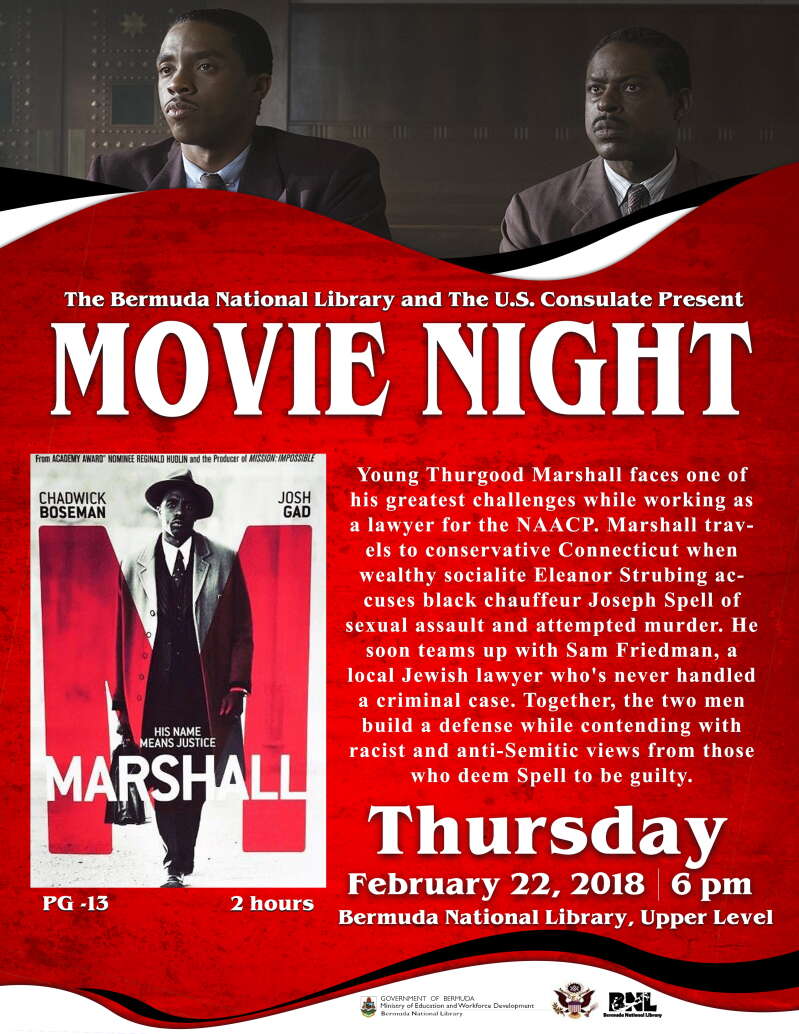 The Bermuda National Library and the US Consulate will host a screening of the film Marshall next week in honour of Black History Month.
The US Consulate said the film told the story of Thurgood Marshall as he travelled across the US on behalf of the National Association for the Advancement of Colored People, defending African-Americans who were wrongfully charged with criminal acts.
It closely follows one of his first major cases in Connecticut, where he teamed up with Jewish lawyer Samuel Friedman to defend a black chauffeur who had been charged by his employer, a wealthy socialite, of sexual assault and attempted murder.
The US Consulate added that while fighting against the racist and anti-Semitic views of many in the local community, the two young lawyers learnt to work together to defend an innocent man.
It said: "The high-profile case featured in the movie and the enduring partnership with Friedman led to the development of the NAACP legal defence fund.
"As legal counsel to the NAACP, Thurgood Marshall won the infamous court case Brown v Board of Education — ending racial segregation in public schools in the United States in 1954.
"An American hero in the fight to end segregation in the United States, he later became the first African-American Supreme Court Justice in 1967 and served for 24 years."
The film stars Chadwick Boseman, Josh Gad, Kate Hudson, Dan Stevens, Sterling K Brown and James Cromwell.
It will be shown at the National Library on Queen Street at 6pm on Thursday. Admission is free. Guests will be accommodated on a first come, first-served basis because of limited seating.