Strong winds continue as Riley sweeps past
Updated: Mar 06, 2018 11:50 AM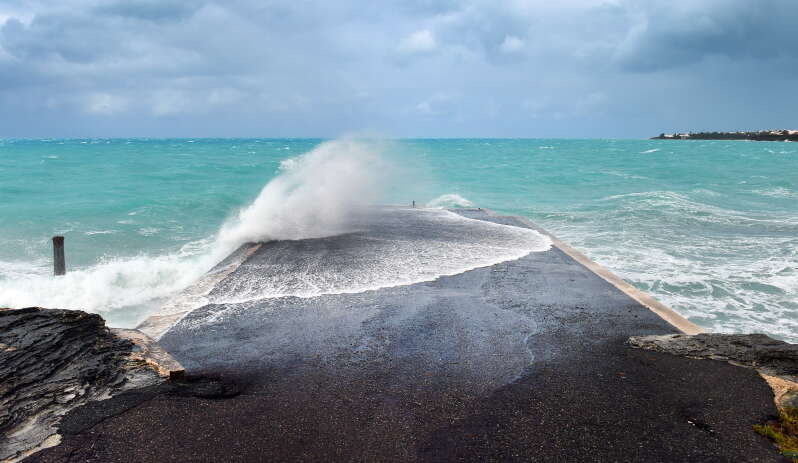 Fierce winds and waves battered Bermuda yesterday as a powerful winter storm swept past the north of the island.
Wayne Caines, the national security minister, confirmed that all government offices and public schools would be open today.
Mr Caines added: "Also, as is the normal process, the Ministry of Public Works personnel will assess any post storm related damage and conduct any needed repairs.
Winds peaked last night with gusts intensifying to hurricane strength.
The Causeway remained open, with checks done every hour.
The worst of the winds coincided with last night's high tide, although only a modest surge was forecast.
Strong to gale-force northwesterly winds were forecast to continue today, gradually abating to moderate to strong by tonight.
Ferry services have been called off "until further notice", while the storm also affected power supplies, with hundreds of Belco customers without power at 9.30pm last night.
Belco spokeswoman Kerry Judd said: "As of 9.05pm, Belco had 250 customers without power in various areas across the island. The largest outage has been in the Collector's Hill area.
"Six crews are working to restore power for the outages, with the exception of one where repairs were deemed to be too dangerous to undertake in the conditions.
"The crews will continue restoration efforts into the evening as long as it is safe to do so and until they are stood down for the night later tonight."
Mr Caines thanked those uniformed services who were on duty during the severe weather, as well as the Belco crews who worked through the night and this morning to restore power.
He also urged motorists and cyclists to "take extra care while travelling on our roads".