Dellwood designs Twizy Cars
Updated: Mar 23, 2018 08:11 AM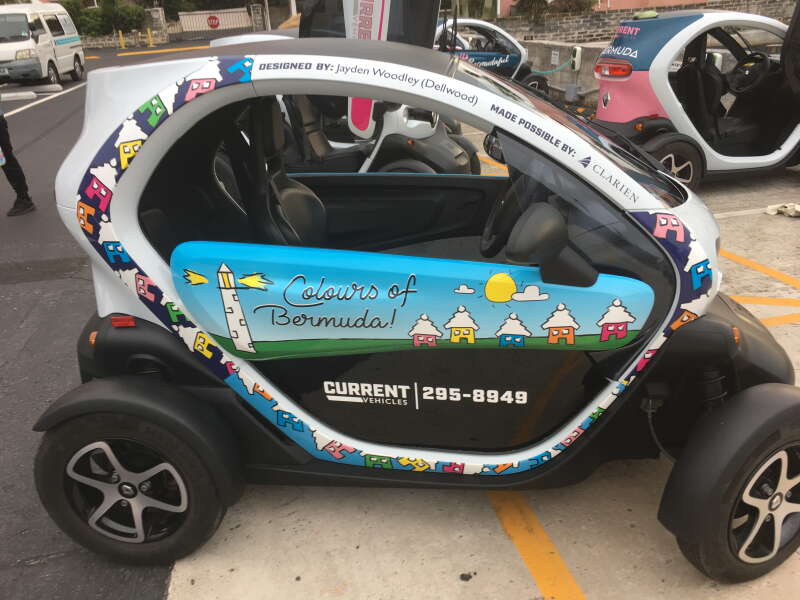 Twizy cars have been adorned with iconic images of Bermuda thanks to creative students at Dellwood Middle School.
Newly designed vehicles were unveiled at the school following a competition involving pupils and a teacher.
The winners were:
• Kenya Smith-Woodley, with a hibiscus design based on Bermuda's flora. Her Twizy is sponsored by Argus.
• Jayden Woodley, who featured the colours of Bermuda in his house design. His Twizy is sponsored by Clarien.
• Kimberley Tucker (visual arts teacher), with a Gombey design. Her Twizy is sponsored by Cohort Limited.
• Eden Smith, used symbols such as moongates and longtails. Her Twizy is sponsored by Hamilton Princess and Beach Club.
Piers Carr, founder of Current Vehicles, which operates Twizy cars, said: "We are delighted with the winning designs as they are eye-catching and memorable.
"We are grateful for the support of Argus, Clarien, Cohort Limited and Hamilton Princess and Beach Club who have given budding artists a new platform for their work and given back to the community."
The winning students and teacher were awarded a complimentary weekend Twizy rental for their families. Each Twizy will feature the name of its designer and sponsor. Sponsorship money of $4,000 was donated to Dellwood.