UK soldiers assigned to Regiment meet football heroes
Created: May 09, 2018 09:00 AM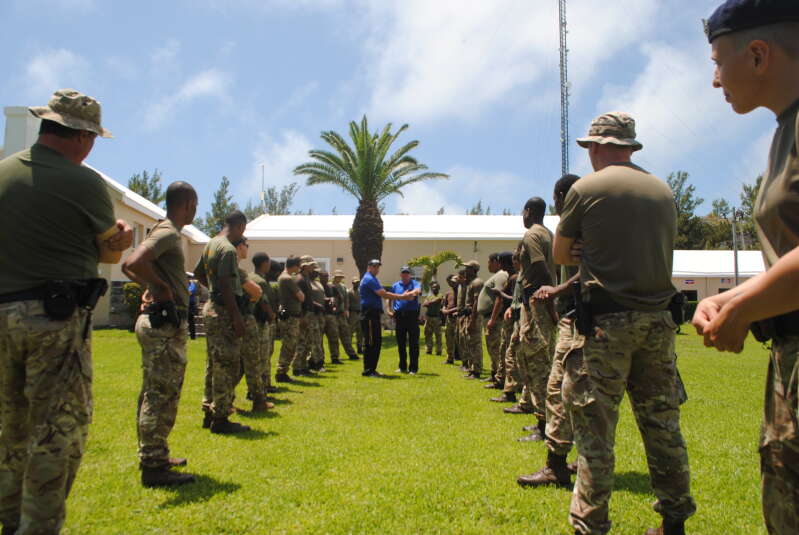 Two British soldiers met their sporting heroes after they were drafted in to help with training at the Royal Bermuda Regiment.
Colour Sergeant Andy Chappell, a specialist British Army instructor, is on the island to offer advice on planning and set-up in emergencies.
Colour Sergeant Chappell, a West Ham United supporter from London, had the chance to meet club legend Clyde Best, a trailblazer in English football, on a break from duty.
Colour Sergeant Richard Joynes, of the Mercian Regiment, who worked with Colour Sergeant Chappell, met boyhood idol Kyle Lightbourne.
He said: "He is genuinely a hero of mine from when I was a teenager and he played for Stoke City."
During the one-week camp, signallers practised setting up a communications network in the wake of a hurricane, while others requalified as Special Constables.
Members of the Band and Corps of Drums not only worked on their music skills, but completed mandatory military tests including rifle training and soldiers from the Operation Support Unit practised on the firing range and refreshed their public order techniques.
Corporal Lewell Woolridge, 31, from Paget, said his signals detachment was tasked with restoring communications after a major hurricane knocked out transmission masts across the island. He added the troops had to come up with a plan to set up repeater stations and install temporary masts. Corporal Woolridge, a beekeeper who runs Bee Lovers with his father, said: "It's working very well. We're all trained to do this and our job is to establish communications throughout the island.
"In the event of a real hurricane, this would be a very important part of restoring the island to normality — and it wouldn't be the first time people have depended on us to do that."
Corporal Aisha Jordan said: "I've learnt a lot. This is a new experience for me.
"There's a lot I can carry along with men and I use all the information I've learnt in my service."
The 40-year old nursing assistant at the King Edward VII Memorial Hospital added that the organisational and planning skills she learnt in the RBR were useful in her civilian life as well.
At the same time, soldiers, mostly from the Operational Support Unit, practised their shooting skills on the range at Warwick Camp.
Colour Sergeant Shaun Williams said the troops were firing from different positions using a variety of weapons, including the Arwen baton round gun.
He added: "This is the unit that deploys with the police, if necessary."
Private Shanday Tannock, from Sandys, said: "Coming together as a team to get tasks done is good and I've learnt a lot of things."
The 22-year-old, who works in after-school care for the youth, sport and recreation department, added: "I've really enjoyed it."
Colour Sergeant Joynes said: "We've been helping support and enhance the training here and giving advice when needed.
"It's genuinely good to see how motivated they are and their desire to learn new skills. The ethos of the RBR is testament to the island."