'Tiny ambassadors' decorate Grotto Bay tree
Created: Nov 27, 2018 07:00 AM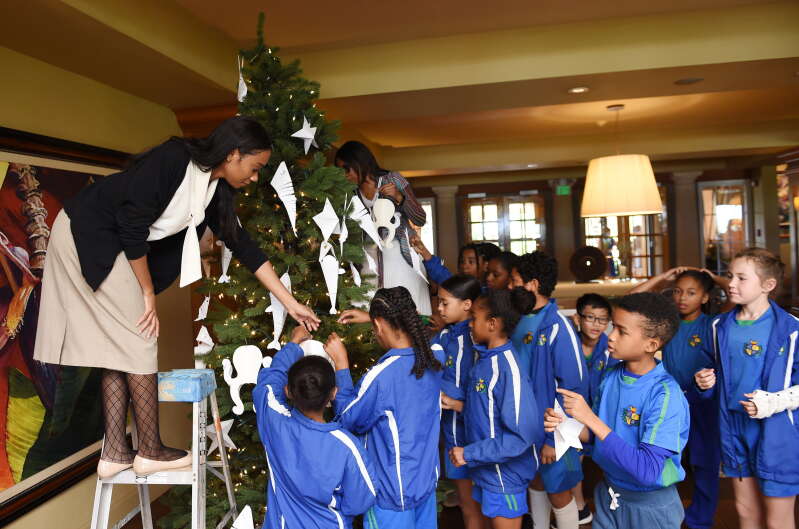 Primary school pupils were drafted in to help decorate a hotel's Christmas tree.
Now the Harrington Sound Primary work — designed to give tourists a taste of Bermudian culture — has pride of place at the Grotto Bay Hotel after it was unveiled yesterday. The pupils chose origami, the Japanese art of paper folding, and the theme of "under the sea" to decorate the tree.
Amira El Karfa, 10, said: "I loved it because it was creative and we got to explore how to do origami."
Shania Trott, also 10, added: "We have been making sea creatures and we put a lot of work into it. We feel very proud."
Skyla Furbert, head girl at the school, said her favourite creation was the starfish.
She added: "It was really fun to work on."
Maliha Weeks, guest services agent at Grotto Bay, said: "We chose one school in the East End so that the tourists can enjoy a Christmas tree that represents our culture.
"This year it was the students of Harrington Sound Primary School's Primary 6 visual arts class — they are our tiny ambassadors."
Ms Weeks added she hoped the school link-up, the first of its kind, would become a tradition at the hotel. The hotel sent an invitation to Harrington Sound Primary about three weeks ago and the children worked on their decorations during lunch breaks.
Ms Weeks said: "We did our homework and researched the schools."
Hotel staff later laid on a lunch for the schoolchildren to thank them for their work.