The changing face of Heroes Day
Created: Jun 14, 2019 09:00 AM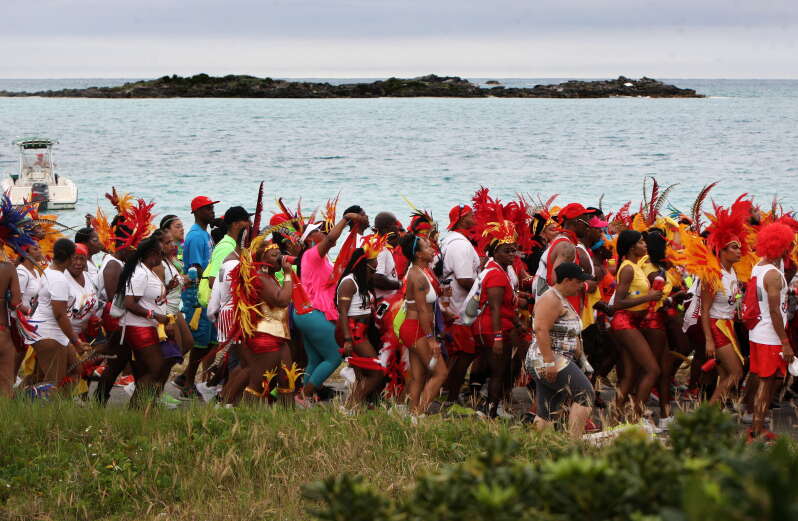 The man who introduced National Heroes Day praised the team behind what has been called "the world's fastest-growing carnival" which coincides with the Bermuda heritage event.
Dale Butler believed it was important for younger generations to develop their own celebrations and said if others found the costumes too revealing they could make alternative plans.
The former Cabinet minister added that the island probably boasted a maximum of only three more people who had done enough to earn the national hero honour but hoped the Government would help to increase awareness of the eight already on the list all year round.
Mr Butler, who was the minister responsible for cultural affairs and was charged with setting up the award, said there had been a "longing" for a carnival-style gathering in Bermuda, which was heightened as young people gained experience of similar festivals during visits to other parts of the world.
The former Progressive Labour Party MP added that they had the drive to turn ambition into reality.
Mr Butler said: "They came along and they've developed this carnival and they're bringing it to Hamilton, which means it's really growing — I can only salute them for the energy. I'm just glad that they've put some energy in it so that it doesn't die."
He added: "I know that there's a group in Bermuda ... the older generation, who expected us to be a little bit more sedate, are somewhat concerned that the costumes are revealing, which comes with the territory of having a carnival.
"There's nothing whatsoever that prevents anybody else who doesn't like a carnival celebration from doing something else."
Mr Butler said he commended the people for staging the Bermuda Carnival because they would have been "left out" otherwise. The event is headed by soca DJ Jason Sukdeo and was launched in June 2015 as a "celebration of Caribbean carnival" which incorporated National Heroes Day festivities.
However, the words "heroes weekend" were dropped from the name last month when organisers said it was being rebranded as a tribute to supporters. The team added: "All together, your participation made this festival the fastest-growing carnival in the world."
On Monday, which is National Heroes Day, a Parade of Bands and Last Lap will allow people to enjoy performances and soak up the party atmosphere in Hamilton.
A Bermuda National Heroes tribute staged by the Government is to take place at the World Heritage Centre in St George's two days earlier.
Lovitta Foggo, the Minister of Labour, Community Affairs and Sport, said the event tomorrow will "remind the community of the importance of National Heroes Day" and is to include tributes that show how the heroes have inspired others.
The late Dame Lois Browne-Evans was the first person to be named as a national hero in 2008. A committee was later set up to review and select more people for the list, and in 2010 the public was invited to suggest nominees.
It was the next year that another three heroes were named, E.F. Gordon, Roosevelt Brown, who would become Pauulu Kamarakafego, and Sir Henry Tucker.
Mary Prince joined the group in 2012 before Gladys Morrell and Sir Edward Richards were added in 2015 and Sir John Swan a year after that.
No one has been named since 2016 and Mr Butler believed the number of candidates was finite.
He said: "You're not going to find more than ten national heroes. You've only got about two or three left unless they watered down the criteria."
Although he noted that banners highlighting national heroes were on show around Hamilton, Mr Butler thought more could be done.
The former minister said: "I think we've reached a nice level but we're not doing enough to promote those who are national heroes on a regular basis. All year round you should be hearing about these national heroes, there are a lot of creative ways to do that."
Mr Butler suggested that CITV, the government-owned television station, could regularly broadcast features on national heroes and that special debates could be held for people to discuss their lives.
He raise the possibility of regular homework assignments, a national heroes scholarship for academic studies and even a game on the subject.
Mr Butler claimed people who made significant contributions to the island but were not selected for the honour could also be recognised as part of a wider programme. He added: "Bermuda has a lot of very outstanding people that just missed, by a mark or two, being designated as a national hero."
• For more information and a list of events visit www.bermudacarnival.com