I'm a changed man, says former Kimathi sidekick
Created: Sep 11, 2019 09:00 AM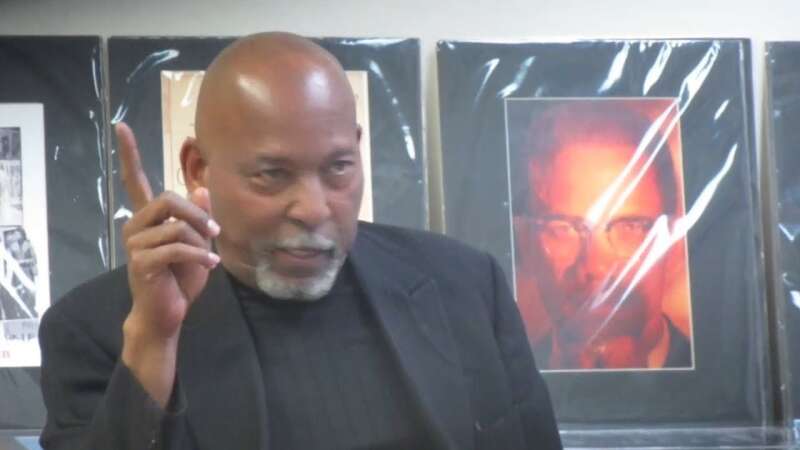 An American motivational speaker said last night that he regretted past statements in which he referred to homosexuality as a "sickness" and to gays as "an inferior being".
James Small said that comments he had made about homosexuality in a series of online videos do not reflect his feelings today.
"That's five years ago," Mr Small said. "I've done a lot of research and studying, and talked to my friends and family who are gay.
"I'm old enough, smart enough to know that first you got to know what the hell you don't know. And then you got to get to know people.
"My position on that issue is not the same as it was then because I understand a hell of a lot more now than I did then."
Mr Small, who spoke with firebrand activist Ayo Kimathi at a controversial event in 2015, will return to the island for a lecture titled "Healing Thyself Through Knowing Thyself" at the Liberty Theatre on September 22.
Mr Small, a former professor at City University of New York, said in an interview that publishes today in The Royal Gazette's Lifestyle section that his talk will focus on "spirituality and reality". Videos posted on YouTube show Mr Small and Mr Kimathi discussing homosexuality within the black community, with Mr Small expressing views similar to comments made by Mr Kimathi that landed him on the stop list four years ago.
In one video, Mr Small called homosexuality a "sickness". He added: "You're talking about an inferior being."
Mr Small went on to say that "the culture of homosexuality is fundamentally the European culture".
He also discussed adoption of children by gay couples in a video named "Homosexual Agenda Attacks African Studies Agenda".
Mr Small said: "How can a homosexual raise a normal, non-homosexual child? You're a paedophile.
"You had to go out, and search out, and hide to find your victims — now you got your victim as your son and your daughter."
In another video, "Arab Homosexual Assault on Afrikan People", Mr Small described homosexuality "as a weapon in the arsenal of the white supremacist in his effort to commit genetic annihilation of the black family and the black race".
He later used the word "cracker" to describe white people and "f****t to describe gays in the video. The four videos were posted in May 2015.
Mr Small said last night that his comments were not "sensitive or appropriate".
He added: "I regret those things."
Mr Small said: "I'm not against homosexuality, because that's somebody else's way of life.
"I can't tell them how to live their life and I don't want them to tell me how to live mine.
"It's as simple as that. I will not disrespect that person and I would hope that person wouldn't disrespect me."
Mr Kimathi, an American known as the Irritated Genie, was placed on Bermuda's stop list by Michael Fahy, then the home affairs minister in the former One Bermuda Alliance government, over comments he made at the Liberty Theatre, which included describing homosexuality as a cancer that originated from white Europeans.
He said at the event: "We don't agree with homosexuality, we don't agree with paedophile, none of this European 'white sex' stuff that we talked about. We ain't with that. We are not even negotiating with it."
Ian Kawaley, then the Chief Justice, upheld Mr Fahy's decision and called Mr Kimathi's presentation an "unfiltered message of hate".
Latoya Bridgewater, the host of the Liberty Theatre event this month, declined to comment about Mr Small before his presentation.
Wayne Caines, the Minister of National Security, who is responsible for immigration, was asked if he was aware of Mr Small's visit and whether he supported him coming to Bermuda, given statements he had made in the past.
Mr Caines did not respond by press time yesterday.
Mr Small will speak alongside Mwalimu Melodye Micëre Van Putten, an education consultant, writer and lecturer.
An event flyer invites people to "join us as we dive into the heart of healing by exploring our African-Bermudian history with Mwalimu Melodye Micëre Van Putten and African spirituality with Professor James Small".
The event includes a two-hour morning lecture component, followed by a four-hour "chat and chew" in the afternoon.