'Don't tear it', says Burt on relaxing lockdown
Updated: Apr 30, 2020 12:49 PM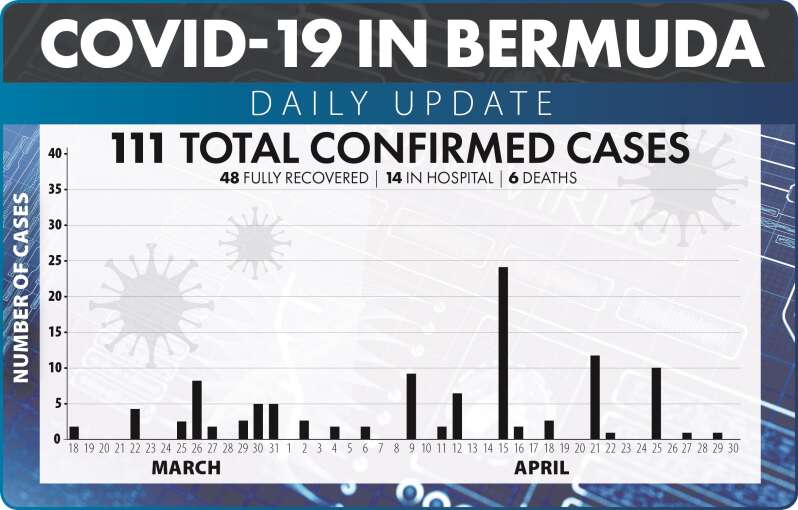 Bermuda has "come to the end of the beginning" the Premier said last night as he revealed a relaxation of state-of-emergency restrictions.
David Burt outlined a four-phase return to normalcy after several weeks of regulations that he said had "not been easy for any of us".
But although Mr Burt hinted at phases lasting two or three weeks at a minimum, he said the Government would not impose a time frame for easing constraints.
He explained: "We are going to look based upon what the conditions are on the ground."
Mr Burt said Saturday at 6am would mark the end of shelter-in-place restrictions after a decision at a "marathon" Cabinet meeting on Tuesday,
However, he appealed to the public to wear masks and maintain strict social-distancing to avoid the risk of spread of the coronavirus.
A 10pm to 6am curfew will remain and public gatherings will limited a maximum of ten people.
Mr Burt said he wanted to be "crystal, crystal clear" that emergency legislation that imposed restrictions extended to June 30. He told the public "don't tear it".
Mr Burt warned: "We can change these laws very quickly."
He said if the situation worsened or the public failed to stick to the rules, "we will revert".
Phase one, which will start on Saturday after four weeks of lockdown, will include:
• Retailers allowed to open between 7am and 9pm, but only kerbside service or home delivery will be permitted
• Grocery stores and gas stations open under their present conditions, with shoppers limited to specific days based on surname
• Construction, mechanical and landscape services allowed to operate with social distancing and wholesalers allowed to deliver goods
• Funerals will still only have a maximum of ten mourners
• Limited cashier counter services at the Transport Control Department, the Tax Commissioner's Office, and the Government Administration Building on Monday and the courts will reopen
• Limited public transport from Monday, but schools will stay closed
• Parks, beaches and the Railways Trail reopened, with golf courses resuming play, although club facilities must stay shuttered
Diallo Rabain, the education minister, is to outline further details on schools at tomorrow's press conference.
Mr Burt said that he would hold a live online session tonight with the health minister to take questions from the public from the Government's Facebook page or Twitter account.
Mr Burt said there would be three further stages of eased restrictions. Expansion of services would be phase two, which would permit reopening of retail floor space and limited operation of personal services such as barbers.
Phase three — "moving to the new norm" — would see schools reopen and a return to normal for public transport.
It would also mean the end of mandatory working from home.
Phase four, "the new norm", will mean "full reopening" of personal services such as spas and the return of dining in restaurants, as well as clubs and bars. The number of people at public gatherings would be upped to 50.
Mr Burt said there was also the possibility of a return of commercial flights to the island at that stage.