'It's going to be a 15-month off-season'
Created: May 22, 2020 09:00 AM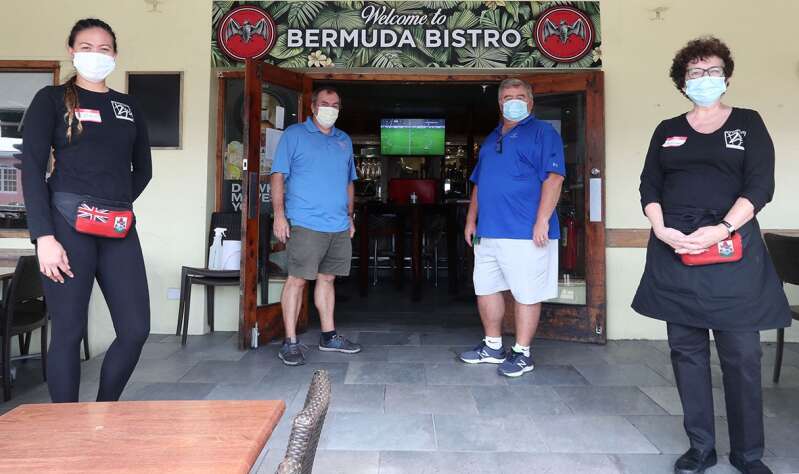 The partial reopening of bars and restaurants could help thousands of people return to work, an industry insider said yesterday.
Rick Olson said that the sector was a "huge employer" and that the move, part of Phase 2 of recovery from the Covid-19 crisis, would "bring thousands of people back into employment".
However, Mr Olson, owner of the Bermuda Bistro at the Beach on Front Street, Hamilton, warned that many who worked in the industry would remain idle until the country emerged from Covid-19 restrictions.
He said: "The best I can look at is maybe 50 per cent employment. A lot of people just aren't going to be hired back until things change.
"It's really going to be like a 15-month off-season. It's going to be a long time before we get back to normal."
Mr Olson was speaking as approved bars and restaurants were allowed to reopen yesterday for outdoor service under strict regulations.
Kim Wilson, the Minister of Health, said on Wednesday that the rules included masks for staff at all times and also for customers when not at their tables, as well as social-distancing of six feet.
Mr Olson said that the rules were "well justified" and that the partial reopening meant he could bring back a few staff members. But he added: "We're not going to get close to full employment until we are allowed to go inside."
Mr Olson predicted that when in-restaurant dining was allowed to restart, it may come with a limit of 50 per cent occupancy.
Curtis Dickinson, the Minister of Finance, announced relief measures for businesses devastated by the pandemic on Wednesday, including bars and restaurants, which he said had been "particularly hard hit".
The steps included payroll tax relief and a break on pension and social insurance contributions.
Mr Olson said the measures were a "huge help".
He added: "I think it's a great step, and it's certainly needed."
Belinda Barbieri, chief marketing officer at the Little Venice Group, which operates venues including Fourways Restaurant, Paget, and Little Venice and La Trattoria in Hamilton, said the firm was "thrilled" to be able to offer customers an alfresco service.
She added: "We are looking forward to getting more of our employees back to work again and giving customers a taste of what they have missed for many months now."
Crown & Anchor, at the Hamilton Princess & Beach Club, said it would resume dinner service on Saturday.
Tim Morrison, the hotel's general manager, said the hotel was pleased to be back in business.
He added: "We know that many of us have greatly missed the experience of eating out and we are confident that we can offer a beautiful escape for those looking for a memorable meal out."
Swizzle Inn, in Hamilton Parish, said that kerbside pick-up and delivery had helped the business to stay open and keep connected with customers.
It added on Facebook: "Thank you again for your continued support and we look forward to welcoming you back."
However, not all businesses have decided to reopen.
Chris Garland, a director of Harbourside Holdings, whose businesses include Flanagan's Irish Bar and Outback, in Hamilton, and Divots, in Warwick, said the company was unlikely to open until June.
He added: "Basically, it comes down to financials.
"We've had quite a lot of time to sit at home and sort of crunch what we think will be the new way that we're going to go forward.
"We have five different facilities and we want to make sure that when we go ahead that we've done the right planning."
Mr Garland said that indoors service had made up 95 per cent of the firm's business.
He added: "We realise that we have to transition the business in a cautious sort of way."
Mr Garland predicted the new business strategy could involve as much as 50 per cent of income from takeout sales.
He added that the best time for restaurants to reopen was at the start of a month.
Mr Garland explained that if he had opened yesterday, a lot of stock would have been needed, which would have had to be paid for by June 30.
He added: "If I open June 1, I don't have to pay for anything until July 31."