Danielle Raynor guides Phoenix Heat to landslide win
Updated: Nov 23, 2021 07:50 AM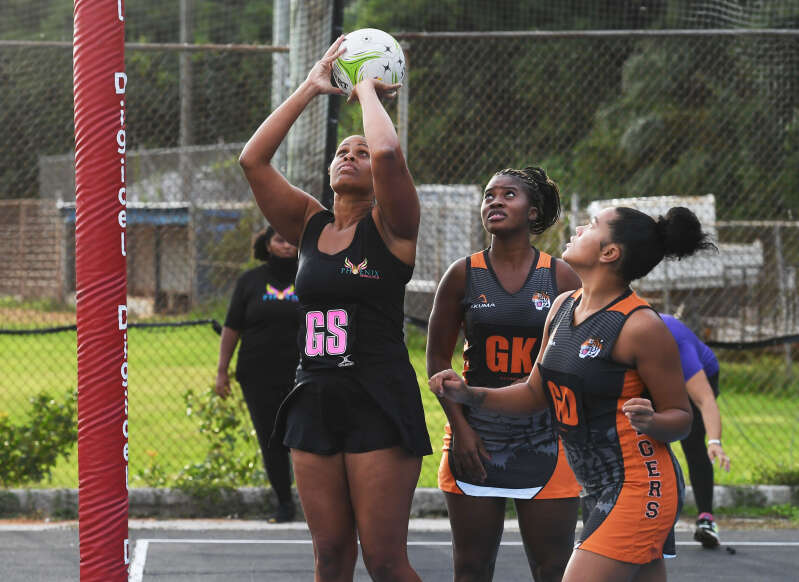 Danielle Raynor returned to the local netball scene with a bang at Bernard Park at the weekend.
The experienced goal shooter poured in 49 goals to inspire the Phoenix Heat to an emphatic 64-22 triumph over Lindos Tigers in her first outing on the court in nearly two years.
"I hadn't played netball in about a year and nine months," Raynor told The Royal Gazette. "I was missing it so it felt good to be back on the court with my team.
"We hadn't had much training leading up to that game due to Covid-19."
Despite the lack of preparation and having had their opening two games postponed due to rain and defaulted after Docksiders failed to show up, Raynor and her team-mates fired on all cylinders and virtually had things all their own way against their opponents.
"It was good to see and the work rate of the team was high," she added.
"Going into the game some players were actually a little nervous because they hadn't played netball in so long. But from the first whistle, I just felt like our team was on it. We just flowed.
She singled out the team's passing and break up play, as key factors in their win.
"The passing was on, the feeding into the circle was spot on. So many interceptions down in the defence gave us more opportunities to score so shout out to them. They worked hard," said Raynor. "No complaints with my team's performance. We just did really, really well and hopefully we keep the momentum throughout the season."
Naturally, the dominant display left Phoenix Heat coach Erika Russell a happy camper.
"Our coach was pleased with our performance," Raynor, the daughter of late cricket legend Sheridan Raynor, added.
"She gave us some feedback during the interval breaks which we implemented in the game and those worked out in our favour. So we are very happy with the performance."
Goal attack Ebonie Cox accounted for the team's remaining fifteen goals.
Goal shooter Charlene Gomez scored a team-high ten goals for Lindos while goal attack Jahkenya Trott added eight and wing attack Jahtuere Trott four respectively.
The remaining senior game pitting Docksiders against North Village Community Club and development fixture between Storm and Bermuda Regiment were among several postponed due to rain.
In an evenly contested under-17 contest, Storm edged North Village Lady Rams 18-14.
Amayah Burt led the Storm's charge with thirteen goals, Jaelyn Rewan and Imani-Marie Burgess chipped in with two apiece and Mataya Richardson with a sole tally.
Ariana Sabir was North Village's top scorer with seven goals, Ghile Dailey added four and J'Zari Zuill-Dillas three.
The only other game played on Saturday saw Phoenix Embers secure a lopsided 36-0 win over North Village Whites.
Makaylie Smith led the way with eighteen goals while Kammie Mills weighed in with eleven and Sydney Santos seven respectively.
The under-11 game between North Village and Phoenix Sparks and under-14 contest involving North Village and Storm Lightning were also postponed due to rain.