Puppets and their positive power
Updated: Jan 08, 2015 07:01 AM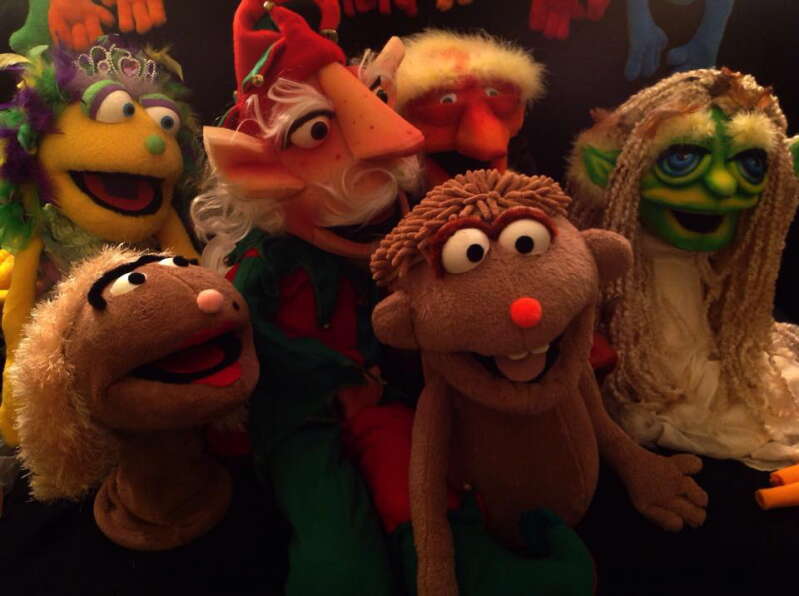 Move over Muppets, Bermuda puppets have come to town.
Dennis Joaquin shows up at a nursery school and toddlers' faces light up.
It's not him they're excited to see, it's the friend he carries on his hand.
Mr Joaquin and artist Kendra Earls created Den and Ken Puppetry Studio about a month ago.
They offer puppet-making and storytelling workshops to schools and puppet shows for birthday parties and community events. They also sell a line of puppets they've branded Bermy Kids which cost $45 for children and $50 for adults.
As a career, it's a real deviation for Mr Joaquin, a former Belco foreman.
"I have always loved puppets ever since I was a child watching Sesame Street on television," he said.
"When I became involved in the church at 18 years old, they were using puppets and I saw how puppets could really communicate a message.
"They were a good tool. A guy called Mike Faison who taught at the Bermuda Institute, really got me into puppetry and showed me the diversity."
Mr Joaquin believed there were not enough activities for children in Bermuda. He hoped their studio would help fill that void.
Ms Earls is better known for designing stage backdrops. She said they were hoping to resuscitate a lost craft.
"We are hoping the workshops will open people's minds to a very old art form," she said. "Puppetry was very popular in days gone by, but more recently it has fallen away in popularity. At Mount Saint Agnes, we did a Christmas programme and there was a lady in her 40s who had never been to a puppet show."
She hoped that the Den and Ken Puppetry Studio would open people's minds to the possibility of using puppets as an education tool.
The pair recently started a Den and Ken Facebook page. They said they've already heard from several teachers interested in incorporating puppet-making and storytelling into their curricula. They are hoping to give puppet workshops during the half-term break next month, for teachers and for students up to 12 years old.
"We will be making puppets with a lot of different materials during the workshops such as socks or puff balls," Ms Earls said. Mr Joaquin said that after working for Belco for 25 years, the arts was a definite change.
"It is a much slower pace," he said. "But at the same time I have never had the chance explore my own creativity before."
Ms Earls said she had no previous experience with puppetry and was learning the ropes of making and performing with puppets from Mr Joaquin.
"The hardest thing about it is animating the puppet and animating it in a timely way," she said. "It is tricky. You don't realise how much it takes. Your arms and fingers get tired. It can be exhausting. I grew up in Atlanta, Georgia where they have the Center for Puppetry Arts. I always loved visiting that, and even as an adult I have been back to see performances."
She added that she has been working with senior citizens doing therapeutic art and has used the puppets with them.
"You see how effective it is there," she said. "The puppetry wakes them right up. It is very effective. I have seen some seniors who don't normally respond to anything perk right up when they see the puppets."
For more information see Den and Ken Puppetry on Facebook, e-mail Ms Earls at denandkenstudio@yahoo.com or call 333-0191.
<p>How they're made</p>
Kendra Earls and Dennis Joaquin make Bermy Kids, their own line of puppets, by hand.
Mr Joaquin comes up with the designs and has taught Ms Earls how to make them.
To create a puppet that resembles an old man, he took a block of styrofoam, shaped it into a face and spray-painted the features on.
Some of their first puppets were made from an old fleece blanket they had on hand.
They now order their puppet-making materials from overseas. In puppet-making workshops with teachers and students they hope to use more easily obtainable materials such as old socks, paper bags and cotton balls.