Open Your Heart offering Good Friday Fun
Created: Mar 24, 2016 09:00 AM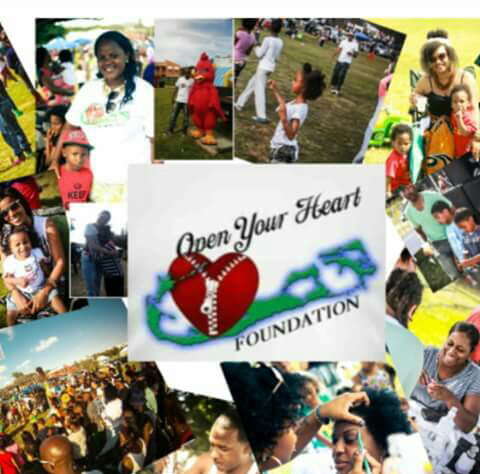 A group of young people from Somerset came up with an idea of how they could give back to their community in 2011 — and dug deep into their pockets to fund it.
It worked even better than they'd hoped.
Five years later, the Open Your Heart Foundation's Good Friday Free Day is a holiday staple. More than 1,000 people enjoyed the camaraderie, free food, drinks and entertainment last year; kites and Easter baskets were handed out to children to make sure no one went without.
It all started with a handful of people who "wanted to see a change", said OYHF member Tianna Saltus.
"It all started with positive young black men who wanted to do better," she said. "Originally there were six of us, and only two girls. Most of us now have children of our own and in 2011 we were sitting around talking and we noticed there was nothing for children to do that didn't come with a cost. When we were coming up there was always something to do, even if your parents didn't have money.
"We decided to come together and have a fun day with our children. We did it, I think it was on Boxing Day, and had people come out who we hadn't even invited. So we said, 'Why not do it for Somerset? Do it where anybody could come. Good Friday 2012 was our first [public] event. We paid for it all out of our pocket."
There are now 20 members in the group, all between the ages of 29 and 36. Sponsors help to finance their major events on Boxing Day and Good Friday and help them donate to causes throughout the year: children in the parish receive gifts at Christmas; OYHF gave $4,000 towards a trip Somerset Trojans made to Haiti this year and $1,000 to a youth football team on the Caribbean island.
"This year, Good Friday is in March; we will struggle for April [because of the costs incurred]," Ms Saltus said. "But we're creating our own karma. By doing good, it will come back to us. None of us go hungry, all our children are thriving.
"We have a vested interest in Somerset and that's why we do what we do. It's all about children and the community. We're trying to bring more togetherness up there because it's definitely what's needed right now.
"Somerset is God's country, in my eyes. It's our chance to give back, to make a difference. If you're looking for self-promotion, this is not the group for you. Everything we do is selfless. It's not what we're getting from it it's how we can give back and improve the social conditions in Bermuda. Even if we just give one child a kite, we've made that child's day.
"We're hoping by next year to be able to collaborate with schools for a breakfast programme. We're also sponsoring a GED programme, helping young guys pay [so they're able to take the course]. We don't ask people for money, they give their food, their time."
Fun castles, six-a-side football and a dance competition are part of Friday's line-up. Codfish cakes and hot cross buns will be served throughout the day and guests will be treated to a full meal for dinner.
"Since its inception in 2011, OYHF's main objective is to give back to children and families who are in need," said a letter sent to businesses in February. "Unlike similar organisations, the foundation is comprised of a dedicated, diversified team of young individuals who have a vested interest in the betterment of the community. Our individual backgrounds and personal experiences have provided us with unwavering determination to play a hands-on role in making sure that vulnerable children are provided for.
"In recent years, the OYHF has personally funded free events to bring the community together, held on Good Friday and Boxing Day. It is known that holidays are times when families struggle the most, so it is the hope of our organisation to allow every child in need to enjoy the same holiday fun as children who are more fortunate. The events are comprised of free games, free food, free fun castles, free Easter baskets, free Christmas gifts, free haircuts, free manicures, free hair braiding and much more.
"We find this to be a critical time to focus on making children and their positive development our priority. We wish to empower our community, and we simply pride ourselves on being able to provide a safe, positive, enjoyable environment where the entire island is invited to celebrate with us."
The real joy comes with the community response, Ms Saltus said.
"Last Good Friday we checked in 1,300 tickets at Naval Field. What we get back from the community — everybody is so grateful, so thankful. Most people who help want to be anonymous. [Getting attention is] not really what it's about."
• Open Your Heart Foundation's Good Friday Free Day starts at 10am at Warren Simmons Field. Contact them on Facebook: Open Your Heat Foundation or Instagram: oyhf.bda