Mammogram coverage change criticised
Updated: May 26, 2015 05:02 PM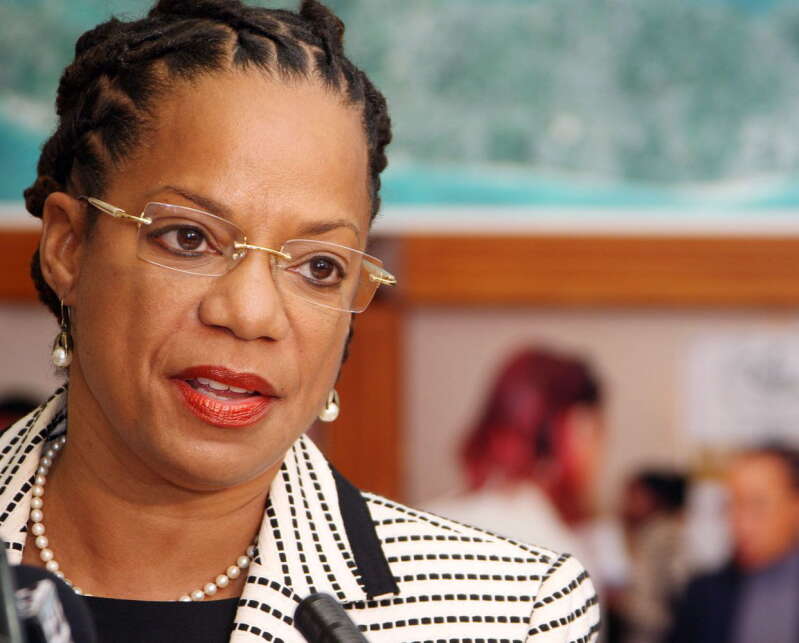 New legislation that proposes United States style medical guidelines has come under criticism from Kim Wilson, the Shadow Minister of Health.
Ms Wilson was responding to the Health Insurance (Miscellaneous) Amendment Act 2015, tabled in Friday's House of Assembly by Health Minister Jeanne Atherden.
The mammogram screening procedure for breast cancer covered under the Standard Hospital Benefit, now renamed the Standard Health Benefit, will be changed under the legislation.
Coverage will be switched from annual screening for women over 40 to two-yearly screening for women aged 50 to 74.
Ms Wilson this afternoon responded with the following:
"The proposed legislation, Health Insurance (Miscellaneous) Amendment Act 2015, tabled in the House last Friday, by Health Minister Jeanne Atherden, seeks to amend the Standard Hospital Benefit which provides that screening for mammograms which will be covered as SHB must adhere to guidelines submitted by the United States Preventive Services Task Force (USPSTF) which now recommends biennial screening for healthy, asymptomatic women aged 50-74 years.
The USPSTF guidelines have not been accepted by any of the leading agencies, all of whom still recommend that women be screened for breast cancer by having mammograms annually upon turning the age of 40.
Further to the above, the Task Force panel contains no one with any expertise in breast cancer care, and no experts in breast cancer screening, so many of the other observations they have made are not supported by scientific evidence.
Ironically, the guidelines have not yet been accepted by the US Congress, and in fact, the public consultation period for the Task Force Recommendations only ended on May 18, 2015. This begs the question, why should Bermuda be in a rush to adopt US based guidelines which have not even been adopted there?
The Task Force also made the value judgment that "although lives will be lost by screening every two years, women should allow cancers to grow and spread while being screened biennially instead of annually."
The Task Force panel also used the age of 50 as if it is a legitimate threshold for screening. There is no data that shows that any of the parameters of screening change abruptly at the age of 50, or at any other age for that matter. There is no scientific or biological reason to use age 50 as a threshold. We believe that decisions concerning policy formation affecting ones health should be drawn on sound scientific evidence.
In fact, the "USPSTF guidelines ignore their own findings and are based on the panel's subjective value judgments as opposed to the confirmed scientific evidence" — this from Dr. Daniel Kopans, a leading expert in the field of radiology, a professor of radiology at Harvard Medical School and a senior radiologist in the Department of Radiology, Breast Imaging Division, at Massachusetts General Hospital.
Further, with the high incidence of breast cancers in Bermuda, with a population very different from that in America, when will we as a country start allowing local health statistics to drive our local health policy?
All of the scientific evidence shows that lives are saved by screening starting at the age of 40, which is the best practice as recommend by The American Congress of Obstetricians and Gynecologist; American Cancer Society; The American College of Radiology; and the Society for Breast Imaging.
Of utmost importance is the fact that the vast majority of women in the US (75 per cent) who are diagnosed with breast cancer each year have not definable excess risk factors.
In Bermuda, one study of all those women diagnosed last year with breast cancer found that 25 per cent of those women were aged 40-49 years of age.
Rather than rushing through this important legislation, we call on Minister Jeanne Atherden to pause and gather statistics relevant to Bermuda, consult the Bermuda stakeholders such as the Bermuda Medical Doctors' Association, and the Oncologists in Bermuda. Skipping a year of mammograms could cause death by delay and we would not want to be responsible for such an important change in legislation without accurate data.
Members of the public who would like their opinions heard on this matter are encouraged to contact their Constituency MP, as well as the Health Minister Jeanne Atherden to provide their feedback."