PLP members only at immigration meeting
Updated: Sep 10, 2019 12:36 PM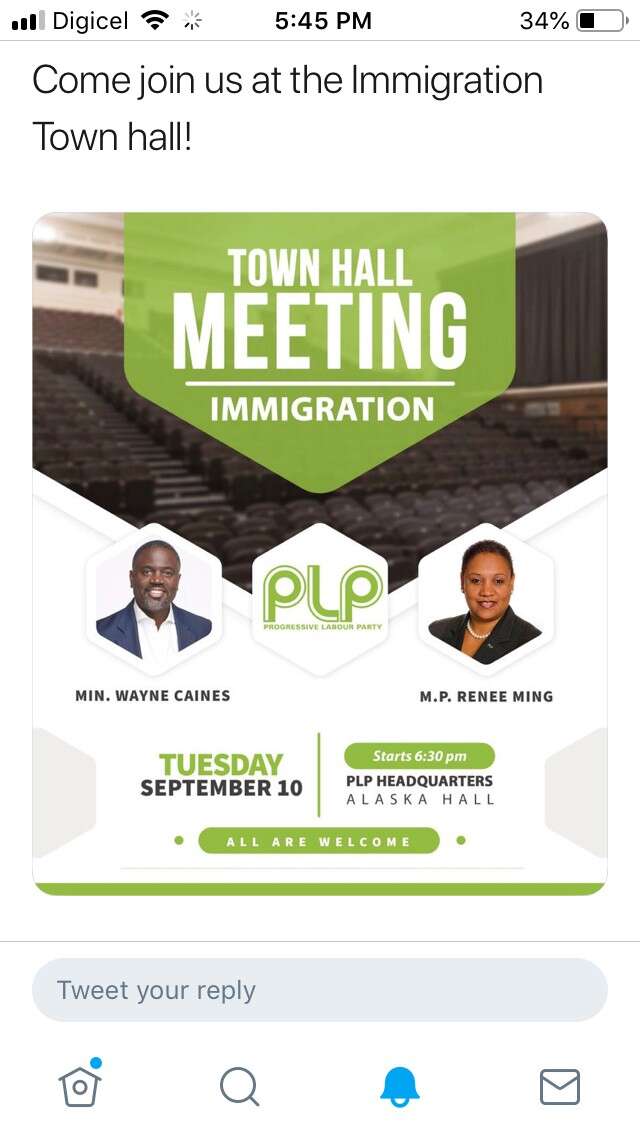 Progressive Labour Party members only will be welcome at a meeting on immigration tonight.
The PLP had previously stated on a flyer about the Alaska Hall event: "All are welcome."
But a spokeswoman said today: "I write to clarify for the public that the immigration town hall slated to be held at Alaska Hall today is for PLP members only.
"The public will be notified of any further meetings open for attendance on this topic."
Wayne Caines, the Minister of National Security, who is responsible for immigration, will lead the discussion alongside Renée Ming, a Progressive Labour Party MP and member of the bipartisan parliamentary committee on immigration reform that was established in October 2017.
The meeting was scheduled as MPs prepare to debate potential changes to immigration policy for mixed-status families on Friday, when they return from the summer break.
A Bill designed to tackle the issue of mixed-status families had been scheduled to be tabled on July 26.
Mr Caines decided to postpone that after meeting the drafters of the legislation, as well as the Government's policy team. He said "important elements" were unresolved and more time was required.
• UPDATE: This story was amended after the Progressive Labour Party revealed the meeting was for members only