Bermuda makes an impression at RIMS
Created: Apr 23, 2013 09:00 AM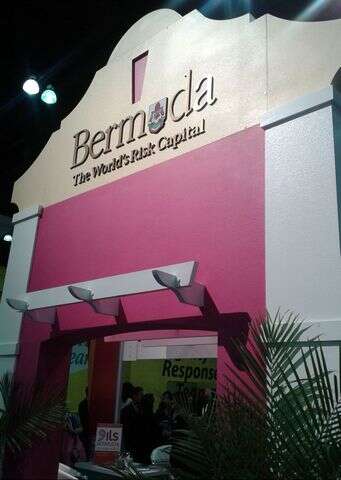 Things got off to a flying start for Bermuda at this year's Risk Insurance and Management Society (RIMS) conference in Los Angeles.
On the first full day of the event the Island's booth inside the Los Angeles Conference Center was buzzing yesterday with queues of delegates seeking more information about what Bermuda has to offer.
Around 10,000 insurance and reinsurance delegates are expected to visit RIMS this year.
Premier Craig Cannonier, Finance Minister Bob Richards and Economic Development Minister Grant Gibbons are attending to lend support to the Island's efforts to drum up more international business, and they are not the only big-hitters helping Bermuda stand out from the competition.
Representatives from the Bermuda Monetary Authority and a number of leading industry figures, including Ace's Bermuda division president Rees Fletcher, are helping at the Bermuda booth adding prestige and pulling power.
The booth features a mock two-storey cottage with a bright pink facade, a distinctive Bermuda roof and a Bermudian flag. Mr Fletcher described it as an impressive sight.
An hour after the booth opened, Mr Fletcher said: "A lot of people are coming by. They are potential clients that are asking for more information about what we do."
The booth acts as a shop window for Bermuda's international business sector and benefits from having the voluntary assistance of key industry figures from the Island. It is a mutually beneficial arrangement, as the Island's business representatives attending RIMS to see existing clients can do further networking with potential clients at the booth, while also helping as volunteers to promote Bermuda.
Roger Gilletts, chairman of the Bermuda RIMS committee, said the Bermuda branding, which includes the Bermuda-imaged booth, the Bermuda 'Risk Capital of the World' bags handed to delegates and the wearing of pink Bermuda shorts, all assisted in making the Island highly visible to thousands of RIMS attendees. Having three high-ranking members of Government visiting, and support from Bermuda-based insurance and reinsurance executives, further boosted efforts to keep the Island at the forefront of potential clients' minds.
There are more than 100 Bermuda representatives at RIMS, including delegates and support staff.
"We have a strong delegation. As an industry we are absolutely supportive of the Premier and the Ministers being here. The idea is to maintain the high profile we have had in past years," said Mr Gillett, who noted that RIMS is the single most important annual gathering for the (re)insurance industry with many attendees able to influence the buying decisions of clients.
Mr Gillett said the Bermuda booth team are explaining to delegates how using Bermuda products and companies can give them the cutting edge.
The change in Bermuda's work permit policies has been highlighted at the conference. Mr Gillett said that was important to businesses established on the Island, or who were considering establishing themselves in Bermuda, but was also of interest to clients buying products from Bermuda because it indicated a higher likelihood of continuity for them in terms of the people they would regularly deal with.
Later today, Bermuda will host a reception event for RIMS delegates to further promote the Island. Premier Cannonier is due to attend to give direct feedback on what the Island has to offer.