Husbands: captives have a huge future
Created: Jun 08, 2016 09:00 AM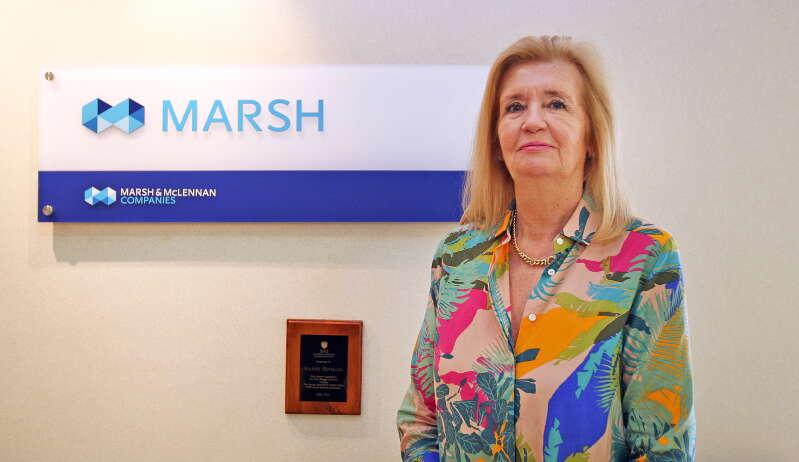 Jill Husbands, the winner of the inaugural Fred Reiss Lifetime Achievement Award, said she feels honoured to have been chosen.
And she hopes that young people seeking an insurance-sector career will look beyond the big name insurers and reinsurers and consider entering the world of captive insurance, which was pioneered in Bermuda by the late Mr Reiss.
Ms Husbands is a shining example of what can be achieved. She has been with Marsh for 32 years and now leads Marsh IAS Management Services (Bermuda).
Her career in the captive industry has been a fulfilling journey. She started as an administrative assistant before becoming an underwriter and broker and then advanced her career further at Marsh.
And she has seen many changes since stepping into the world of insurance during the 1970s.
However, insurance was not initially on her radar as she was preparing to leave school. She first wanted to be a physiotherapist, but then changed her mind.
Instead, she took a job as an administrative assistant, working under the head underwriter.
"Within a short time I decided I liked insurance, and I took my professional qualifications," she said.
She is an associate of the Chartered Insurance Institute of the United Kingdom. Gaining qualifications helped her to be taken seriously in an industry that at the time was dominated by men. Lloyd's of London, for instance, only admitted its first female broker in 1973.
"There were very few women in the industry," she said, explaining that her parents had instilled in her the belief that anything is possible.
In 1978 she moved to Bermuda after receiving a telephone call asking if she would be interested in working on the island.
Having already travelled a great deal, she took relocating to Bermuda in her stride and immediately felt at home on the island. She was impressed by the "community of very strong women" she found.
In the late 1970s and early 1980s the island's insurance industry was much smaller than it is today, but was still a significant part of the economy. And the island's captive sector, started by Mr Reiss in 1962, was steadily growing.
Six years after arriving on the island, Ms Husbands joined Marsh in 1984. She started as an insurance officer with responsibility for a diverse portfolio of captive companies, reviewing policy documentation and making sure companies were robustly insured.
She progressed to manager of the insurance and claims department, before becoming involved in business development and then was appointed head of office in 2007.
Along the way she had three children: Marcus, who is at university, and Steven and Ryan, who have careers in the insurance and reinsurance sector.
Ms Husbands praised Marsh not only for the way it allowed her career to flourish, but also for giving her the time and opportunity to look after her children as they were growing up.
"I have never felt that I could not progress. There was a time when my sons were very small, when I did not want to progress because I wanted to look after them — and that was fine as well."
She feels she has been "listened to" at Marsh and "been able to fulfil my professional and personal aspirations".
Today, as chairwoman and managing director of Marsh IAS Management Services (Bermuda), she believes young people setting out on a career in the insurance sector should consider opportunities available in the captive space.
"Captive insurance is not always seen as the glamorous side of insurance. We are the quiet industry. However, captive insurers were here long before the big insurers and reinsurers, and I believe they offer a wonderful career for young people," she said.
Touching on her own experience, she said: "Every day you should learn something new. In my professional career I wanted to continue to grow and learn, and that's another thing about captive insurance, because every client is different, and they can come from different industries."
Ms Husbands sees a promising future for captives as risk management develops across regions such as Latin America, Asia and Africa.
"Globally there is a huge future for captives," she said, pointing out that Bermuda, as a significant insurance and captive centre with a high level of expertise, is ideally placed to cater for growth in the sector.
Ms Husbands said she had seen many positive changes in the industry, particularly in terms of workforce diversity.
"It has changed for the good. Diversity in the broader sense has changed significantly for the better. And Marsh globally supports diversity of all kinds," she said.
From the moment she arrived in Bermuda she felt at home. She said: "Bermuda has been very good to me. I have never felt any barrier to progress."
Ms Husbands will be presented with the Fred Reiss Lifetime Achievement Award at the Bermuda Captive Conference, which takes place at the Fairmont Southampton from June 13 to June 15.
The award is named in honour of Mr Reiss, an American engineer who conceived of the idea of "self-insurance", by which corporations could manage their own risks through a dedicated subsidiary and pursued the concept in Bermuda, launching the first captive in 1962.
Ms Husbands never met Mr Reiss, who died in Bermuda in 1993, however she knows his son Jonathan very well, and her first boss in captive management, Brian Hall, worked with the late Mr Reiss.
In a statement released last week, David Gibbons, the conference chairman said: "Jill is an incredibly deserving recipient of this first-time award to mark Fred's legacy.
"Her contribution to this conference, our industry, and Bermuda as a whole has been invaluable and, like Fred himself, she is a remarkable professional who has set an example for all of us in this industry."
When asked how she reacted to being named as the first recipient of the lifetime achievement award, Ms Husbands said: "I was shocked in a good way. I thought there might be other people more worthy. My peers in the industry chose me for the award and it is a tremendous honour."
And regarding the three-day conference, she said: "It is tremendous and it is going from strength to strength. It's very important to our industry and enables us to showcase Bermuda."
For more information on the Bermuda Captive Conference, call 295-2626, e-mail info@bermudacaptive.bm or go to https://bermudacaptiveconference.com/