Students network with insurance workers
Updated: Feb 28, 2017 04:15 PM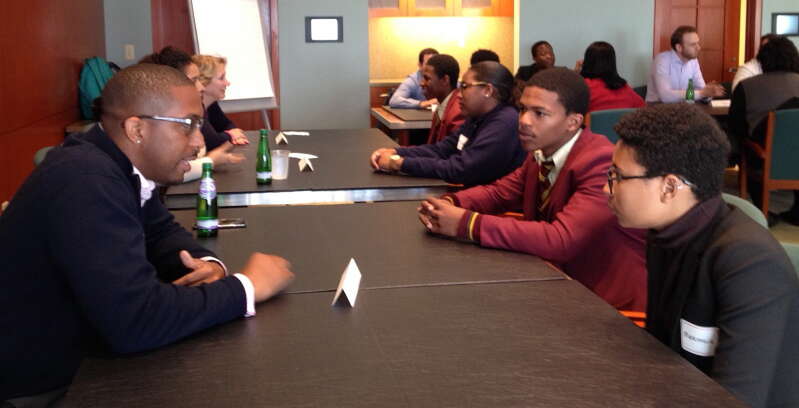 A combined total of 150 students and insurance professionals took part in speed networking sessions on three days last week.
Since 2014 the Bermuda Foundation for Insurance Studies has been holding these opportunities each February for high school seniors seeking more information about careers in the insurance and related sectors, and up to six students from each school are selected by their guidance counsellor, with seven high schools represented.
The sessions are broken into three separate groupings with the Monday session being held at Chubb for students interested in finding out more about actuarial science, law or computer science.
On Wednesday it was the turn of those interested in accounting and finance, held at PwC, while Friday's session was on insurance in general focusing on underwriting, broking and claims at XL Catlin.
Each student has about six minutes to talk to the professional seated opposite, with the whole event taking an hour before a lunch break and general networking. The aim is to enable students to talk about their education and career goals with people working in the industry.
In a statement, BFIS said: "The feedback from these events is always excellent, with both students and professionals gaining from the experience.
"The students realise what a great opportunity it is for them to network with insurance professionals from many different companies and how valuable the advice they receive is as they plan their futures after graduating high school."
BFIS said 66 professionals volunteered their time from AIG, Allied World, Aspen, Axis, BBDA, BES, CD&P, Chubb, Deloitte, Endurance, Everest Re, EY, Hamilton, Hannover, KPMG, Lancashire, Logan Re, Markel, Marsh, MS Amlin, PwC, RenRe, Sompo Canopius, Sun Life, Validus, Willis Towers Watson and XL Catlin.