CEO describes future path for Hamilton Group
Updated: Jun 08, 2018 01:59 PM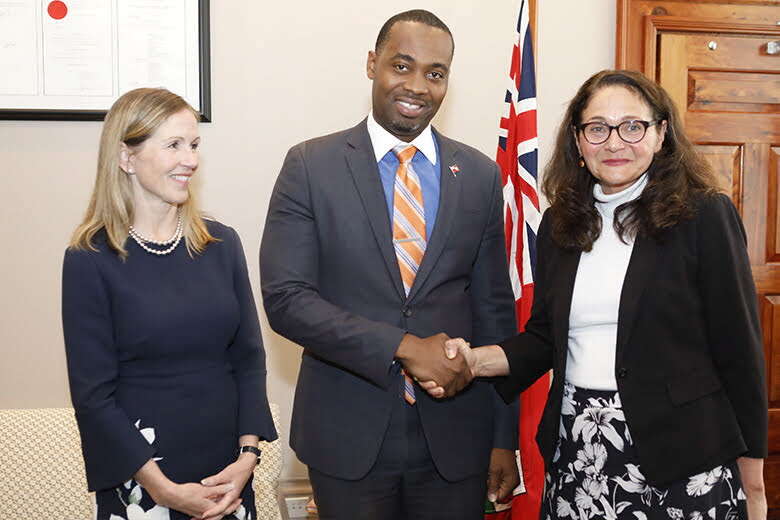 Four months after stepping into a leadership position vacated by one of the insurance industry's giants, Pina Albo has spoken about the road ahead for Hamilton Insurance Group.
Technology and a multigenerational outlook are important considerations for the Bermudian-based group, and while "there is no rush" for it to become publicly-listed — something that was mentioned in 2014 — it is a consideration that remains on the radar.
Ms Albo took up the reins as chief executive officer of Hamilton Insurance Group in February, becoming the permanent replacement to founder Brian Duperreault, who left in May last year when he was appointed CEO of American International Group.
Despite losing the services of an industry veteran of Mr Duperreault's stature, the Hamilton group "never missed a beat", according to Ms Albo, and she said that continuity and focus is a testament to the quality of the team that Mr Duperreault put in place.
"David Brown will be the first to tell you that the team remained rallied and committed to the vision that we are writing the future of risk," she said, referring to Mr Brown who guided the group as interim CEO before her appointment.
As an example, Ms Albo mentioned Kathleen Reardon, CEO of Hamilton Re, who diversified by acquiring the renewal rights of Canopius Underwriting Bermuda's excess casualty book of business, and built out Turing Re "which is our first foray into the alternative capital management space".
Ms Albo added: "She continues to execute this vision of bringing technology and talent to her team."
Likewise, she said Dermont O'Donohue, CEO of Hamilton Underwriting Ltd, the Lloyd's operations of Hamilton Insurance Group, continues to repurpose and rebuild Syndicate 3334, which was bought in 2015.
"I had the good fortune of joining this very talented, focused and driven organisation that welcomed me with open arms," Ms Albo said.
AIG bought the Hamilton USA unit for $110 million in May 2017. When asked how this had impacted the group, Ms Albo said that building out an insurance platform in the US is expensive and not easy. "The expense for a company the size of Hamilton hits our pocket more than it would a company like AIG. Brian was very keen to continue down this path of technology-driven solutions to the insurance industry."
She said it was opportune for Hamilton to sell the platform to AIG. As part of the deal, Hamilton USA's share of Attune was transferred to Hamilton Insurance Group. Attune is a technology-enabled company established with Two Sigma and AIG to use data science and analytics to transform the underwriting process.
Ms Albo described the Hamilton USA deal as a pivoting of focus. She said: "We may rebuilt a platform in the US, or do something else. It was a pivot and an opportunity, but still a commitment to using technology to underwrite business in the small commercial space."
Ms Albo worked at Munich Re for 25 years. When approached to become the CEO of Hamilton she met with the founders, including Mr Duperreault, who she had known for many years.
"Having met them and other board members, I knew some of the talent here. It was an amazingly powerful team. Add to that the start-up mentality, very entrepreneurial, nimble, innovative — so that draw of something new and building something on the basis of this platform was very attractive."
At Munich Re, one the world's largest reinsurers, she saw almost every aspect of the insurance and reinsurance business, across different markets and through various market cycles. As she took on increasingly senior roles she set strategies that included the opening of new businesses, the repurposing of businesses, and acquisitions.
"Then, in the last few years at Munich Re, I was on a committee involved in innovation and investing in and partnering with insurtech. The circle closed for me [by coming to Hamilton]. I was able to bring the experience I had and the forward-looking things I was doing at Munich to a very forward-looking company."
Technology, talent and scale are levers that will be used by the Hamilton group to achieve what Ms Albo calls "Strategy 2025". This is aimed at building out a multi-platform, profitable, global operation.
Mergers and acquisitions in recent years have created a number of significantly larger insurance sector companies. However, Ms Albo believes there is still a place for smaller entities.
"We are finding opportunity in all this. As the market gets disrupted, players that are still there as independents are often the ones that people go to," she said, particularly when a degree of uncertainly is created as a result of big merger.
Hamilton appeared to be gearing up for an initial public offering four years ago, but it did not happen. When asked if the group might still become publicly-traded, Ms Albo said: "When we do go public I want to have a compelling story to tell to investors and the market. We have another initiative that we want to get rolling. There is no rush to do it [go public], but it is still very much on the radar."
Challenges ahead for Hamilton and the insurance sector as a whole include the abundance of capital in the market, which has suppressed renewal rates
"The fortunate thing at Hamilton is that we have very talented underwriters; they know how to navigate these things and they know to keep their discipline, and that client service is important."
Other challenges are increasing digitisation and interconnectedness, emerging risks, and attracting new, younger talent.
Ms Albo said: "We have an industry that is ageing and we are losing many talented people, so it is important to have multiple generations in your office and be able to deal with that and service it in the right way.
"We embrace technology in everything we do here. We have a very multigenerational workforce. We have a very strong commitment to diversity and inclusion. All these things will serve us well."
Hamilton Insurance Group's commitment to technology and the younger generation is also evident in its decision to place a charity funding focus on ConnecTech, specifically to provide two coding courses — one for primary schoolchildren and another for girls. Ms Albo visited a ConnecTech session at Prospect Primary School last week. She also met with David Burt, the Premier.
She is enjoying getting familiar with the island. Together with her family she mingled with the crowds on Bermuda Day, and commented on the friendliness, pride and welcome she encountered.
"One of the things I like about Bermuda is that is has a small town feel, but in a very global, international sophisticated way."
As for the future of the island's insurance and reinsurance sector, she said: "It is clearly the third largest reinsurance market in the world, so it is very strong and respected in that capacity. On top of that you have a regulator, the Bermuda Monetary Authority, that is world class.
"You have got regulations and legislation that strike a very healthy balance between diligent oversight and flexibility. That is a rare and very welcome combination."
She added: "You have a Premier who is very forward-thinking and who has grasped the concept of blockchain and digital currencies. What I like about Bermuda is that you have a very mature market on one hand, but also a very forward-looking sophisticated market that knows it has to change and is capable of that change."