Extraordinary life of insurance leader Brian O'Hara
Created: Dec 01, 2020 08:00 AM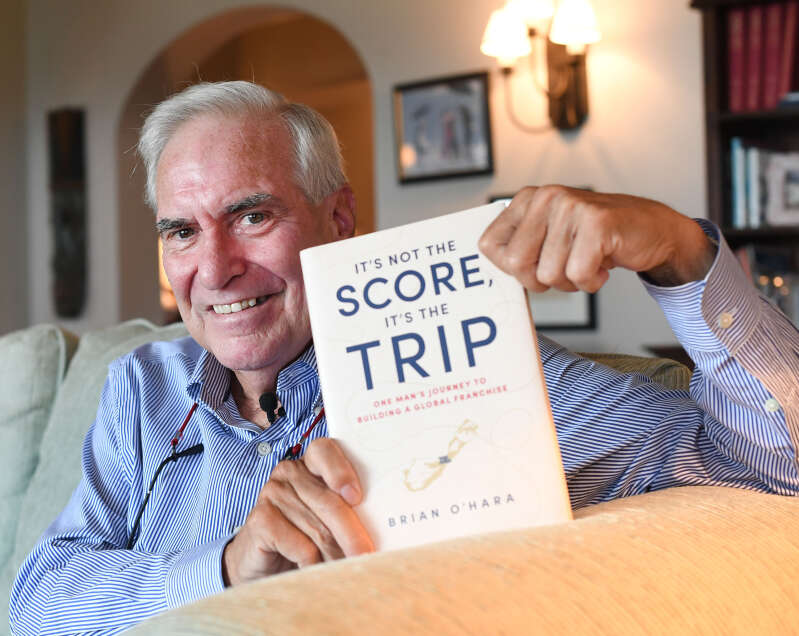 Brian O'Hara's life has taken him on an extraordinary journey that led him to join the rarefied ranks of Bermuda re/insurance royalty.
In his new book, It's Not The Score, It's The Trip, he recounts the highlights of that journey from his childhood as one of 13 siblings growing up in Philadelphia, to his reluctant early foray into an insurance industry that was not his first career choice, to building up XL Capital from scratch into a global franchise.
Anyone with preconceived notions that the biography of a leading insurance executive is likely to be a dry, dull business memoir, think again.
While the reader will emerge from this book with a greater knowledge of the how large insurance companies work, how boardroom battles are fought and the intricacies of building a corporate culture, the story is more about people – the many colourful characters that Mr O'Hara encounters and the foundational relationships of his life.
It is evident that the author is a people person, who is generous in giving credit to those who have positively influenced his life, friends, family and work colleagues alike. The role of his late father Jack, and his wife of 48 years, Nancy, as providers of wisdom, trusted counsel and emotional support, is a thread that runs through the whole volume.
Friendships with celebrities including tennis star Pat Rafter, Michael Douglas and Catherine Zeta Jones, and encounters with others like Sir Paul McCartney and basketball legend Mike Krzyzewski ("Coach K" of Duke University), add some glitz to the book.
And there is no lack of financial drama, with the success story of turning a start-up into a global player and the huge losses that are part and parcel of the risk business, as well as the enormous personal losses he suffered as a result of a collapse in XL's share price in 2008.
Mr O'Hara's love affair with Bermuda started long before he set foot on the island. As a boy, he heard his father recall fond memories of when he was stationed on the island as a logistics officer with the US Navy. At the age of about ten, Mr O'Hara had a vision of an older version of himself standing on a beach feeling contented. "I knew it was Bermuda. And I knew that was where I would go," he recalls in the book.
First, however, he moved west and studied economics at the University of Santa Clara, where he admits he was not as focused as he could have been. As he summarises: "It was the '60s in the San Francisco Bay area and I got in on all the fun."
His first venture into insurance was as an underwriter at the Royal Globe Pacific Insurance Company in San Francisco, and to his surprise, he found that he enjoyed it. Eventually he moved to General Re, where he worked out of a 49th-floor office with a view of the Golden Gate Bridge. He recalled sitting there in early 1978 reading about Bermuda's success as a captive domicile and its attractions for insurers. "I just knew this was the beginning of a huge change within the industry and I knew I wanted to be part of it," he recalls in the book.
By September 1979, Mr O'Hara, finally got to Bermuda with new firm Trenwick, after raising $25 million to get the company off the ground.
By 1984, he briefly returned to the US. The Bermuda market was in turmoil. Captives, in the interests of qualifying for tax deductions on premiums paid by their corporate parents, were taking on third-party business and risks they did not understand, leading to disastrous losses. Mr O'Hara describes the practice as "one of the most penny-wise, pound-foolish moves in the history of business". His description of how the market unravelled is in the kind of plain English that makes this pivotal time in Bermuda's business history understandable even to non-insurance types.
Trenwick survived because it avoided the craziness of that market and Mr O'Hara and his team were recruited to be the contract underwriters for XL, a new project masterminded by Bob Newhouse and Bob Clements, both of brokers Marsh & McLennan, who were also forming a second company called Ace.
Mr O'Hara details how XL was formed in 1986 to provide insurance to its shareholder corporations, who initially all had a seat on the board. At a raucous late-night meeting in Barbados, he recalls, all 68 directors were present, and Mr O'Hara had to fight his corner to ensure that the new company operated to make a profit and not to break even as some shareholders were arguing.
Mr O'Hara was initially chief operating officer of XL and went on to be CEO in 1994. The book takes us through how Mr O'Hara built up the company through strong growth and acquisitions, while at the same time fostering a corporate culture based on team spirit, with plenty of fun amid the hard work. His style as a CEO was not to distance himself from lower-ranked colleagues. "I wanted to be a well-respected leader, but I never believed that came at the expense of really working together as a team and enjoying one another's company," he recalls.
There were downs, as well as ups, and Mr O'Hara is candid in chronicling them. The heavy losses from the destructive hurricane season of 2005 and a devastating arbitration ruling on legacy issues related to the acquisition of Winterthur, are two of them.
It was the financial guarantee business, through subsidiary Security Capital Assurance, which proved XL's Achilles heel during the global financial crisis of 2008. In the book, Mr O'Hara says he never felt comfortable with the business and describes strong disagreements with the XL board, and particularly chairman Mike Esposito, over the need to spin off the business long before it became a major problem.
Soon after Mr O'Hara's retirement in 2008, much of the wealth he had built up over the decades evaporated on one fateful day. He had pledged the XL stock he owned as collateral to secure a personal loan for buying XL shares, in order to avoid the expiration of certain options. On October 9, 2008, a short-selling spree forced XL's share price below $3. Under SEC rules, the bank, UBS, had to start selling off Mr O'Hara's stock to meet a margin call triggered when the stock fell below $6. About 80 per cent of Mr O'Hara's shares were sold off at a rock-bottom price. The scenario cost Mr O'Hara tens of millions of dollars and left him owing about $1.5 million to the bank.
Mr O'Hara describes how a group of local executives, headed by Michael Butt, were prepared to contribute $100,000 each for a fund for him and his wife, but "we found it extremely awkward to be the objects of charitable contributions". They turned down the offer and managed to pay down the debts themselves.
On the sleeve of the book, Mr O'Hara is described as "an ordinary man who landed at a time and place in history that gave him an opportunity for an extraordinary life". The "ordinary man" description seems inadequate for someone who has done as much as almost anyone to put Bermuda on the international insurance map, but there is no disputing that his has been an extraordinary life.
It's Not The Score, It's The Trip is published by Advantage and is available at local bookstores and at Amazon.com