Allied World completes 8-week internship
Updated: Jul 26, 2022 07:43 AM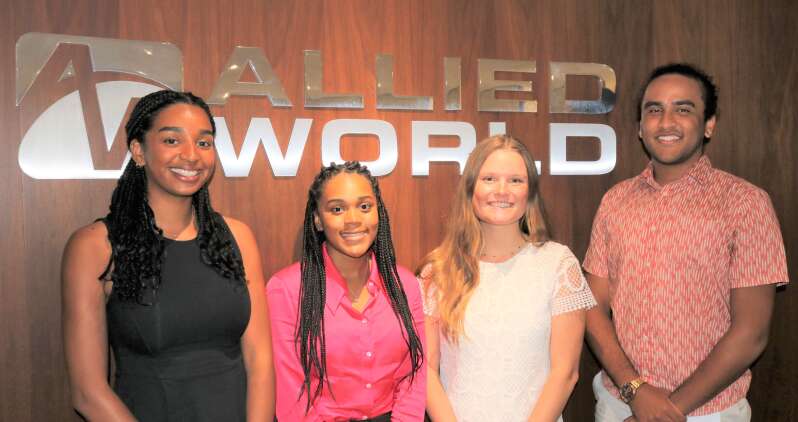 Allied World Bermuda is concluding a structured eight-week summer internship programme on Friday, July 29 for four talented Bermudians — Eden Robinson (McGill University), Grace Reeves (Queens University), Madison Smith (Acadia University) and Nicholas Hassell (Trinity Western University).
Allied World's internship programme combined practical learning, project work, individual mentoring and training.
The students rotated through the different insurance departments, including property, general casualty, professional lines, healthcare and through reinsurance teams.
Allied World said that the programme focused on providing the students with a strong foundation for a future career in underwriting.
A press statement said: "The interns networked with our expert leaders and professional staff throughout the departments at Allied World.
"They also built their broker relationships with networking and hands-on experience with underwriting accounts."
Colm Singleton, Allied World's head of Bermuda office, said: "Allied World is proud to support the next generation of insurance professionals and we look forward to mentoring these students as they enter the industry."
Mr Singleton added: "Allied World is a longstanding Bermuda-based carrier with over 20 years of history hiring talented Bermudians."
Rhiannon Simons, from Allied World's Bermuda Human Resources team, said: "We thoroughly enjoyed hosting the students over the summer. Due to the success of this year's programme, we certainly look forward to welcoming Bermudian students on an annual basis into the world of insurance."
The 2023 Allied World Summer Internship Programme will be announced in the new year.