Scully Cup win completes rugby clean sweep for Police
Created: Apr 13, 2023 07:55 AM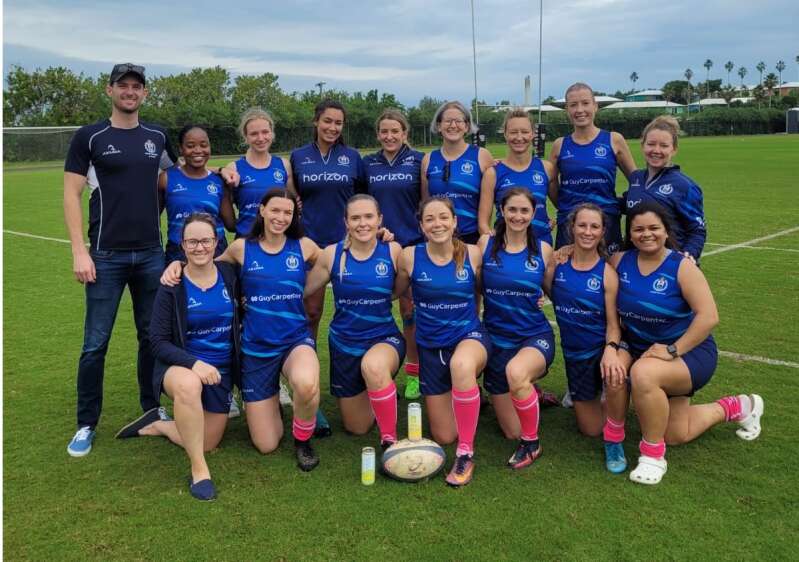 Police rugby team completed a remarkable clean sweep of women's honours after lifting the Scully Cup at the North Field, National Sports Centre, last Saturday.
Coach Matt Koen's team had things all their own way in a 19-0 drubbing of Teachers in a one-sided final, with the victory resulting in Police's third piece of silverware thia season after clinching a third successive league title and the Mad Hatters Trophy.
"As coach, I couldn't be prouder of the ladies' accomplishments, both as a team and as individuals," Koen told The Royal Gazette.
"They embody the true spirit of teamwork and are a shining example of what can be achieved when individuals come together with a common goal. I must also commend the other teams for rising to the challenge and making the league so highly competitive this season.
"It has been an absolute pleasure coaching the ladies and I look forward to seeing them continue their winning ways next season.''
Hanah Cannon, the captain, is thrilled to reap reward for the hard work she and her team-mates put in throughout the highly successful campaign.
"The Police Ladies have worked hard to earn these titles this season and I am so proud to have been a part of this very dedicated group of women," she said.
"We have to give credit to Renegades, Teachers and Mariners for some tough battles each week. They have truly made us fight until the end."
Cannon attributed the team's success largely to good defending.
"Our fantastic defensive work has really helped us secure the wins this year but we have to shout out Estee Coetzee for her incredible 120 points this season, with 24 tries in 11 games," she added.
"Anna Hutchinson also deserves a shoutout for converting 14 drop kicks in her second season with the club."
Like coach Koen, Cannon is already looking forward to further success next season.
"We are looking forward to next year and hoping to retain a title or two," she said. "I just also wish to thank those that support the game, including the referees and coaches."
Cannon says she and her team-mates are very fortunate to have Koen as their coach.
"We have been lucky to have coach Matt with us week in, week out, even though we know he wouldn't have minded a weekend or two catching lobsters rather than rugby balls," she added.
"For anyone looking for a sport to get you fit and social, I couldn't recommend touch rugby enough."
Police suffered only one loss in all competitions during the past campaign — against Renegades in their league season finale.