Sailors prepare for IODA world championships
Updated: Dec 29, 2010 08:17 AM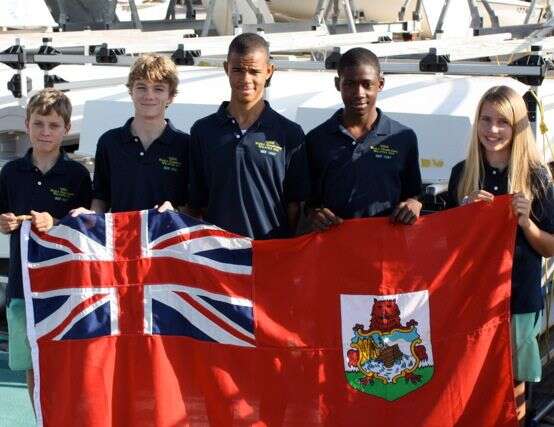 Five young sailors from the Bermuda Optimist Dinghy Association (BODA) will begin their IODA World Sailing Championships campaign in Langkawi, Malaysia, tomorrow.
The team is made up of current national champion Sam Stan, 14, and fellow qualifiers Antonio Bailey, 13, Chase Cooper, 12, Makai Joell, 13, and 12-year-old Ceci Wollmann.
BODA President Anthony Bailey will be escorting the sailors as the official team leader along with country representative Ron Stan and performance coach Zizi Staniul.
Team Bermuda will join 235 other young sailors from 56 countries to compete in the Optimist dinghy's penultimate contest in both individual and team racing.
Live tracking of the racing will be available in real-time online at www.tractrac.com.
Updates of Team Bermuda's progress will be also posted on a Blog at www.bodasailing.blogspot.com.
Langkawi is an archipelago made up of 99 islands on Malaysia's west coast and is the country's best-known holiday destination. The venue was most recently the location for Ben Ainslie's Match Racing World Championship victory a few weeks ago. It was also the final stop of the Match Racing Tour following the Argo Gold Cup here in October where Ainslie was also victorious.
Team Bermuda's trip to the Worlds would not have been possible without the assistance of Gold Partner Aspen Re, Silver Partner Kitson Group of Companies along with support from the Bermuda Sailing Association and the Cox Family.
n Bermuda sailor Ellie Wollmann lies in seventh place in the optimist fleet after the opening day of the Orange Bowl International Youth Regatta at the Coral Reef Yacht Club in Miami.
Racing in cold and windy conditions, Wollmann recorded finishes of 5th, 7th and 11th out of 210 boats. She is the second placed girl overall.
Her brother Mikey had a tougher time and is in 109th position with finishes of 22, 66 and 74.
In the 142 boat Laser Radial fleet Jason Saints is tied for 11th, Jordon Saints in 18th, Owen Siese 20th, Mackenzie Cooper in 93rd, James Anfossi in 96th and Sarah Hopkins in 108th place.