Bermuda sailors Fraser and Greenslade go down fighting
Created: Oct 10, 2013 09:00 AM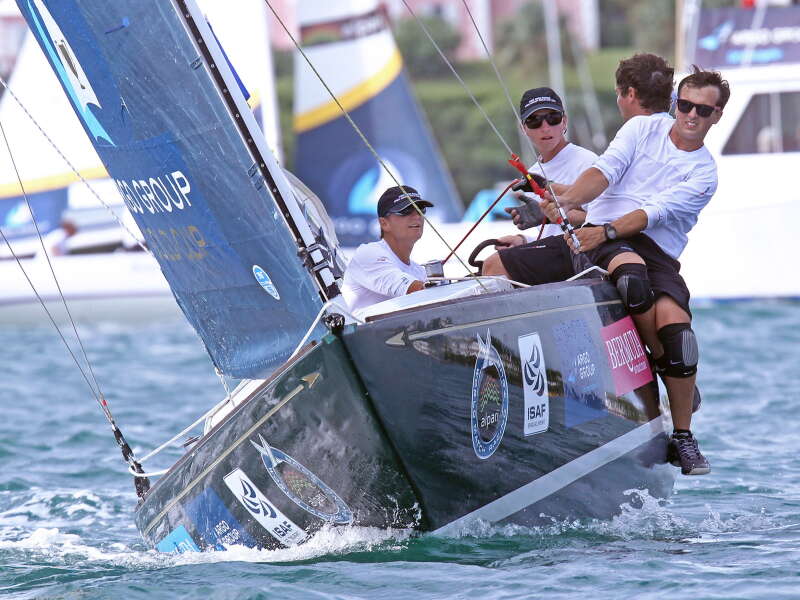 Local skippers Lance Fraser and Joshua Greenslade bowed out of the $100,000 Argo Group Gold Cup in Hamilton Harbour yesterday.
But not before rolling up their sleeves and mounting a courageous fightback with their backs against the wall.
Fraser and Team Digicel Business (3/5) chalked up two additional wins while Greenslade (1/7) and his Team Royal Bermuda Yacht Club Sailing Academy teammates seized their first win of the regatta.
Fraser underlined his enormous potential after prevailing against past Gold Cup winner Johnie Berntsson (Sweden) and Marek Stanczyk (Poland).
He led each leg of his match race with Stanczyk which he won by a comfortable margin but was pushed all the way by Berntsson.
Fraser jumped out to a sizeable lead after Berntsson was forced to do a penalty turn immediately after colliding with his rival coming off the start line.
Berntsson was thrown a life line after Fraser got on the wrong end of a huge shift and gave up precious ground to set up a dramatic finish.
The Swede applied heavy pressure attacking from behind on the final run but was penalized after colliding with Fraser which handed the latter skipper the win on a silver platter.
"He nearly rolled by us right on the finish but we had another collision with him in a luff and he got a red flag penalty for not keeping clear," Fraser added. "It was right at the finish, he didn't even take the turn."
Fraser's crew underwent a subtle change ahead of yesterday's racing with 2012 Summer Olympian Jesse Kirkland replacing Adam Barboza who came down with a stomach bug.
"You never want to switch crews on the day of a regatta because of sickness," Fraser said. "But Jesse is as good of an option we had, and it helped a lot."
Fraser will face American Chris Poole in a dead rubber in his final round robin flight today.
Greenslade also put up a good fight, recording a stunning upset over past Gold Cup winner Mathieu Richard (France) who also stumbled at the first hurdle.
He trailed the Frenchman most of the way but managed to reel him in on the final run to the downwind finish, forcing him away from the layline and slamming the door shut below the gate before rounding the marker to snatch a dramatic win at the death.
"It was a good win," Greenslade said. "He's (Richard) a past champion so getting a win against someone who has won here is really special and is a confidence booster for us."
Greenslade, who will face Kiwi skipper Chris Steele in his final round robin flight, took his early exit in stride.
"It's disappointing," he said. "But obviously this is my first year and we still had fun out there and definitely learned some lessons this week."
Defending Gold Cup champ Taylor Canfield (US Virgin Islands) recorded four wins yesterday to improve his overall record (6/2).
Reigning world match racing champ Ian Williams of England (8/0) and Italian Francesco Bruni (6/0) were also unflappable and remain unbeaten thus far.
Past Gold Cup winner Ben Ainslie (England) suffered his only loss to date in the 'Battle of Britain' with Williams to slip to 6/1.
Williams and Ainslie are already through to the quarterfinals and will be joined by six other teams following today's final round robin flights.