Great Scott a boost for British leaders
Created: Sep 09, 2016 08:00 AM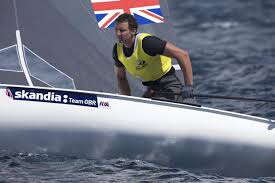 Land Rover BAR, the series leaders, have made one change to their team from the previous event for the Louis Vuitton America's Cup World Series Toulon, which gets under way today with practice races.
Returning after winning a gold medal in the Finn class at last month's Olympic Games in Rio is Giles Scott, the team strategist and bowman, who replaces grinder Matt Cornwall.
Scott is making his first World Series appearance since his team's triumph in Oman in February and hopes to pick up where he left off several months ago.
"It's great to be back," Scott, who competed for Italian team Luna Rossa in the 34th America's Cup, said.
"The last event I did was Oman, which went well, and then the guys have been doing a great job in my absence. Hopefully we will be able to carry that on in Toulon."
The Finn world champion secured top spot in Rio with a race to spare.
"I think the best thing about combining the Cup with my Olympic programme has been staying very race-fresh, and that can be hard to do locked into just the Cup scene," Scott said.
Scott will step back into the strategist's role that team-mate Ed Powys performed admirably in his absence.
"It's great to have Giles back in the team," Sir Ben Ainslie, the Land Rover BAR skipper and team principal, said.
"Having him back on the boat gives the team a really good boost building towards the Cup next year, and into the closing stages of the World Series."
Land Rover BAR hold a one-point advantage over Oracle Team USA, the defender of the America's Cup, at the top of the World Series standings going into the penultimate event for the year in Toulon.
The British challenger became the first team to win three World Series events in the present America's Cup cycle after clinching their second consecutive victory at their home event in Portsmouth in July.
"The focus now is to see if we can get some of those bonus points to end up on top at the end of the series, and keep developing as a team," Ainslie said.
Jono Macbeth, the sailing team manager, added: "We're approaching Toulon as if it were any other regatta, our build-up has been exactly the same and we're not looking to change anything.
"The one exception is that Giles is back from his Olympic duties and back inside the team, filling the shoes that Ed Powys has been keeping warm for him. I think the results over the last few regattas show just how deep the team is and how much experience and youth we have."
Toulon is the home port of 35th America's Cup challenger, Groupama Team France.