Nagel back offshore in Caribbean classic race
Created: Feb 20, 2018 08:00 AM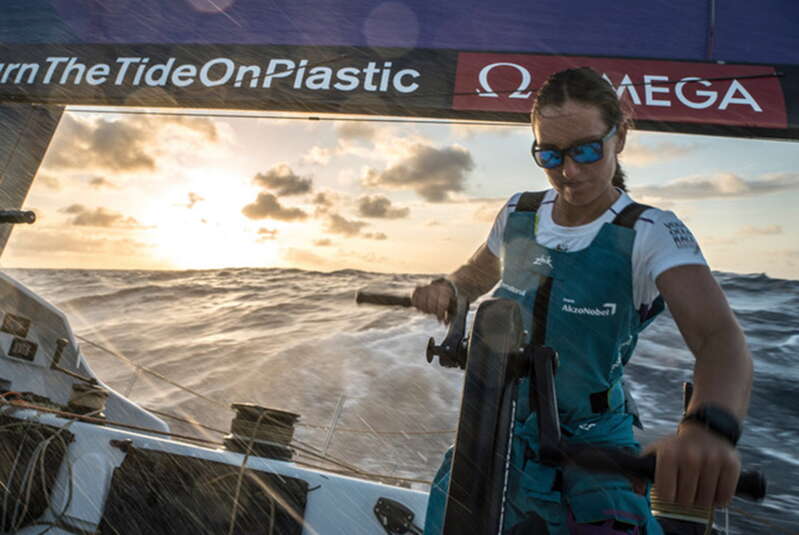 Emily Nagel has rejoined forces with America's Cup winner Shannon Falcone for the Royal Ocean Racing Club Caribbean 600 offshore race that started in Antigua yesterday.
The Bermudian sailor and naval architect is competing in the classic, over 600 nautical miles, on board the same F4 foiling catamaran that she and Falcone previously sailed from New York to Bermuda. Falcone helped Oracle Team USA retain the America's Cup in 2013 in San Francisco.
"I'm looking forward to get back offshore and go racing," Nagel told The Royal Gazette.
"I took part in this [RORC Caribbean 600] last year with the OceanRacers, a Canadian team who are helping young aspiring offshore sailors gain experience. Any young sailors looking to get into offshore sailing should look them up.
"This year, I'm rejoining Shannon Falcone on board the F4, the offshore foiling boat that I previously sailed with him and Jimmy Spithill from New York to Bermuda."
In November of 2016, Nagel and Falcone were part of the Team Falcon crew that battled 35-knot winds in the F4 on its journey from New York to Bermuda that also included Rome Kirby, the Oracle sailor, Cy Thompson and Tommy Loughborough.
A record 84 yachts started the RORC Caribbean 600 in Antigua yesterday. The armada set off in unstable conditions with squalls producing a wind range between 10-20 knots. High seas and strong trade winds are expected for the race.
There is also a record number of entries in the multihull class, which Nagel is competing in, that includes 2013 class winner Paradox, skippered by Peter Aschenbrenner.
Nagel has experienced extensive blue-water sailing lately competing as a sail trimmer with Dutch syndicate Team AkzoNobel in the ongoing Volvo Ocean Race. That she is able to compete in the RORC Caribbean 600 has been made possible after being placed on standby for the sixth and seventh legs of the Volvo Ocean Race around the world that started in Alicante, Spain, in October last year.
"As we have a squad of around 13 rotating sailors and only nine spots on the boat, I'm currently on standby for this leg and the next," Nagel said. "This means that if anyone is injured or decides not to sail then I will be flown out. The current plan is for me to rotate back into the race from Brazil onwards."
Team AkzoNobel are sixth among the seven entries in the overall Volvo Ocean Race standings.