Denmark first to hit water in Bermuda ahead of SailGP season two
Updated: Apr 02, 2021 06:39 PM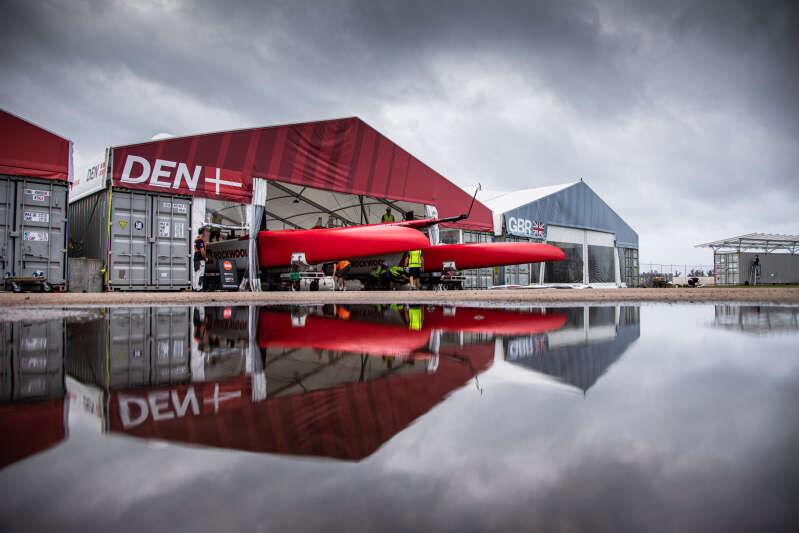 SailGP is officially back on the water with the first of its supercharged foiling catamarans launched ahead of the Season 2 opener — the Bermuda Sail Grand Prix presented by Hamilton Princess — this month.
Over one year since the high-speed F50 catamarans, some of the world's most high-tech race boats, were last seen in action, SailGP returns for Season 2 with additional teams, an expanded season and a purpose-led agenda at its heart — racing for a better future, championing a world powered by nature.
The Denmark SailGP Team presented by Rockwool became the first of the eight-nation fleet to hit the water on Friday. And, as the eye-catching boat took to Bermuda's Great Sound, it signalled a long-awaited return to action for the global racing league.
Denmark SailGP Team helm Nicolai Sehested said: "It's a huge day for our team, and for the whole of SailGP. We've been dreaming of stepping back onboard the F50 for more than 12 months, and it feels kind of surreal that the day is finally here.
"These boats are absolute beasts — and they haven't lost any bite, that's for sure. I think we are going to see performance and speed limits pushed further than ever before this season."
For its first sail on Bermuda waters, the Danish boat featured a smaller 18-metre wingsail. The modular system is a new innovation for SailGP Season 2 that allows the wing to increase or reduce in size to enable racing to take place in a broader range of conditions.
With the anticipation of the first event of the season mounting, the adrenalin is pumping through the Danish team as it takes in its surroundings at Cross Island, located along Bermuda's Great Sound.
Sehested said: "It's great to be here in Bermuda, and to be able to get back to racing in a safe and healthy way, more than one year after the previous SailGP event. Of course, we'd love to see more of this beautiful island and meet some of the SailGP fans but delivering a fantastic event in a safe way is the priority. I'm confident that we'll see some epic racing in the Great Sound.
"Each team operates in a closed bubble, with all athletes and staff wearing PPE at all times, social distancing, and being tested regularly. Movement is tightly restricted to the event venue and the hotel. SailGP and the local authorities have put in place extremely stringent Covid-19 procedures to allow this event to take place. As one of the first teams on the ground, it's impressive to see the scale of the operation in action."
Denmark SailGP will join seven other nations — the league's reigning champions Australia, plus France, Britain, Japan, New Zealand, Spain and United States — on the SailGP Season 2 start line on April 24 and 25.
Notably, recent America's Cup winners Peter Burling and Blair Tuke will join the circuit to lead the New Zealand entry, setting up a tantalising sequel with Cup rivals Jimmy Spithill (helm, United States) and Sir Ben Ainslie (helm, Britain).
Sehested said: "SailGP has always been about the best sailors on the planet, racing in identical, supercharged boats, and the new talent and experience coming into the league raises that level even further. We respect everyone but we certainly don't fear any of our rivals – and we think we can surprise a few people this season. We're looking forward to getting some good time training on the F50 ahead of the season opener."
Last week, Sehested unveiled his star-studded, mixed crew for SailGP Season 2, including two new Danish additions, both bringing additional Olympic podium pedigree.
Former World Sailor of the Year, Anne-Marie Rindom, and Katja Salskov-Iversen — both Olympic bronze medal-winners at Rio 2016 — will join the Danish campaign under a new initiative launched by SailGP to accelerate female participation and create clearer pathways to the top of the sport.
The pair will join Sehested and returning team members Tom Johnson (Australia), Martin Kirketerp (Denmark), Rasmus Kostner (Denmark), Hans-Christian Rosendahl (Denmark) and Lars-Peter Rosendahl (Denmark) as part of the next stage of the trial, where they will be immersed with the team to develop and hone their skills.
Bermuda Sail Grand Prix presented by Hamilton Princess takes place on April 24 and 25 with the eight teams participating in a preseason training camp in the lead-up to the event. From there, the season crosses to Europe where racing will continue in Taranto, Italy (June 5 and 6), Plymouth, England (July 17 and 18), Aarhus, Denmark (August 20 and 21), Saint-Tropez, France (September 11 and 12) and Cádiz, Spain (October 9 and 10). The league will then finish in 2022 with races in Christchurch, New Zealand, and the Grand Final in San Francisco on March 26 and 27 when the sport's top prize of $1 million will be up for grabs.
In its first season, SailGP had a worldwide broadcast audience of 256 million across five events, and expects to see that number grow significantly with the increase to eight stops. Broadcast partnerships for Season 2 are already in place in more than 100 territories, including Bermuda (ZFB-7), Australia (Fox Sports), Denmark (TV 2 Sport), France (Canal+ Sport), Japan (DAZN), New Zealand (Sky Sport), Spain (TVE and TV3), UK/Ireland (Sky Sports) and the US (CBS Sports). Fans will also be able to get close to the action via the award-winning SailGP app.